The Great "Just For Fun" Archive
Each issue of Paul Gillin's Social Marketing Report features something silly or offbeat that we've found on the Web. We call it Just For Fun. Here are all of them.
Subscribe by filling out the short form to the right.
Overheard in New York
How often have you passed someone on the street and caught a snippet of conversation out of context that was so funny or bizarre that you wanted to share it with someone else? There's no better place for this experience than New York City and not surprisingly, there is a website devoted to capturing these stray asides that make eavesdropping such a fun sport.
Tall female law school know-it-all: "You'll do fine on his exam as long as you memorize the notes he gives in class –I mean, like, word for word– and then just reverberate it all!"
Overheard in New York has actually been around since 2003, but I only just discovered it recently. Anyone can contribute, so quality varies widely. Many quotes are also profane or risqué, so be forewarned. It's worth scanning, though, for gems like this:
Subway sandwich maker: "What size? 6″ or foot-long?"
Older suit: "How big is 6″, lemme see?"
Subway sandwich maker, deadpan: "It's 6 inches long, sir." (holds up bread)
Bogus Technologies
"Percy Whitebread has provided strong leadership in developing the company's vacuous Enterprise IT business strategy, replacing good people with a sub-par middle management team, and securing venture capital from duplicitous investors.
"His glib self-assurance, unmatched prevarication and complete disregard for customers' computing, networking and storage requirements were key factors in Bogus Technology's decision to eschew high technology products and services."
That's the profile of Percy J. Whitebread, III, President and CEO of Bogus Technologies, an enterprise IT services company that "provides a complete portfolio of ethereal Information Technology Solutions, fractious IT products and somnolent professional services for business and personal computing."
If you've surfed through as many high-tech company websites as I have, you'll recognize all the buzzwords here. The entire site is a parody of the marketing-speak that tech companies use to describe themselves, and it was clearly created by people who have been there.
BogusTech isn't just a one-page joke. It's a full-blown website with multiple sub-pages that looks just like the real thing, only it's entirely fictitious. The photos and even the alt tag descriptions are part of the satire. I don't know who created it, but they have my respect.
Weekly World News
Britain's largest Sunday newspaper, News of the World, was shut down abruptly over a scandal involving hired private investigators who hacked into voicemail accounts of celebrities and ordinary citizens. News of the World was known for its outrageous headlines and salacious gossip, and certainly it will be missed by its 2.5 million subscribers. Fortunately, a publication with a very similar name, Weekly World News, continues to thrive, at least on the Web.
WWN was launched in 1979 with the discarded black-and-white presses formerly used by the National Enquirer. It ceased print publication in 2007, but its legacy of informing its readers of the dangers of space aliens, the promise of roadkill diets and the never-ending exploits of the "Bat Boy" continues.
With the tagline of "The World's Only Reliable News," Weekly World News has recently reported on alien spaceship attacks coming in November, Southern California's plans to secede from the union and sightings of mermaids in Israel. One thing is certain: You can't believe a word of it.
Atlas Obscura
In a town called Lluvia de Peces in Honduras, an amazing thing happens once or twice a year. A large storm rolls through with heavy rain and after it's gone, the the streets are full of flopping live fish.
At the Dittrick Museum of Medical History at Case Western Reserve University you can find the largest collection of historical contraceptives in the world, more than 1,000 items.
In southern Arkansas, they're still trying to figure out the mystery of the Gurdon Light (below), an eerie white-blue, sometimes orange, glowing orb that moves through the trees. Some say it's the lantern of a railroad worker who fell on the tracks and was beheaded.
These and thousands of other odd, obscure and wondrous places around the world are documented on Atlas Obscura, a travel wiki of breathtaking scope. Want to visit the geographical center of the lower 48 states? It's two miles northwest of Lebanon, Kansas. A small stone pyramid marks the point. That's one of 150 listings in the category of "Geological Oddities." Altogether, I estimate Atlas Obscura has nearly 4,000 entries, many with a considerable amount of background information. It's impressive, absorbing and often pretty weird.
Icons of Progress
This selection isn't so much fun as really, really interesting, particularly for history buffs like me. IBM is celebrating its 100th anniversary this year, which is quite an achievement in a world in which the average life expectancy of a multinational corporation is between 40 and 50 years. One of the many ways in which Big Blue is marking the centennial is with a historical retrospective called 100 Icons of Progress. This site will be regularly updated with historical information about technologies that changed our world.
IBM's just getting started, but the accounts of how innovations like the floppy disk, the IBM 1401 mainframe and the universal product code came about are mesmerizing. Check back regularly as new icons are added. And if you want to know what was the first product ever scanned by a bar code reader, find the answer here.
Hilarious Print Ads
A lot of people are declaring print publishing to be dead, but you still can't beat a printed advertisement for telling a story in a single image. The folks at online design and development magazine SpyreStudios have assembled a collection of 30 of the most hilarious print ads ever created, like the one for Dynakids Vitamins below. Innovation like this requires subtlety, humor and the willingness to risk being just a tad offensive. All of these examples are winners in my book.
RoadsideAmerica.com
Some artists work in oils, others dabble in watercolors and still others build creations out of wood or iron. Then there's Barney Smith of San Antonio, TX, whose medium of choice is… toilet seats. That's right, Barney is the creator and proprietor of Barney Smith's Toilet Seat Art Museum (right), and if you catch him on a day when he's in the shop, he'll proudly show you his collection of more than 1,000 specimens, each meticulously hand-carved, decorated and cataloged with a unique serial number. I know. I've been there. It's amazing.
The Toilet Seat Art Museum is one of hundreds of odd and unique roadside attractions captured in RoadsideAmerica.com, a site that can entertain you for hours with its collection of weird and wonderful examples of human creativity and absurdity. Here you'll find a monument to Bobbie the Wonder Dog, a pet who found his way across 2,400 miles of wilderness in 1924 to return to his Oregon home. Or you can read about Stephen Guman of Naugatuck, CT, who has built a castle out of 396,000 Popsicle sticks. Consult it before your next road trip. You may never reach your destination.
Truly Terrible Driving
It's unfortunate that this hilarious YouTube video is entitled "Women Drivers Compilation" because women aren't the only people capable of doing stupid things with their cars. If you can get past the sexism, though, enjoy the absurdity of the actions pictured here. My favorite is the driver who is wrestled to the ground by a gas pump. Where would YouTube be without security cameras?
Wordle
Words can be beautiful. Wordle proves it. This delightful little free Java applet takes any block of text you give it and creates colorful word clouds. It works with any language that uses Arabic characters and you can experiment with dozens of fonts, layouts and colors. Then you can save to a public gallery (see point 3 above) and embed on your website. The Wordle below was created from the text in this newsletter.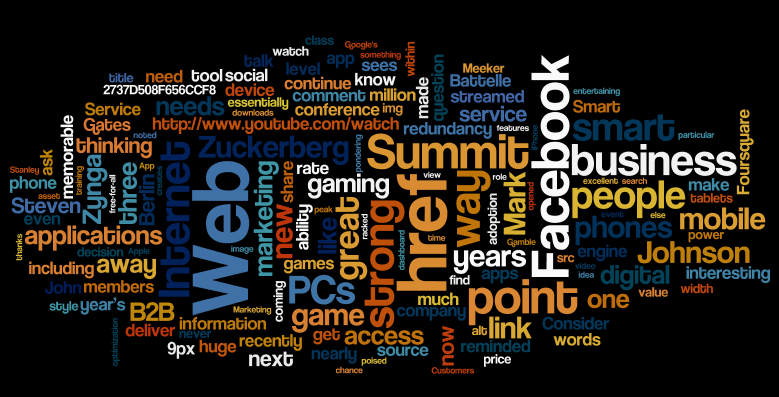 Photoshop Disasters

Last issue I shared with you some amazing examples of pictures that looked like they had been Photoshopped but actually weren't. So this week, let's turn things around. The beauty shown in the photograph below does not actually have a hyperextended leg. Rather, I think this is a case of a graphic artist failing to complete Photoshop training. There is a whole blog devoted to Photoshop Disasters ranging from subtle to outrageous. Everything shown there has made it past the editors and into public view. Visitors are invited to submit their own examples.
I Can't Believe It's Not Photoshopped!
Adobe Photoshop has made us all into skeptics. We no longer quite believe what we see in a photograph because reality can so easily be twisted when pixels are involved. That's what makes this collection of Images You Won't Believe Aren't Photoshopped so incredible. To the best of their ability, the people at Cracked magazine have verified that none of these remarkable pictures was retouched. The series is so popular that the original collection of 15 images has been expanded to more than 100. See the sixth installment in the series to get links to the other five.
Dog-Owner Lookalikes
This was my fourth year at Pet Rock, a local celebration by dog and cat lovers of their best friends. We've all heard the cliché that dog owners look just like their pets, but I have found it to have a lot of truth.
A couple of years ago, I started training my camera on people who I thought looked just like their dogs, and the collection is now up to 36 images. Here's a slideshow. If you have any photos of your own like this, tag them "lookalikes" on Flickr and let's share!
World's Smallest Homes
Whether it was for economical or environmental reasons, the people who built these homes and ones like them were creative in their sense of space, location and even mobility. Check out the 10 smallest homes in the world and prepare to be inspired to recycle that soda can you're drinking from.
Amazing Tattoos
I'll admit I'm not much for tattoos. It's not the pain that scares me; it's just that they're so, well, permanent. Nevertheless, I do appreciate great craftsmanship, and this selection of 40 amazing tattoos demonstrates what today's technology can achieve using flesh as the principal medium.
Note: Some of these images are a little disturbing, so if you have a weak stomach, look elsewhere. At least you don't have to live with them etched into your arm!
Free (Or Really Cheap) Stuff
Want silver jewelry for a gift, sheet music, cookbooks or Spanish lessons, but don't have lots of money to shell out? No problem. Check out the links in this Woman's Day article and you'll find you can get stuff for cheap or free that you probably never thought possible. Some items are particularly nice to have for business travelers — free WiFi spots, business classes, business cards, radio service with your favorite types of music. We won't call you "cheap," but rather "thrifty." And there is a recession on, after all.
Hotel Cuisine. Kind Of…
Who among us hasn't been stuck on the road in some hotel room and thought, "I'm taking advantage of my company. I bet I can save some money on my expenses for this trip if I just cooked a few meals myself here in my room"? No one? Bueller? Really? Well, read these tips for how to use a coffee pot and an iron to make things from oatmeal to lemon pepper chicken. Then go out to the nearest restaurant and inflate that expense account.
@BPGlobalPR
"As long as we can get loaded potato skins at T.G.I.Friday's, seafood can suck it."
"We are doing everything we can to stop the information leaks in the Gulf."
"Honestly, why are we still talking about the spill? Twilight comes out next week! Come join us in line!"

There isn't much mirth to be found in the oil spill that continues to plague the Gulf Coast, but an anonymous Twitter user who goes by the alias of "Leroy Stick" has hijacked the identity of BP p.l.c.'s public relations organization to produce a viciously funny online persona called BPGlobalPR that spoofs the oil company's efforts to manage public opinion while it grapples with the disaster.
Stick isn't doing this just to be funny. In one of his few public statements, he skewered BP for trying to manage public sentiment around the situation. "I'm trashing a company that is literally trashing the ocean, and these idiots are trying to figure out how to protect that company?" he wrote in a post on Street Giant. The BPGlobalPR Twitter account has 10 times as many followers as BP PR's real account.
By the way, did you know that the Deepwater Horizon spill is not the largest on record, at least not yet? That honor belongs to the Lakeview Gusher (below), which spewed nine million barrels into the southern California desert beginning in 1910. The site of that spill is now a California Historical Landmark. At this rate, Deepwater will soon pass it.
Incredibly Eccentric People
If you're dreading summertime because it means more time with your crazy family, just be thankful you're not related to any of the people on this list of 10 incredibly eccentric people. If you have a teenager in the house who is constantly embarrassed by the fact that you breathe the same air he or she does, you may want to send the youngster to this site with the message, "See? It could be worse." You could be Hetty Green (right), the millionaire miser who allowed her son's leg to be amputated because he couldn't find free medical care. Also be sure to check out the other "Top 10″ list at the bottom of the page.
How Dogs Talk
Is a dog really happy when it wags its tail? It depends. Wagging to the right is a sign of positive feelings, but wagging to the left means Spot is feeling blue. This is just one of the fascinating insights I gained from this short article called The Secret Language of Dogs. I've owned pups since I was five and never knew that a paw slap is equivalent to a pat on the back or that barking really does have a language of its own. While you're there, check out Why Dogs Do Strange Things.
Those Nutty Skydivers

Skydiving looks like fun. And if it wasn't for pesky things like responsibility and the fact that they can't guarantee I'd live through it, I would have done it years ago. So I respect people all the more who not only skydive, but do so on a regular basis and attempt to set records. Woman's Day collected 10 pictures of phenomenal feats of people flinging themselves from mountaintops and airplanes. We just hope all of them made it safely to the ground!
Advice for Evil Geniuses

Why does Goldfinger lower Bond slowly into the piranha tank instead of just dumping him in and getting it over with? Why does the evil scientist post a map of the control room in a convenient place where the hero can find it? And why does every villain seem compelled to share his plan for world domination with his victims when he's about to kill them, anyway?
If questions like these have ever vexed you, you'll appreciate "Things to Remember If I Ever Become an Evil Overlord," a clever collection of absurd behaviors that always frustrate movie bad guys. There are 101 items on the list, and fans of everything from Star Wars to Harry Potter will find something to identify with.
The Lying Down Game

This is one of the more ridiculous flash mobs I've ever seen, but I have to admit it's weirdly amusing. The Lying Down Game challenges players to find the oddest place to have their pictures taken lying down. There are only two rules: hands must be flat against the sides and toes must be pointing at the ground. Like any simple idea that catches on, people have brought some wonderful innovation to the task. The game has more than 90,000 fans on Facebook.
Eight Years in 103 Seconds
When we see people regularly, we don't notice how much they change. But they do change a lot in a short time. JK Keller proved it. He took a picture of his face every day for 8 years and lined them up one after another in this video montage. This 1:43 video might leave you feeling a little old. Take your mind off it by looking at Photos That Will Never Be in Your Wedding Album.
Twofer
We don't have a killer Just For Fun this week, so we'll give you two mini-gems to choose from. The first is this video of a performance of The Nutcracker somewhere in Russia. If you've ever been a member of the ensemble at a play,
you'll appreciate the antics of the person dressed as a tiger at the back left. He steals the show from the two principal dancers. We can also assume he got his walking papers immediately after exiting the stage, but not before creating a memorable swan song.
The second treat is this collection of behind-the-scenes photos of Disney's River Country water park. Shuttered in 2001, the park doesn't appear on any Disney maps or signs, but it's still alive if not exactly kicking. We love Disney and always marvel at the pristine perfection of its resorts, which is what makes the broken down wreck of the dilapidated River Country all the more incongruous.
OK Go's This Too Shall Pass
You might be familiar with OK Go, a band that is known for its inventive and intricate music videos. They've outdone themselves with their latest effort, a four-minute celebration called This Too Shall Pass that features some of the most innovative ideas I've ever seen in a Rube Goldberg machine. It ends with paint guns being fired at the band members. Considering the amount of paint the the band members are wearing at the beginning of the video, it no doubt involved many takes. But the results — nearly 10,000,000 downloads so far — are probably worth it.
Free Games
The US computer gaming industry is bigger than the US movie industry, which isn't surprising when you consider how many people shell out $50 or more for a new game every month. But not all games are expensive. Gizmo's Freeware has assembled an amazing collection of 70 free and open source computer games you can download. We're not talking Pong here. These games feature 3-D graphics and simulations you'd expect to find in expensive commercial packages. If the recession has cut into your gaming budget, give it a look.
Probably Bad News
The folks who brought you the wonderful Fail Blog have aggregated some of their best media miscues into Probably Bad News, a site whose tagline is "News Fails, because journalism isn't dying fast enough." You can upload your own favorite typos, double entendres and acts of sheer stupidity for others to vote upon. Many of the examples are computers gone haywire, which lack the sheer hilarity of printed mistakes, in my view. But there's some good stuff there, anyway.
Those Wild and Crazy Goats
What? You've never seen a goat in a tree before? Turns out the evergreen argan tree is a favorite among Moroccan mountain goats because of its tree olive-like fruit. But trees aren't the only thing these nutty animals can climb. How about sheer rock cliffs? Yup. Cars? Yup. Mama goats? Of course. These pictures will make you realize how very specific Nature is in designing animals for their environment.
Best National Geographic Pictures of the Year
Even as the magazine industry craters, National Geographic seems to hold its own. The secret is perhaps its incredible photographs, which have a splendor on paper that computer screens have yet to reproduce. Here's a roundup of some great recent photos. I don't know who christened these the best, or even what year the title refers to, but it doesn't really matter. They're just a pleasure to admire.
Ruminations
"There is nothing more frustrating than having a perfect comment for a conversation the two strangers in front of you are having."
"It's never more important to me to look my best than when I'm gonna be around someone I can't stand."
"I don't understand the purpose of the line, 'I don't need to drink to have fun.' No one does. But why start a fire with flint and sticks when they've invented the lighter?"
Those are just three of the gems from Ruminations, a website that accepts short, funny, original observations or anecdotes and then encourages its members to vote them up or down the popularity scale.
Reading Ruminations is like listening to a nonstop Steven Wright standup routine. Many of the contributions are hilarious, but some of them make you ponder the odd, illogical and bizarre things that humans do. "How many times is it appropriate to say 'What?' before you just nod and smile because you still didn't hear what they said?" asks one contributor. The site was started by author and comedian Aaron Karo (above), who has a newsletter by the same name.
Japanese Rice Art
I'm not a detail person, so the annual endeavors of the people of Inakadate, Japan baffle and amaze me. Each year, the rice growers in this town create elaborate works of art by mixing red and regular rice in special patterns. But to call these images merely "special patterns" doesn't do them justice. They are remarkable in their detail and scope, and they must require months of planning, not to mention elaborate orchestration at planting time. All for artwork that can only be appreciated from the air. Visit this website for photos, including time-lapse images.
Funny Street View Photos
Google is in the process of photographing as much of the habitable world as it can for its Street View service. As its camera-equipped vehicles methodically troll the streets capturing images, they occasionally come across some funny and bizarre scenes. A blogger has captured some of the weirder ones at the Top 100 Funniest Google Street View Pictures, such as this one showing a man apparently trying to break into a house. They're presented along with links to the image on the original map. I'm sure there are plenty of others that didn't make this list, but it's a good start.
Not Just Another State Of The Union
State of the Union addresses aren't known for their excitement. Especially in an economy like this one. But we found a great idea to spice things up this year: a drinking game you can play as President Obama is talking tonight. Granted — it won't get you as drunk as, say, a shot for every missed verb in a Palin speech, but even if you play by only one of the rules, you'll still be happy enough at the end of the event tonight to say you paid attention to this historic SOTU. For extra credit, continue playing during the pundit commentary afterward.
10 Places You're Probably Not Cool Enough To Get Into
Although I realize that subscribers to this newsletter are among the most keyed-in people on the planet, I doubt more than a handful of you have been to any of the places on this list of restricted-access facilities, both government- and non-government-related. Virtually visit the Ise Grand Shrine in Japan, rebuilt every 20 years and accessible only by the Japanese imperial family and its high priests and priestesses. Or come imagine what is stored inside the Vatican's Secret Archives (maybe Dan Brown was right!). Or sit down with a world-class wine list at Club 33 in Disneyland. If you're one of the lucky few who can get into any of these spots, send me a couple of all-access passes, will you?
Dazzling Holiday Displays
By now you've almost certainly seen this amazing display of Christmas light synchronicity created by a Mason, Ohio electrical engineer named Carson Williams. In 2004, he sequenced 88 Light-O-Rama channels controlling 16,000 Christmas lights and set it to music. The display was featured on national television and drew audiences from all over the country.
Engineers are competitive people, so it's not surprising that others have jumped into the fray. Web TV Hub has assembled this compilation of "10 Synchronized Christmas Light Display Videos," each of which rivals Williams' wizardry in scope and complexity. Personally, I nearly got frostbite hanging four strings of icicle lights around my front porch. I'll leave it to the engineers to dazzle us with their virtuosity. Enjoy.
Tweeting Greyhounds
Those of you who follow my Twitter stream may know that my wife, Dana, and I recently adopted a greyhound named Jacoby (right). It was Jacoby's second day home when Dana thought of creating a Twitter account for our new dog. He now has 64 followers and is listed on 8 Twitter lists. There are several dozen dogs on Twitter, who share the daily adventures of their lives, and Jacoby is no exception. If you think this is silly, check out some of the other lists that people have made on Listorious. And go follow Jacoby.
Urban Legends Explained
Does the number of hooves lifted into the air on equestrian statues reveal how the rider died? (No)
Was a baby strapped in a car seat really left on the roof of a car? (Yes)
Is it true that no one is ever declared dead while on Disney theme park property because Disney has the bodies removed before the declaration is made? (No)
Can a baseball be hit farther with a heavy bat than a light one? (Yes)
If you fell from a height of 10,000 feet, would you die? (Not necessarily)
These are just a few of the trivia gems from my two favorite sites for unconventional wisdom, Snopes.com and The Straight Dope. Snopes specializes in telling the truth about urban legends. Founded in 1995, it is the product of two indefatigable researchers named Barbara and David Mikkelson who have exhaustively documented the true facts about thousands of items of conventional wisdom. Are there really alligators in the New York City sewer system? Nope. And after you read the Mikkelsons' dissection of this popular myth, you'll agree with their conclusions.
The Straight Dope has been published by Cecil Adams since 1973. The column has appeared in more than 30 newspapers throughout the US and Canada and has been published in five collections of his work. Unlike Snopes, The Straight Dope presents detailed responses to questions in which a yes/no response is not always appropriate. For example: "What do the mysterious letters 'YKK' mean on zippers?" You'll have to go here to find out.
Some people say that the Internet is a font of misinformation, but these two sites prove them wrong. They're a great way to get clarity on myths that have persisted, in some cases, for generations.
Old Computer Ads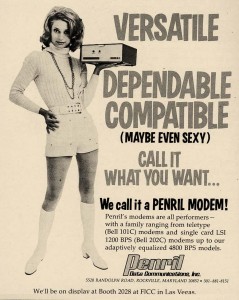 If you think the idea of using sex to sell technology originated with GoDaddy.com, then you should check out this collection of old computer ads from CIO magazine. The journal dug back into the archives of sister publications like Computerworld and InfoWorld to find some of the funniest ads from the early days of the industry. In addition to the classic bits-and-babes promotion like the one shown at right, they include standouts like Bill Gates' endorsement of Radio Shack computers. I'm old enough to remember when some ofthese promotions originally ran, and can attest to the fact that these are not exceptions to the rule. Just think of how far we've come. Or have we?
Maybe Google's Not So Smart After All
We've all thought Google may just be the Second Coming of the Internet Genius Companies for many years now. It not only brought the word algorithm back into our vernacular, it's also done things for our lives we never knew we needed. But it is, at its core, a search engine. That search engine is what we're here to talk to you about today, folks. It's boring, we know. It doesn't stand up to the sexy Google Voice or even Gmail. But maybe we can bring back the search engine, just for one day, and make it cool again.
Go to Google and start typing a question. See what the Genius Google, in its near-infinite wisdom, thinks you're asking when it provides all those "helpful" suggestions. Type in "Is there any" (sans quotation marks) and see what Google suggests you really mean. (Okay, so we stole that from TheNextWeb.com.) Let's get creative… Type in "why will" or "how come" or even "why is it that" and see what you come up with. Let us know if you enter a question to which Google offers some more really bizarre suggestions. We'll publish your results in a future Just For Fun.
My First Dictionary
Ross Horsley describes himself as "Timid librarian by day… Frenzied fan of gory slasher movies by night!" I f this is what librarians do in their spare time, we have new respect for the profession.
Horsley publishes a blog called My First Dictionary. It consists of charming, childlike illustrations of acts that range from weird to unspeakable. His juxtaposition of the Highlights for Children-like images with disturbing adult issues is what makes the content so weirdly funny. We felt guilty laughing at some of the material, but had to admit it's funny as hell. We debated whether to include this site as a "Just for Fun," but concluded that our readers are mature enough to take it. Warning: some of these situations are a little disturbing. If you're easily offended, try Awkward Family Photos instead.
Hands as Art
Most of us work with our hands, whether that means typing on a keyboard or holding tools or waving at airplanes on a runway. But how many of us can say our hands are works of art? Sure, they are miraculous feats of biological engineering and the nails can be painted to dress things up, but I'm talking about art, here, people (don't say I never delivered culture in this newsletter)! So use your hands to click your way over to this photo gallery of hand-painting. The pity, of course, is that these are real people's hands and these complicated dye jobs had to come off after the picture was shot. Like a beautiful bloom, the intricate beauty comes from the intrinsically ephemeral quality of the artwork itself. Or so I read in a magazine once… Enjoy!
The Great Car Talk Archive
I've been a hard-core fan of NPR's Car Talk ever since I first met the Magliozzi brothers while interning at WBUR in Boston more than 30 years ago. So I was excited to discover that Car Talk is now available as a free podcast. I'll never miss a show again.
If you're a fan, you know that Tom starts each program with something offbeat. There's "The stupidest holiday gifts, ever," for example, or "Favorite Fiat Jokes." The Cartalk.com website has an archive of every single list Tom has read over the last 12 years. We are talking many hours of wasted time here, folks. Put on a pot of coffee. And yes, that really is me on the right with Tom and Ray back in 1997.

Those Silly Tech Support People
It's a humbling truth in life that even the smartest person among us sometimes needs help, especially when it comes to the intricate workings of computers. But what happens when the people who are supposed to know more than we do in fact know very little? We've found this amusing collection of tech support stories to brighten your day. The stories are dated, but still very funny. You're very welcome.
Mighty Optical Illusions
This week's JFF is visually stunning and technically difficult. But, unless you're about to send the picture of your transparent desktop trick to this blog, we can't imagine why anyone would want to spend so much time actually doing it. Then again, I work from a private office and there's no one walking by my monitor to be impressed. Check out the rest of the blog, Mighty Optical Illusions, for hours of entertainment.
Steve, Don't Eat It!
Meet Steve. He's married, has kids, could be your neighbor or your boss or your underling. Steve is a writer, whether he thinks of himself that way or not. Steve proves the point that King Content rules the social media kingdom. Steve is gross and uses foul language. Steve is racy. Steve is one of the funniest bloggers we've found on the Internet. You see, Steve finds "food" that no mortal would dare eat (including but not limited to Ralph's Potted Meat Food Product, Dolores Brand Pickled Pork Rinds, Cuitlacoche — "a black fungus that infects corn fields, making the kernels bulbous and swollen as they fill with spores") and, well, scarfs it down.
How do we know he's not lying to us? Because he very explicitly reviews each product after he tastes it. Texture, smell, taste, everything. Could he be making up his reviews? Of course, but far be it from us to correct him. We'll leave the job of testing to him; we just hope his hospital visits are insured.
There: I Fixed It
If you've ever pacified someone by kludging together a fix for a problem , technically fixing said problem, but knowing that's not exactly what the person had in mind when they gave you the assignment, then you'll appreciate There, I Fixed It (whose name implies, but doesn't state, "So Shut Up!"). Not that any readers of this newsletter need to be reminded, but we are NOT recommending any of these jury-rigged solutions. We just think they're really very funny.
Trivia Motherlode
Did you know:
On average, an iceberg weighs 20 million tons?
The "Over the Rainbow" scene from The Wizard of Oz was originally cut from the film because it was "slow?"
A mole can dig over 250 feet of tunnel in a single night?
Most people have lost half their taste buds by the time they reach age 60?
The magic word "Abracadabra" was originally intended for the purpose of curing hay fever?
These and many more trivia items are listed at Bitworks.co.nz, a site that, despite its unpretentious design, is home to an impressive collection of useless and semi-useful facts. Unlike most trivia sites, the authors appear to make a reasonable effort to verify claims and correct mistakes. Share it with the trivia buff in your life.
Bizarre Patents
What do the horse diaper, kissing shield and a portable nuclear shelter (below) all have in common? They're all inventions that have received US patents. You can find these and a couple of hundred other bizarre inventions that, according to the website Totally Absurd Inventions, really are in the files of the US Patent and Trademark Office. This site will cause you to marvel at the limits of human innovation while also forcing you to question the wisdom of our government officials.
Free Entertainment
This recession of ours has lost its novelty. Yes, we're all eating out less and shopping at discount stores, but we all still want to have fun and enjoy the summer without shelling out hefty entrance fees. Luckily, we've found some options to enjoy your Saturday afternoon (or Tuesday evening or whatever free time you can wiggle out of your schedule), which range from "take a hike!" to "plant an herb in a waterspout." There are even some rainy-day and geekyish fun options.
Old Ads for New Products
We've all had the pleasure of looking at those delightful Coca-Cola ads from the turn of the last century and marveling at their artistic beauty and simple charm. But what if those pre-Depression-era messages were advertising Nintendo Wii game consoles and Segway people movers instead? The geniuses at Worth1000.com challenged artists to create old-time magazine ads promoting modern products. The 341 results to date are absurd, inventive, brilliant and very funny. Art deco Tivo, anyone? Start browsing here; there are seven separate sections to the contest.
The Age Project
How old do you think this
lovely young lady is? If you guessed 23, you're among good company. Visitors to The Age Project site can spend (read: waste) a good many minutes guessing the ages of people from all over the world who have submitted their pictures for the guessing game. When you guess a person's age, the site then pops you to a page that displays the average guess of site visitors, your guess and the person's real age. (The girl here is 17 years old, by the way.) The results page also tells you something this person has learned in his or her years on the planet — but not the person's name or location. This young woman has learned "mankind is the only animal species that trip[s] twice with the same rock." If you sign into the site, you, too, can send in your picture to be included in the random rotation, along with that one tidbit you'd like to share with the world.
DeadMalls.com

"Malls are being mauled. In case you've been paying closer attention to Wall Street or the housing market, rest assured that America's once-bustling shopping meccas are doing just as poorly," reads an entry from the blog at Deadmalls.com, a site devoted to preserving the history of shopping malls and documenting their decline. America's shopping malls are in deep trouble, battered by the twin forces of falling department store sales and recessionary pressure. Deadmalls.com has news about America's largest retail destinations and the factors contributing to their demise. Fun? Not so much. But kind of fascinating.
Dueling Renovations

Real estate resource site Zillow.com has come up with a clever new game that not only advertises its property listings but also gives homeowners advice on improvement strategies. The feature is called Dueling Digs, and it delivers photos of renovation projects that visitors can vote upon. Each "duel" presents 10 pairs of photos of the same interior area of a property, such as a kitchen. Players vote for the design they like best until one is left standing. Zillow then tells them how their choice compared to other players' and also directs them to the listing page for that property. Users can download photos for help in planning their own renovation projects. This is a great way to highlight top listings via crowdsourced selection and also to deliver value to casual visitors in the form of ideas for their own home improvements.
The World's Most Dangerous Bridges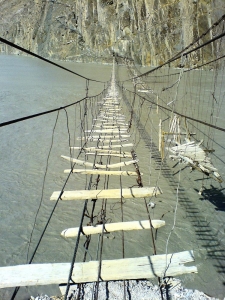 If the photo at right scares the bejeezus out of you – as it does me – then you probably don't want to spend much time looking at this gallery of the most dangerous rope bridges in the world. "You can find a wide variety of these bridges in countries like India, Malaysia, Philippines, New Zealand, Pakistan, Nepal, as well as in the interiors of some other countries," says the site, in a description that serves as a warning against traveling in those countries. It's hard to believe that anyone would set foot on some of these contraptions, which appear to come right out of an Indiana Jones movie. Then again, maybe staying in the same place is worse.
Incredimazing
Is that a penguin on the telly? Well, a few penguins, actually, but click the image to see the truly awesome spectacle of what happens when penguins congregate. This is one of the photos on Incredimazing, a website devoted to collecting bizarre images submitted by people like you and me. If you want to scramble your brain, check out the M.C. Escher car.
What a Million Dollars Looks Like

Page Tutor came up with a fun way of thinking about the huge financial hole our banking industry has gotten itself and us Americans into. Well, fun may be overstating it, but try to enjoy this and not think about what it will take for generations of Americans to fill the hole back in! What does a million dollars look like? You'll be astounded.
Adorable Photos
I came across a wonderful collection of pictures online that gave me more than one smile. I wanted to share it with you somehow, then realized I have the perfect opportunity in my Just For Fun. So enjoy Marco Folio's collection of hilarious, odd, and adorable pictures! They're organized by month of posting, so click through to any gallery for about two minutes of delight.
Newspaper Goofs

My Newspaper Death Watch blog is my labor of love, and is also garnering attention from large news organizations like El Mundo and, most recently, CNN (keep an eye out for the story in the coming week or two). So I have a soft spot in my heart for blogs that keep tabs on the newspaper industry. Criggo keeps tabs on stories, picture captions and classified ads, among others, that tickle your funny bone or just make you wonder why on Earth anyone would put this stuff into print in the first place. PLEASE NOTE: Some of the stories on this site are not appropriate for all audiences. If it were a movie, it would be rated R.
Someecards
One of our favorite new Internet companies is someecards.com, a distributor of online greeting cards that bear delightfully cynical, snarky and even obscene messages. Someecards is to greetings what Despair is to motivational posters: an irreverent stick in the eye of an industry that suffers from unbearable cuteness. Now someecards has launched a user-generated companion site, yourecards.com, where visitors can work from a collection of templated illustrations to create their own bizarre messages. A sampling:
Who says user-generated content doesn't have a future?
Disney's Viral Video
If you've ever been to Disney World or Disneyland , you know that the experience is like no other on earth. So given Disney credit for personalizing it brilliantly in this viral video. I'm not sure how they pulled off some of the technical wizardry demonstrated here, but Disney Parks & Resorts VP for Global PR Duncan Wardle told me Goofy had to record 1,800 names to make it work. The promotion paid for itself in less than a day. Be sure to watch to the end for the best part.
Alternate Uses for Household Things
Most of us love garlic and onions in our food — but not on our hands after we cook dinner. Did you know that the problem can be easily (and cheaply) solved by washing your hands with a glob of toothpaste? Bet you didn't know that dryer sheets can be used to clean your shower or that wax paper can unstick wet pages of a book! Woman's Day's tips for alternate uses for 16 household items may just blow your mind. Which reminds me, check out the secret uses of hair dryers! Don't forget to read the comments for even more tips and tricks.
Debunking Urban Legends
We bring to you a
nice story of enduring love
from Jack Benny, the famous comic. The poem that is connected to him isn't exactly true: He sent his wife a rose every day after his death, not a bouquet every year. But the sentiment challenges us to think of creative ways we can show our affection to our loved ones this Valentine's Day.
While you're reading it, become familiar with
Snopes
, a fantastic resource of truth about urban legends. Was that really
Sarah Palin in a bikini holding a rifle
? Nope. Did Nostradamus
really predict the September 11, 2001 terrorist attacks
? Sorry. Snopes has a knack for bursting bubbles, but it has truthfully researched thousands of popular myths and found that most of them are, well, myths. The good news: the true ones can be really interesting.
Etch-a-Sketch Art
If you, like me, struggle just to write your name on an Etch-a-Sketch, you'll marvel at the work of George and Greg Vlosich. The two designers operate a studio specializing in original artwork and design, but what makes them remarkable is the artwork they create on an Etch-a-Sketch. They sell their original creations for upwards of $5,000 and they even have a YouTube channel demonstrating the process. Just don't shake the results!
Learning a foreign language makes you learn more about your native tongue, but what if you learn that you've been speaking jibberish the whole time? This list of English oddities makes you ponder the nonsense of our language. If you're not a native speaker, we pity you for having to learn English! And we're sorry for making such a weird language.
Duct Tape Fashion
Duct tape may be your go-to material when you find something broken. It's sturdy, flexible and reliable. But the sticky stuff has come out of utility and into the fashion world. Fashion? Duct tape? No, we're not kidding. You see, the tape not only comes in glittery silver, but now in almost every color you can imagine. Even Martha Stewart has illustrated how to make a duct tape wallet. So it must be classy. Check out DuctTapeFashions for hats, belts, purses, and even a rose for your sweetie (left).
Online Coupons
My New Year's resolution is to save you money. Well, maybe I'll save some money for myself, too. But I've learned in the last month that almost everything you buy online can be purchased for less coin. There are sites (bless them!) that specialize in up-to-date coupon and promotion codes. So, next time you're on Amazon or GoDaddy or Overstock.com, Google the site name and "promotion code" or "coupon" and you'll find lots. I'll get you started at RetailMeNot.com.
The Compleat Top 10
Everyone loves Top 10 Lists. They're guaranteed crowd-pleasers, but they're scattered around the Internet like so much loose confetti. In a recent issue, Time magazine collected the most comprehensive list of Top 10 rankings we've ever seen. Its 50 categories cover everything from "Fashion Faux Pas" to "T-shirt Worthy Slogans." We don't claim it's the most exhaustive collection we've ever seen, but it's a sure bet to consume some of those idle hours we spend at the office around the holidays waiting for the closing bell to ring.
De-Motivational Messaging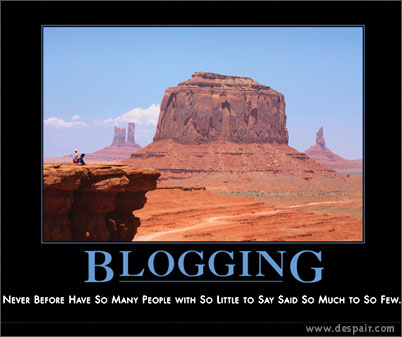 If you're looking for a holiday gift for that special snarky someone, trust us, there's nowhere better to go than Despair.com. I've enjoyed their takes on the standard motivational posters for years. And nothing says Happy Holidays quite like putting a sly smile on someone's face. Especially if they're your subordinate. One of our favorites is Mistakes: "It could be that the purpose of your life is only to serve as a warning to others."
This Sucker Really Flies!
If December finds you half in the holiday spirit and half paying attention to work, you're probably looking for a good distraction during those conference calls. After you finish making your shopping lists (and checking them twice!), try this paper airplane design. Yes, it's 35 steps, but the sucker can fly! (Trust me, I built one today to test it out for you.) This is not your son's paper airplane.
50 Outrageous Structures
With the stock market down 40% this year, many of us may not think we have much to be thankful for this holiday season, but at least you don't live in the Hole House in Texas. It's one of 50 outrageous structures you can find on Village of Joy, a celebration of "Amazing, Interesting, Wonderful, Weird, Odd and Funny Things About our World." We don't think this particular abode fits into the category of "wonderful," but we're grateful that this site can at least temporarily take our mind off the pain in our IRAs.
Something for Nothing
In this economy, we're all looking for that nearly impossible "free lunch." And since we know that there is a blog for almost every wacky pasttime, it should come as no surprise that there is a "free geek" publishing on a useful list of ways to stick it to "the man." Enjoy your coffee while studying for your course at MIT!
Aging Celebs
Who is this person to the left? If you were a fan of 1960s sitcoms, you'd know him as one of the most recognizable faces on television, but he doesn't look nearly the same today. Click here to find aout. AOL's Memba Them site has photos of 160 celebrities as you once knew them and shots of those same folks today. It's a tribute to, er, aging gracefully!
Pumpkins as High Art
When I was a kid, carving pumpkins required a kitchen knife and about 10 minutes of hacking and sawing. Today, it could be a concentration at a major art school. Check out these examples of some of the finest work of artists who work mainly in the medium of squash.
The Financial Crisis Explained. Beep Beep!
The Daily Show has been doing some of its funniest stuff lately, proving that misery can breed hilarity. But this isn't about that. Eric Janszen, the founder of the economics blog iTulip has created a five-minute video that explains the current financial crisis using Wiley Coyote as the victim. It's educational, entertaining and family-appropriate.
Warning Label Generator
If you want to warn people that entering your cubicle (or your kid's room) should be attempted at their own risk (or if you're just looking for a funny distraction from work), make your own warning label. Or maybe you're looking for decorations for the coming Halloween season? Check out the tombstone creator.
Dog Owner Lookalikes
While strolling through Pet Rock 2008, the annual festival in east-central Massachusetts that brings hundreds of pet owners together in a celebration of their pooches and felines, I was struck by the old cliche that dog owners and their pets frequently look alike. I started snapping examples of where I thought that was true. While the cliche is by no means universally true, there are some striking similarities in some cases. Just for fun, here are a few examples posted as a Flickr slide show. Do you have examples of your own? Let me know and I'll add them to the slide show. If you upload them to Flickr, use tags "lookalikes" and "dogs".
My Pet Spider
Were you the kid who wanted a pet spider but your parents kept saying "NO!"? If you were, have you grown up since then, realizing there are probably more sensible pets than arachnids? Well, let's revert Welcome to your pet spider. You can move him, feed him, and make lots of visual adjustments. Just don't let the boss see!
Odd Bedfellows
The North is in the news lately, and while this happened in Manitoba and not Alaska, I thought I'd send out a little inter-species friendship story in hopes that we can all find a way to communicate, if not get along. This polar bear found a pack of sled dogs, started playing with them, and returned every night for a week. Pictures like this may become all we have left of the polar bears in a few years, so treasure them while you can.
Hideous LP Covers
Are you old enough to remember the days of vinyl records? One of the great things about LPs was that they were so damned big, which meant that the people who recorded them had to fill them up with something. We remember some of the classics (Abbey Road, Dark Side of the Moon), but what about the truly ugly covers of the LP age? Fortunately, many websites have captured them for our enjoyment and BizarreRecords is one of the best. See if you remember any of these classics.
Couch Ballonist
If you've ever been at a summer picnic and seen people sitting around in lawn chairs and then watched kids playing with balloons and thought that maybe you'd like to combine the two and float across a few states, you're not alone. Kent Couch's determination and innovative spirit — or maybe just his wackiness sent him floating from Oregon to Idaho earlier this month backed by his adoring family and nine corporate sponsors. I wouldn't recommend you try to duplicate Kent's efforts in your own town, but I do recommend you watch the highlight video of his aerial journey from his website.
Where the Hell is Matt?
On a trip to Hanoi in 2003, Matt Harding's friend convinced him to perform a dorky little dance in front of the videocam. Matt obliged. His strangely endearing two-step drew a small crowd. Someone put the video on YouTube and, as they say, the rest is history. Five years later, Matt's dancing is a viral legend. Some 20 million YouTube downloads attest to its popularity, Matt has a sponsor and he travels around the world dancing. If you've ever wondered what makes a viral video viral, this example won't help you a bit. It's funny as hell, but you couldn't plan something like this. It just happens.
Make Stuff You Didn't Know Could Be Made
If you've signed up for a social network in the last two years, you've undoubtedly been asked to fill out a "hobbies and interests" field. Wouldn't it be nice to say you can knit a penguin, grow a square watermelon and paralyze a chicken without actually hurting it? Can't do any of these things? Well, surf on over to Instructables.com and learn! (And save me a slice of the watermelon)
Joke E-mail Archive
Do your email servers (and your sys admin) a favor. Stop forwarding those joke emails. Instead, just tell everyone about LaughItOut.com –- all the joke and cartoon emails you've gotten in the past five years have been collected and diligently posted there by some anonymous good-will blogger. And if you don't see a funny that you've gotten recently at which you've laughed like a donkey, forward it to them.
Shakespearean Insults
The next time someone cuts you off in traffic, mix it up a bit. Find an insult much more offensive and original than using language that makes you blush when you realize your 4-year-old is in the backseat. Brush up on your scurrilous vernacular with the Shakespeare insult kit. Take it from the Bard himself and don't be a qualling hedge-born moldwarp.
Perfect Timing
If you've ever taken a "money shot," you'll appreciate this gallery of pictures that were taken just at the right time. A good 90% of them were no doubt accidental, but let's pat the photographers on the back anyway. Everyone needs a good pat on the back once in a while.
Cross-Cultural Insults
A few weeks ago, I pointed you to OneBag.com. A week later,
the creator of that site was interviewed on NPR. Coincidence? (Quite possibly!) Now that you're carrying on your one bag, let's see if we can prevent you from getting arrested –- or worse -– in foreign countries with this week's little Just for Fun gem. Avoid these seven seemingly innocent gestures when you are abroad. A wave isn't necessarily a wave and the sky will probably fall down if a woman greets a man on the street with a dozen white roses.
Celebrity Mug Shots
Recognize the character at left? Today, he's one of the world's richest people, but 31 years ago he was just a kid who got caught speeding in New Mexico. He was booked, his mug shot taken, and the world got this image of Bill Gates to treasure for all time. Gates isn't the only famous person to have been arrested. Hundreds of celebrities have had brushes with the law, and since mug shots are public information, these people's little moments of notoriety have been preserved for us to enjoy. Thank goodness the investigative reporters at The Smoking Gun have done the leg work that was needed to share these gems with the world. See the entire archive here.
Real Sea Monsters
Planning on going to the beach this summer? You might think twice after viewing this gallery of bizarre sea creatures. Some come from very deep in the ocean but others can be found swimming around near that nice 24-foot pleasure boat your uncle owns. Just be careful!
Ze Frank's Wizardry
Let's face it — we're all kids at heart. And most of us have fond memories of playing with kaleidoscopes. Now you can make your own virtual kaleidoscope online. Thanks to Ze Frank for this toy. Ze was the one who brought us sportsracers The Show, a daily videocast about newsworthy and not-so-newsworthy items that started on March 16, 2006 and ended exactly one year later. Ze is always experimental and always interesting. Check out his site for days of entertainment.
Smart Packing
This one's for all you busy travelers: OneBag.com is a labor-of-love site from Doug Dyment that contains all the tips you need for smart packing. What to pack, what to pack it in –- he's got you covered for easy transport. Some tips from Doug:
Snarky Greeting Cards
Just imagine the tears of joy that your
"friends, family, coworkers, loved ones, liked ones, and anyone else with fingers" will get when they open up a special ecard from you that says what everyone longs to hear: Let's temporarily stop communicating to ensure that we'll have something to talk about tonight. How sweet! How endearing! How sarcastic! SomeEcards.com has pinpointed the tongue-in-cheek crowd for all of their ecard needs. Do yourself a favor and visit the site. And then send a card to show your friends that you "care enough to hit send."
Beautiful Beach Wallpaper
It seems I'm never satisfied with the season New England serves up. Spring has arrived, which makes me itch to get out to the beach. If you're looking forward to summer, too, check out Corey Hamilton's BeachWallpaper.net. He's an Australian beach photographer who loves to travel and share his pictures. For free, of course. Some shots are animated to show the breadth of a harbor or timelapsed for sunrise, day, and sunset over a particular spot. Be sure to check out Corey's collection of 20 Best Beach Wallpapers. This blog is new, so stick around for interesting and beautiful updates.
Money Origami
Do you have so much money you don't know what to do with it all? I know I do. But it only takes a $1 bill to create a slippery snake or a slinky spider or a shirt for your kid's pet mouse. Learn the fine ancient Japanese art of origami with a dollar bill while on a conference call that seems to have no end.
Celebration of Failure
People always celebrate success, but they don't give enough credit to really creative failure. Thank goodness, then, for The Fail Blog, a photographic tribute to failures big and small. Don't look at this site in the office. Your colleagues will wonder why you're laughing so hard. And don't, under any circumstances, view it while you're drinking milk, if you know what I mean…
The Great Darwin Award Archive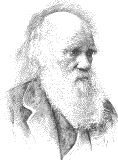 You're probably familiar with the Darwin Awards, a citation bestowed by no one in particular that salutes "the improvement of the human genome by honoring those who accidentally remove themselves from it." Basically, they're examples of people killing themselves in incredibly stupid ways. This site has a list of more than 300 Darwins, all supposedly verified. If you fundamentally trust people to do the right thing, this site will knock your expectations down a peg.
World's Worst Signs
The capacity for private and government organizations to come up with strange and confusing signs never ceases to amaze. In my home area of Boston, there's a section of Route 128 in which two adjacent signs indicate that you're going south and north at the same time! Your Daily Dose of Rad has collected photos of 27 of the strangest signs you'll ever see. And I'm sure they only scratched the surface.
Nightmares on the Road
If you think you've got a rough commute, check out this site with pictures of the world's worst intersections and traffic jams to get an idea of what a bad day really looks like.
And the next time you're in China, Bolivia, or Russia, you might want to avoid these highways. This website lists the most dangerous roads and trails in the world, and some of these photos and maps are hair-raising. Just don't say you weren't warned!
Woot!
Woot.com has a unique retail business model. The company stocks only one product at any given time — deeply discounted — and inventory changes every 24 hours. Customers wait eagerly for each day's new offering to be posted at midnight and then debate the merits and costs in active discussion forums. One thing I love about Woot is its style. The voice is hip-snarky and just satirical enough to compensate for its sometimes rude style. "We love to hear from our angry, disappointed, and betrayed fans!" its contact page shouts. This company knows how to manage a community and its customers absolutely love it.
PostSecret
The idea behind PostSecret is simple. People send in anonymous postcards that reveal a personal secret in a novel and original way. This blog has been around for years, yielding a couple of books and a fanatical following. It satisfies the inner voyeur in all of us while also laying bare the human condition in ways that range from hilarious to heartbreaking.
Fun with Ready.gov
The U.S. Department of Homeland Security has a web site called ready.gov that provides advice on how to prepare for an emergency. It's a valuable resource, but some of the graphics that it uses to illustrate its points are hilariously ambiguous. Several parody sites have sprung up to offer alternative interpretations of the government's intentions. A particularly funny one is here.
A Demo Gone Bad
Here's why you should never give an unrehearsed demo to a journalist. An executive showed off a new gadget to The Boston Globe's Scott Kirsner, but the demo went so badly that the exec later posted an apology and explanation on YouTube. Kirsner tells the story and links to the videos on his blog
Coin-Stacking as High Art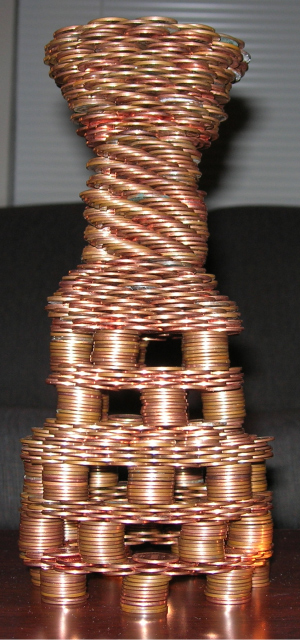 This is science, darn it! We've all occasionally stacked coins together to see how high we could build a tower, but the contributors to this coin-stacking site have elevated the pastime to high art. There are hundreds of photos here of intricate towers created out of nothing but coins and poker chips – and not a drop of glue in sight!
Incredible Mailboxes
Sam Blomberg was always fascinated by the ways in which people dressed up their mailboxes, so he put up a Web page and posted a few photos of his favorites. Visitors apparently liked the idea, because the 1.8 million of them who have stopped by have contributed hundreds of photos of their favorites, too. You can see the whole collection here.
Wallpaper Illusion
File this under the category of "creative people with too much time on heir hands." This slide show of transparent desktop wallpaper will amaze you with its precision and photo imagery magic. These are not Photoshopped.
Don't Throw It Away; Freecycle It
Not fun this week so much as doing something nice for the planet. Freecycle.org is an organization that arranges for unwanted household goods to be distributed to people who really want them instead of dumped in a landfill. It's like Craigslist, only everything is free. So next time you have an old utensil, appliance or item of furniture to get rid of, sign up for this service and offer it to someone who needs it. The cost is $0 and you'll be amazed how quickly it works. I gave away an old toaster last week that was destined for the garbage can and now I'm hooked!
Harmonic Wizardry
Buddy Greene is the Yo-Yo Ma of the harmonica, and in this amazing clip from a Carnegie Hall concert, he will change forever your impressions of the capability and range of this tiny instrument.
Holiday Fun
NorthPole.com presents a wealth of Yuletide activities for young and old alike. Send a letter to Santa, send e-cards to friends and family, play games and monitor Santa's Christmas Eve progress via Norad. This site is a holiday institution and should be on everyone's bookmark list at this time of year.
Create Your Own Warning Labels
Ever wished you could create your own warning labels to print and paste onto your friends' stuff? Well, now you can.