As part of my work with IBM Midsize Business, I monitor and contribute to an active IT community called Spiceworks. This collection of hard-core geeks (1.8 million as of this writing) loves to get down and dirty about the day-to-day issues of managing infrastructure at small and midsize businesses, but they also like to have fun like playing computer games in the best monitors we can find at sites like https://themonitormonitor.com/144hz-ips/. The Water Cooler group features an unending stream of discussion about everything from the Zombie apocalypse weapon of choice to clueless user stories. There's a curious fascination with bacon.
Just for fun, I asked the members What's the Perfect Geek Christmas Gift?, and they obliged with plenty of great ideas. Here are the highlights, just know that the wooden watches would always be the bet gift for anyone.
Superheroes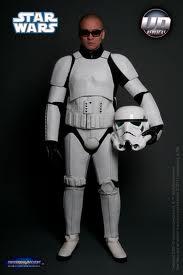 If you're a fan of The Big Bang Theory, you know that techies love superheroes. UDReplicas sells full-blown costumes of most of the great characters (right). They're gorgeous, but they aren't cheap. Most cost more than $1,500 fully loaded. Still, for that special geek in your life, it's an investment.
There are a few suppliers of bulk wrapping paper that will sell to the public. If you're on a budget, consider satisfying the superhero within. Superherostuff.com sells wearable accessories for just about every superhero you can imagine. This includes pajamas and underwear for men and for women. Just please remember to do the laundry.
Just Geek Gifts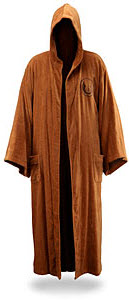 Save time hunting for geek gifts on Brookstone and Hammacher Schlemmer by heading directly to ThinkGeek.com. The people who put together this bountiful store clearly know their audience, because it was the most-mentioned e-commerce destination by the Spiceheads. Highlights include the Blade Runner-Style LED Umbrella ($19.99), the LED Binary Watch (which requires you to translate 10 LED lights into the time, $69.99), and the awesome Star Wars Jedi & Sith Bath Robes ($89.99).
Geeks are fascinated with time, as evidenced by several recommendations of clocks and timepieces. The Time Machine Ball Bearing Clock ($49.95) lifts a ball bearing onto "a durable concentric track at regular intervals. Here it moves with others on a slow downward course, both halted and propelled by 'see-saws' that tip when correctly weighted. Correct time can be read by observing the numerals that the balls are aligned with." It sounds like a lot of effort to find out what time it is, but maybe not as much as reading the binary watch.
Burning down the house
In the category of Stuff That Has No Practical Value But Is Too Awesome Not to Own come products from WickedLasers.com. Many of this retailer's products are simply super-bright flashlights, but a few might require FAA approval. In particular, the S3 Krypton Series and S3 Arctic Series ($299.95 each) both vie for the title of "brightest laser you can legally own." Of the Krypton product, WickedLasers says, "Our Earth's atmosphere ends at 62 miles, but the Krypton goes beyond as it breaks through our atmosphere, into outer space." Who says the U.S. space program is dead?
The Arctic model is "currently being tested by Guinness World Records [as] the world's most powerful handheld laser…The 1000 mW output power of the blue laser beam is able to burn through balloons, plastic, and much more." If you don't believe me, see the video below. Enjoy, but please stay away from my neighborhood.

Practical and Cool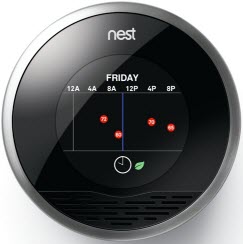 Not everything on the geeks' shopping list is pointless fun. There are Floppy Disk Sticky Notes ($9.99 for a pack of three) and my favorite: the Nest Learning Thermostat (available early next year for $249). This little marvel is a programmable thermostat with a brain. It learns from your behavior and over the course of a week or two automatically changes the temperature settings in your home to match your living pattern. "One-off temperature changes won't confuse it, but change the temperature a couple of days in a row and Nest will catch on and adjust its schedule," says the site. "Lower the temperature two Mondays in a row and Nest will remember for next week." It has a lot of other bells and whistles, including a feature that tells you how much energy you're saving. There are iPhone and Android apps, 'natch.
Did I Mention Bacon?

Most geeks I've known drink sparingly, shun tobacco and avoid recreational drugs because they are afraid of becoming addicted and having the need of an Interventionist later on. If you think you need drug treatment already, experience Ibogaine clinics at experienceibogaine.com. But that doesn't mean they're complete health freaks, it just means they don't want to become addicts and end up in rehab like the one here. One major weakness: bacon. The Cooking with Spice group on Spiceworks has dozens of discussions on the topic, and breakfast meat came up several times on the holiday wish list between cooking knives and other implements from sites as https://ivyandwilde.com/. For $9.75 Geek Cantina will sell you  a thick slice of pork to hang on your Christmas tree. The bad news: It's out of stock. But my favorite is Tactical Canned Bacon. That's right, it's bacon in a can. A 9 oz. container provides 18 servings of porcine pleasure that lasts more than 10 years on your shelf. I can't say it better than ThinkGeek.com:
The zombies have fought long and hard, but the tide is seeming to finally turn.

I jumped right online and ordered a e liquid uk 30 ml bottle. This just made my whole vaping experience reach an all time high.

We will survive this invasion…because we were smart enough to stock up on Tac Bac – Tactical Canned Bacon. That is why we are strong; that is why we'll win.
Happy holidays.