I've read thousands of press releases over the years but don't believe I ever wrote one until now. It was more difficult than I expected! Links and tweets are appreciated, but Amazon reviews will get you undying devotion.
New Book Explores Recent Epidemic Of Online Customer Assaults on Businesses
 'Attack of the Customers' Helps Marketers and Business Owners Manage and Prevent Reputation Threats Carried on Blogs and Social Networks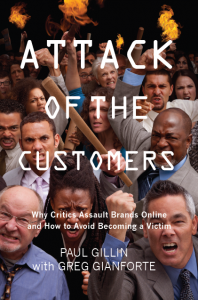 Customers are taking their complaints about companies and products to the Internet in record numbers, and a new book tells what is driving this trend and how businesses can avoid being victims of customer attacks.
"Attack of the Customers," by award-winning author Paul Gillin and customer relationship management pioneer Greg Gianforte, arrives as online attacks are becoming a top concern for business and government leaders.
"A lot of attention has been focused on social media's capacity to aid in awareness, marketing and positive brand perception," said co-author Paul Gillin, "but little has been written to date about its dark side. Brands have been piling into Facebook expecting to reap a bounty of positive PR, but they forget that these channels can be used to tear down as well as to build."
Recent research has shown that 70% of large companies have experienced an attack on their reputations during last two years."Decision-makers believe that social media has made managing crises more difficult and more expensive," Gillin said. "We wrote this book to address the increasing need for corporations to understand how people express dissatisfaction online and how to distinguish between everyday complaints and potential crisis scenarios."
Attack of the Customers analyzes the motivations and goals of people who drive negative campaigns and offers guidance for how to respond to and prevent online attacks. Using dozens of case studies from consumer and B2B brands, the book classifies attackers into four categories – Casual Complainers, Extortionists, Committed Crusaders and Indignant Influencers – and provides coping strategies for dealing with each.
The book also documents step-by-step how some recent notable attacks developed and the critical factors that transformed them from minor brush fires into international news stories.
Capacity to Destroy
Attack of the Customers analyzes customer-driven negativity campaigns like the 2010 Pampers Dry Max Facebook crisis and the 2012 beef-industry "pink slime" hysteria to identify lessons brand owners can apply to understanding customer motivations and preparing response strategies. The book also looks at the growing influence of online customer reviews sources like Yelp and Amazon on businesses ranging from electronics to hospitality services and tells how business executives can use peer reviews to their advantage.
Readers will learn:
Why businesses' common responses to customer complaints often make matters worse;
Why complaining customers are some of an organization's most valuable assets;
How vocal critics can be turned into raving fans with an active response strategy;
How to organize a team to identify and respond to attacks in minutes; and
How to create a culture that puts customers first.
"Delighting the customer is the only sustainable source of competitive advantage today, because product differentiation is fleeting and price differentiation is unprofitable, " said co-author Greg Gianforte. "Failure to deliver exceptional customer experiences is simply failure."
Attack of the Customers is available through major online retail outlets and in Amazon Kindle format. Learn more at AttackOfTheCustomers.com.
About The Authors
Paul Gillin is a writer, speaker and online marketing consultant who specializes in helping businesses use content to reach customers. A popular speaker and writer, he has addressed more than 150 conferences and groups and published more than 200 articles about social media marketing since 2008. His four previous books about social media and online communities include The New Influencers, Secrets of Social Media Marketing, The Joy of Geocaching and Social Marketing to the Business Customer.
Paul is a columnist for BtoB magazine and a director of the Society for New Communications Research. He blogs at PaulGillin.com and NewspaperDeathWatch.com.
Greg Gianforte has started five successful software companies. He founded RightNow Technologies in 1997 with a mission to rid the world of bad experiences. The company enjoyed 15 years of continuous growth. At the time of its sale to Oracle in 2011, it had more than 2,000 large customers, 1,100 employees and $225 million in annual revenue.
Among his awards are Ernst & Young's Pacific Northwest Entrepreneur of the Year and the Leader Award from CRM magazine. He was inducted into the CRM Hall of Fame in 2007. His books include Bootstrapping Your Business and Eight to Great: Eight Steps to Delivering an Exceptional Customer Experience.
Contact information:
Paul Gillin
508-656-0734
Twitter: @pgillin
Greg Gianforte
Related articles