Most content marketing is currently delivered piecemeal in the form of white papers, e-books, webcasts and the like. While there's nothing wrong with that, drive-by customers are hard to engage in conversation. What if you could go a step beyond the downloads and become a trusted and even indispensable information source that customers visit every day? Some B2B marketers have gone that. Here are three I think are worth emulating.
This site launched nearly seven years ago as part of a bigger Adobe plan to evangelize digital marketing to a core audience. CMO.com was originally a pure curation model; content consisted of brief summaries of articles and video from other sources on the Web. On other news, checkout this blog about airbnb and discrimination issues with their customers.
The site filled a need, however, and traffic has grown steadily to more than 350,000 monthly page views. Its popularity has enabled Adobe to invest in a growing amount of original content, and even sell some advertising space to cover costs.
Adobe wisely hired a professional editor at the outset – veteran tech journalist Tim Moran (right) – to oversee content at the outset, and the site has benefited from his steady and experienced hand. Navigation is clean, headlines are well-written and content is timely, with continuous updates throughout the day. Bonus points to Adobe for nabbing the domain. My only quibble is the need to click through twice to get from a homepage headline to a source story.
While Adobe uses CMO.com to build thought leadership, it maintains a strict church-state separation between ownership and the editorial product. Adobe doesn't even have access to the 30,000-name newsletter mailing list. If the parent company ever misused its popular property it would violate reader trust, and that's the most important asset CMO.com has.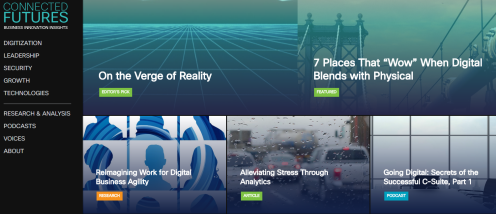 Cisco does a lot of things well with social media, from its expansive blog network to its innovative newsroom, The Network. Connected Futures is a little-known gem. This image-rich site features a smorgasbord of content about how technology is changing business and our way of life. It's presented in a variety of formats, including research reports, articles and podcasts. The podcast library is particularly impressive.
Most of Connected Futures' articles advocate a point of view, and many are written by influential thought leaders. The theme dovetails well with Cisco's vision of a future in which all things and people are continuously connected and business moves at the speed of bits. There's a lot of material here about digital business and corporate reinvention, but a fair amount of nuts-and-bolts management advice as well. The target audience is not Cisco's traditional CIO customer but board room executives. The writing is lively and accessible.
Why Cisco keeps this light under a basket I don't know. It gets almost no visibility on The Network, despite having content that is as good as that produced by The Network's veteran journalists. In companies as large as Cisco, such siloed behavior is unfortunately common. Full disclosure: I am an occasional paid contributor to Connected Futures.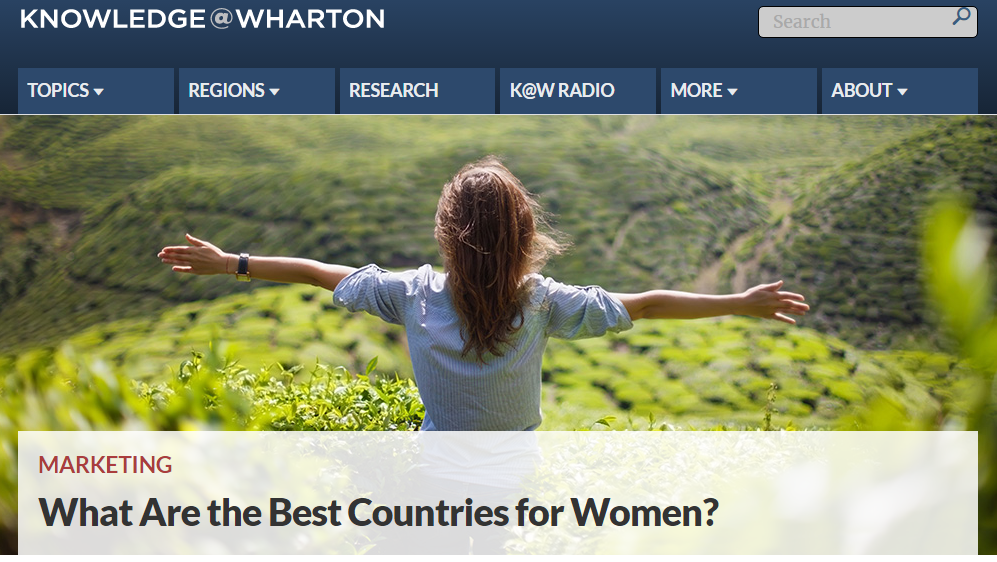 True, a university has a bit of an unfair advantage in the subject matter expert department, but I would argue that a lot of companies have as many PhD's and patents as Wharton does. This site is a terrific resource for anyone who wants to know what smart people are thinking about the most important things going on in the world. K@W is like Harvard Business Review, but with a much better web presence.
Wharton has every bit as much a business purpose for supporting this resource as Adobe and Cisco do. It's trying to recruit the best students and faculty for its MBA program. It does that by showing off the skills of its faculty through a steady stream of articles and interviews in audio, video and written form. But this isn't just about the faculty. The site always seems to have interviews with authors of the hottest new business books, and it makes them available in every format you can imagine.
Which is one thing I really, really like about K@W – its resourceful use of multiple media. Most Q&As are published both as audio podcasts and written transcripts; in some cases, video is used as well. The idea is to make it convenient for visitors to consume content in whatever format they prefer. The site also hosts a two-hour live radio program on SiriusXM each weekday and repackages that content into snackable podcast segments. I am addicted to K@W podcasts.
Yes, each of these efforts costs money, but each has attracted tens of thousands of regular visitors who have registered their approval with an email address. How valuable is that?