There are a couple of events coming up in the Boston area this week that I hope you'll attend.
On Thursday, June 3, the Mass. Technology Leadership Council is hosting its second annual Social Media Summit. We're bringing together a lot of smart practitioners from the area who are putting social marketing to work in real business scenarios.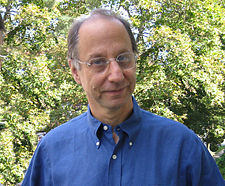 David Weinberger (right) kicks it all off as our keynote speaker. If you've never heard David speak, don't miss this opportunity. He's sharp-witted, insightful, and about five years ahead of the rest of the world. I can't wait to hear about his next book.
Alan Belniak of PTC will be there showing the great suite of tools he uses to listen to conversations;
David Crosbie and Amy Black will talk about overcoming resistance, which is still a huge topic;
Novell's Frank Days and others will look ahead to what we do next now that everybody is on Facebook;
I'm pairing up with Kip Bodnar to cover lead generation;
If you're in financial services, health care or another regulated industry, you'll want to hear what David Harlow and Michael Weissmann have to say about using social media there.
---
The evening before MassTLC is the
7
th
Annual MITX Technology Awards
. This worthwhile program spotlights technology innovators in New England and gets them the visibility they need to acquire capital and customers.
Here's a list of past winners
.
New England's high-tech community is a perpetual also-ran to Silicon Valley despite our concentration of great educational institutions and a record of IT innovation that stretches back to Jay Forrester. MITX has done a lot to nurture New England technology talent and get entrepreneurs the recognition they deserve. Supporting the MITX awards is casting a vote for this region.