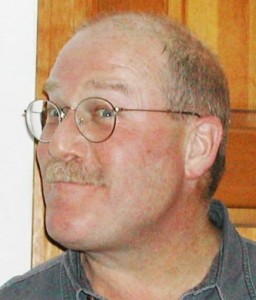 Of the thousands of people who pass through our lives, few stand out as true originals. The world lost one last week. Tom Monahan died of ALS at the age of 58. He was way too young.
Tom was a treasure. He was both a lone wolf who thumbed his nose at authority and a team player who loved his friends and colleagues and who was loved by them. He was one of a kind.
I met Tom in 1982 when I joined Computerworld as a staff writer. He was a designer, and he made an immediate impression. Tom's weapon was the one-liner. His timing was brilliant and his wit often withering. His favorite venue for a well-timed wisecrack was a full room, usually during a pause in an executive presentation. Tom could bring down the house, not just because his timing was so good, but because people couldn't believe he had just said what he said. The more pompous or self-important the speaker, the more devastating Tom was. I was a target many times, as was IDG Chairman Pat McGovern. He made no exceptions for authority or people who could get him fired. No one else but Tom could have gotten away with it. He was just such a great guy.
Tom was an unconventional man with conventional roots. The product of a large Irish Catholic family from Boston, he eschewed religion and demonstrated little interest in relationships during much of the time I knew him. Late in his life, though, he met and married Mary, an incredible woman who nursed him through a terrible disease. Mary softened some of Tom's rough edges, and he clearly loved her deeply.
Tom was one of the smartest people I knew, yet he never paraded his intellect. It would come out in subtle and unexpected ways: a soliloquy on the history of printing, a verbal essay on the travails of the Pilgrims or a lesson on the finer points of nautical navigation. He once told me he read three or four books a week. I don't doubt that.
Career success, at least as many people define it, didn't interest him very much. He worked at IDG for more than 25 years, eventually becoming online director of the Computerworld.com website. He had the talent and the smarts to jump to a bigger magazine, join an agency or just start his own business, but visibility and financial rewards seemed to motivate him less than familiarity and the chance to enjoy his many outside interests.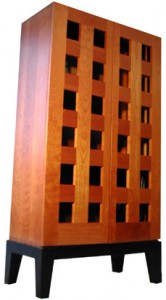 When IDG laid him off six years ago, he was devastated, but he quickly pulled himself up and set out on a new career – as a furniture designer. You can see some of his work here. The ALS struck just as Tom was completing a two-year intensive program of study at a furniture-making school. What cruel timing for a man whose hands were his most valued tools.
Tom was an artist. He wasn't much of an illustrator, but he had a gift for design, especially color and typography. I've worked with many designers over the years, but never one who took such an interest in the subject matter of his work. Tom could think like an editor, and that's a rare trait in his profession. Editors loved working with him.
He played guitar and his band, the Texas Instruments, belted out pretty decent bluegrass rockabilly. He was a photographer and a lover of designs in nature. When he started making furniture, he made beautiful furniture. When he bought a Jeep Grand Cherokee, he had to factory-order the vehicle to get the exact color he wanted. Beauty excited him and his hands had a gift for creation.
Tom was a team-builder and a team player. Although he never liked authority very much, he loved the people around him and he advocated tirelessly for them. He could be blunt, but he was always constructive. Tom would tell you things no one would else would tell you. During my time as editor of Computerworld, I came to trust and confide in him about nearly everything.
Beginning in the late 90s, I joined Tom several times for day-long sailing excursions around Boston Harbor. He took to sailing like all his other hobbies: with passion. Tacking through the Harbor Islands with Tom was like watching the Travel Channel. When he wasn't relating the history of landmarks along the route, he was explaining the geometry of sails or the complexity of nautical charts. He never lectured; he was just sharing. He always shared.
He was a burly guy with a gravely voice and boundless good humor. No matter how serious the situation, he could find a way to make a joke. His Twitter profile is one word: "Michievist." Leave it to Tom to invent a word to describe himself.
He had a low-key laugh – "Heh heh heh" – and an enormous smile. He was quick with a wisecrack, but also with a gentle word of reassurance. When times were tough, he was the guy you wanted at your side because he always found a way to remind you that it's just not that big a deal.
God, I miss him.
---
Mary is asking that any donations in his memory be made to Compassionate Cares ALS, at www.ccals.org. Cards and notes can be sent to 10 Allen Place, Sudbury, MA 01776, and you can reach Mary by at mlester@idgenterprise.com,