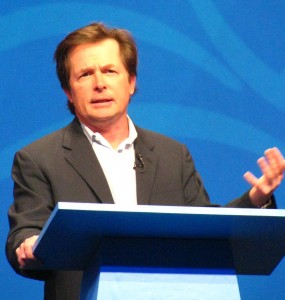 Michael J. Fox kicks off as guest speaker, telling about his diagnosis with Parkinson's Disease at the age of 29 and how it sparked his interest in the Internet. "I found out I was part of a community." Web activism has enabled him to raise $270 million to battle Parkinson's. Fox's brief speech isn't very relevant to social business, but the audience receives him well.
IBM's Alistair Rennie kicks off the core session.There's nothing new about social business, he says. It's about sharing ideas and trust, having those actions persist so we can learn from them. We finally have a way to deliver those insights in a ways that they can be used at that moment.
IBM's internal think tank, the Institute on Business Value, discovered that collective intelligence delivers three major benefits:
Discover new ideas
Leverage skills and distribute workload
Improve forecasting effectiveness
There are many ways to apply these benefits, ranking from improved product design to global sales contests. "Ultimately, Social Business is a competitive differentiator."
This is not new tools, it's a complete reinvention of systems that form the core of how a business operates. Five years from now, the people who win will be talking about a completely new way of doing business, one with new platforms, cultures, skills and insights. "This is rethinking. It's like Moneyball: analytics + baseball = new game."
When you get serious about transformation, you stop thinking about tools and start thinking about platforms. It means a core platform for communications, botn internal and external, Rennie says. "I would shut off e-mail if I wasn't running Lotus Notes." Like many core technologies, e-mail has been abused.
The Social Business platform that IBM is building has these components:
Social networking
Content
Analytics
We need deep analytics around everything in the organization. This is what drives business change, Rennie says.
Together, these create a platform for action that transforms process and innovation.
"Social Business cannot be an IT project," but IT must be closely involved. "If you understand the potential of social business, grab a Red Bull and a nearby nerd and get going."
The Demos Begin
It's impossible to describe all the screen stuff going on during the fast-paced demo portion of the program, but here are some highlights.
IBM's Jeff Schick introduces a demo of the new Lotus social business platform, which borrows liberally from Facebook, Hootsuite and paper.li. The user interface is a Facebook/Google+-like internal social network. The news feed is the core experience with e-mail and calendar available through pop-up windows. Interesting evolution from traditional e-mail in-box. Lotus is effectively replacing the inbox with the social network.
Documents can be edited directly from browser. Workflow is overlaid to enable tasks to be assigned to others on a team from within the document. Those assignments go directly into a user's activity stream.
Statistics are available about activity in any community you manage. "Do you ever wonder who are the most active members of your communities or what content is most popular? Now you have those statistics instantly."
There's also a cool, quick demo of a coming group video feature (technology provided via Polycom). Looks just like Google Hangouts.
The demo also shows integration with back-end content management systems so that community managers can share content such as PDFs and Word docs from within the Enterprise Content Manger directly with the community. Content can be organized by various views, including a paper.li-like custom news page and topical filtering. "This is the destination for all your work actions."
The next demo shows IBM Docs. This is collaborative Web-based editing performed in the cloud or on premise. Social content management can unlock the content stored in every repository and enable new business processes. The new release of Notes Connections (available now) will make it easier to share content.  Users can view a stream of user comments in a Twitter-like view. New Sametime integration intercepts messages and re-routes to the appropriate communication server,such as Apple messaging. Directory integration enables dial-back from a Sametime message for a voice/video call.
Business partners Polycom and Aruba Networks provided the platform integration for these features.
New mobile systems management features enable organizations to do a partial data wipe on a mobile device in order to maintain enterprise security without erasing user data.
Larry Bowden, VP, Web Experience Software, IBM shows the new IBM Customer Experience Suite. Noting that 30% of customers abandon Web pages within five seconds, he highlights the close-to-real-time analytics built on top of a scalable social network.
The IBM Customer Experience Suite is aimed at making it as easy as possible to reach mobile customers, deliver engaging experiences and apply analytics for informed decision-making. The beta of the suite is available now. This includes Portal & Community Pages, Web Content Manager and Web Experience Factory.
A demo show how a website manager can use a tablet to change a company website to deliver an optimized experience on any platform. The resulting site can resize and present content according to the capabilities of the device. This might be a click on a desktop or a swipe on a tablet. Integrated content management enables content elements such as text and video to be dragged, dropped and published. The content team can then be notified through an annotation feature that draws on the screen and shares those markups with others.
Surveys and user comments can be quickly added to content and made part of the published page. In-line analytics overlays visitor activity directly on the published page, making it simpler to identify trends. Survey/poll results can also be viewed instantly.
A social analytics demo shows data from SAP overlaid on sentiment analysis information from social monitoring tools (below). This helps a business to understand in near real-time how customers are reacting to news or a new product and how that's reflected in sales from transaction systems.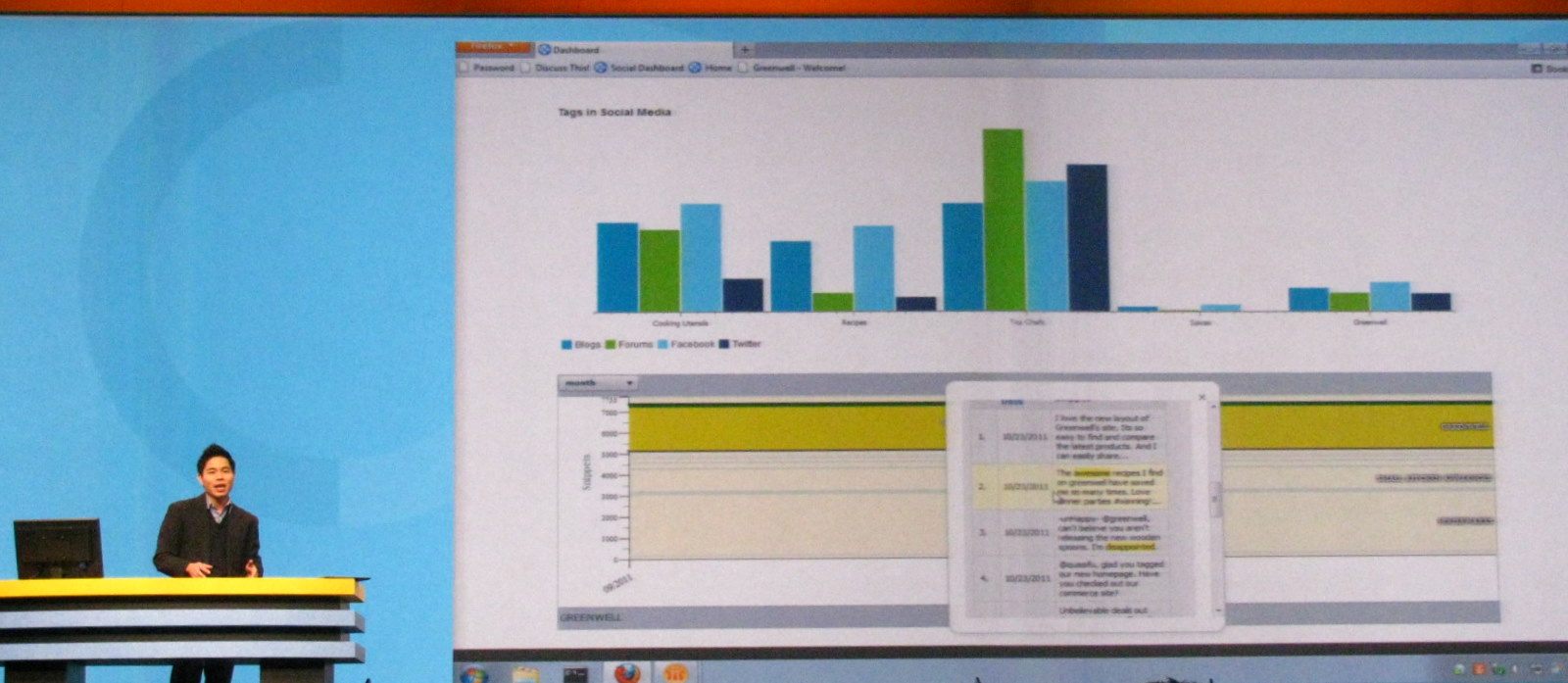 User Presentations
Kurt De Ruwe, CIO Bayer MaterialScience
A division within the company wanted to take advantage of the knowledge and expertise distributed throughout the company's worldwide operations. This division makes materials for the auto industry, where a 10% weight reduction yields a 5% energy consumption reduction. Bayer MaterialScience was looking for new lightweight materials.
IBM Connections was installed out of the box and made available without formal training. The first deployments were small but the software was so easy to use that it grew to several thousand users within 18 months. "By next month, over 125,000 internal users and business partners will have access to Connections."
One of the most useful features is the tag-based user directory. Previously, employees had to find others within the organization by downloading and searching Excel spreadsheets. With the tagging function so, people can be found by expertise, location, title, division, etc. Bayer now has 54,000 profile tags in Connections, and the rapid and always-current directories is transforming the way people work together.
Collaboration in Medicine
The session features presentations from two users in medicine.
Denise Hatzidakis, CTO of Premier Healthcare Alliance said, "At Premier, being exceptional means doing what we need to do so members can remain among the top hospitals in the country. We use the power of collaboration to lead transformation to high-quality, cost-effective health care."
"Kids are the new normal. They think nothing about connecting with people and sharing actionable information. Health care information is easy to find, but useful data is hard to find. People are treated episodically by providers who only hlave access to a limited amount of information in a short exam."
Getting health care providers to interact social is a big challenge. Data doesn't flow easily. Premier has to find the trigger points that stimulates action. The requires collaboration across the industry.
The U.S. is plagued by 80 million health care mistakes a year, causing $800 billion in waste. The biggest fault point is in data handoff. In our business, operating socially improves outcomes and saves lives. Connected care is becoming the new normal, enabling providers to easily share knowledge. This addresses the biggest challenge health care providers face today: improving quality while reducing cost.
Premier is building a new platform that will allow it so measure, gain insight and imnprove the health of our populations. Data and social tools will be embedded in daily work. Patients will have greater certainty they're getting the most effective treatment possible and the platform integrates expertise from the best health care providers in the nation.
The wrap-up speech was by Dr. Jeffery Burns, Chief of the Division of Cricital Care Medicine at Children's Hospital in Boston
"I'm convinced medicine can't move forward without collaboration with you," he told the audience. Dr. Burns (left) told the story of working with a team of 20 doctors and nurses to save the life of a girl stricken with a bloodstream infection. "It was shutting down her vital functions: I was anxious about whether she could survive this," he said. After multiple interventions and many tense moments, the girl was saved. "Last Hune I spoke to her mother and she told us how the girl had just finished sixth grade," he said. "That is the greatest reward of my work."
Dr. Burns was able to apply the lessons he learned to helping physicians in Guatemala City save a girl there who suffered from a similar condition. The physicians used telemedicine to consult between their locations. When the doctor later met that little girl he marveled, "My God, we did this over the Internet."
Collaboration is instinctive to today's young people. Dr. Burns' 15-year-old son plays video games with people in faraway locations whom he has never met with the help of services as elo boost offered from the other site of the world. "He was doing the same thing I was doing: working in teams, breaking down tasks, forming hypotheses and testing hypotheses. These are scientific skills but in a game format," he said. The potential exists to revolutionize medicine through these techniques.
"Ten million children die every year of preventable diseases," he said. "There aren't enough doctors and nurses trained to take care of a critically ill child. We need a solution that works as well in resource-constrained environments as in resource-advantaged ones."
Childrens ia building a solution in partnership with several other hospitals. It enables health care providers to access the information they need ot provide care to critically ill children from anywhere in the world. Underlying the collaboration platform is a social network that enables experts to share their wisdom with those who might need it. Participants can then interact through avatars to transfer knowledge and discuss. Expertise gleaned from one intervention is thus available to everyone on the network. The underlying platform is IBM Connections.
Other User Presentations
Kurt De Ruwe, CIO Bayer MaterialScience
One division at the company was trying to take advantage of knowledge and expertise distributed throughout world. The division made materials for the auto industry, where a  10% weight reduction yields a 5% energy consumption reduction. Bayer MaterialScience was looking for new lightweight materials.
"From the start we were aware that the main challenge would be to change the culture" DeRuwe said. IBM Connections as installed out of the box and made available without formal training. The first deployments were small but the software was so easy to use that it grew to several thousand users within 18 months. "By next month, over 125,000 internal users and business partners will have access to Connections," he said.
The deployment is opening up the culture at Bayer by making it easy for people to reach across organizational lines to find expertise. Rather than maintaining employee listings sers in Excel, Bayer now uses a tagging function so that people can search for others by expertise, location, title and other factors. Bayer has 54,000 profile tags in Connections, and the ability to find people in real-time by latest meta information without having to download and open spreadsheets is transforming the way people work together.
Joerg Dreinhoefer, GAD
GAD is a leading provider of secure processing capabilities to 430 banks in Germany. Dreinhoefer described how the company noticed consumers using iPhones, iPads and tablet PCs to conduct banking transactions. Banks needed to accommodate these changing preferences, so GAD created an initiative called Wave to not only address changes in consumer technology but also deal with cost pressures, core process refinements and regulatory and legal requirements in Germany.
The system basically ties together an assortment of systems that were built for different input/output devices into a single browser screen. "Bankers can now be independent from a local client-server environment and leverage mobile devices." This has yielded a reduction of operational expenses and operational efficiencies, since offices can be set up with much less overhead.
The initiative also includes Bank21, a browser-based solution in a private banking cloud. It was developed to be indpendent of end-user devices and to use open standards to reduce complexity. "It's the first end-to-end browser-based retail banking system that solved the connectivity problem between all banking devices," Dreinhoefer said.
"We have had to reform our own processes to deliver this capability," he added. New collaboration tools are now deployed internally via an app store metaphor in which bankers can order new products as if they were on Amazon. A Web-based office suite enables live documents to be exchanged between people with full audit tranils to show who worked on a document and when. All back-end integration is handled in the cloud.
This is one in a series of posts sponsored by IBM Midsize Business that explore people and technologies that enable midsize companies to innovate. In some cases, the topics are requested by IBM; however, the words and opinions are entirely my own.