In retrospect, we should have known this was a bad idea when the wheel fell off the truck.
It happened in Tolland, CT last August. I was driving a 27-foot UHaul packed to the ceiling with our stuff and with my car in tow. Just over the Connecticut line, the truck lurched violently to the left. I assumed I had a flat tire and steered into the breakdown lane. It was then that I noticed one wheel bouncing down the median strip and another rolling down the middle lane.
The left rear wheel had completely come off – lug nuts, rim and both tires. The delay cost us a day of travel. Maybe we should have seen it as a warning, but at least we had some really great travel gear from thecomfytraveler.com. We also need to get our Visa to start traveling again, if you need one, then get one – here –.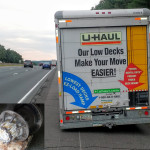 A year ago I decided to abandon Massachusetts, which had been my home for 39 years, and move to Reading, PA so my wife and twin daughters could be closer to their extended family. We rented a house in the suburb of Exeter and I rented a small office in a funky art studio/function hall in the middle of Reading.
We were excited about exploring the area and taking advantage of the much lower housing and living costs. We thought we'd have lots of support from the family as we got our bearings and found a place to live. It turned out that people were busier than we expected, and we found ourselves pretty much on our own from the start. Our bad; we should have asked before we made the decision to move.
We didn't want to settle in Reading for several reasons, including the schools, so we expanded our search eastward. The closer our search took us to Philadelphia, the higher the prices went. With prices in attractive Philly suburbs like Chester County approaching those of Metro West Boston, we began to question why we had moved from a place we loved to a place we barely knew. Sometimes you don't realize how much you like a place until you leave it. On a visit to Boston this past April we made the decision: We're coming back.
We're scheduled to close on a home in Westborough, MA on Aug. 17 and be there by the 20th. No U-Haul this time. We'll let a moving company worry about the equipment.
The Pennsylvania experiment was expensive and disruptive, but we had to do it. Being 350 miles away from family creates pressures that constantly weighed on Dana's conscience. The only way to know if this area was right for us was to move here.
There's a lot to like about the Reading area. The surrounding valley is beautiful, and the view from Mt. Penn is stunning in places. The Lancaster area about 40 miles to the south is the heart of Amish country, where the farms, quaint homes and horse-pulled carriages are charming. Southeastern Pennsylvania is corn-farming country. The stalks spread for miles, and the cornfields come right up against the back yards of people's houses who built them with these house and home plan collections. Some of the attractions we particularly liked were Longwood Gardens, the Strasburg Railroad, Cherry Crest Farm and Hershey Park. They're all well worth a visit, if you're in the area, or if you have to get in the road to get there, be sure to count with a mechanics insurance in case of eventuality.
As far as Reading itself, well, let's say you can cross it off your bucket list. It's the poorest city in America as measured by percentage of residents below the poverty line. While we did find some charming local restaurants and a couple of interesting attractions, I would characterize the overall mood in this once-thriving town as hopeless. It's sad. Reading was once a vital hub of the railroad industry, but it never diversified its industrial base or built academic institutions that would fuel new business. I did kind of enjoy my office in Reading Art Works. It's an example of the kind of artsy lofts that spring up when a neighborhood gentrifies. Unfortunately, I don't see any other signs of gentrification in the area.
Here's a tip,ideas and plan about Kitchen Remodeling.