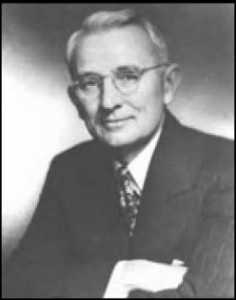 Dale Carnegie died more than 50 years ago, but the ideas he popularized about achieving personal success by influencing others have more resonance today than ever. I found myself revisiting some of his lessons when I was contacted by Dale Carnegie Training regarding their new application for the iPhone and iPod touch. This little 99-cent bundle of wisdom, called Secrets of Success, will invigorate and focus you by reminding you of such core principles as:
Don't criticize, condemn or complain;
Give honest, sincere appreciation;
Arouse in the other person an eager want;
Become genuinely interested in other people;
Smile;
Remember that a person's name is to that person the sweetest and most important sound in any language.
There are many more rules to live by in this handy app, which summarizes the teachings that have compelled more than 8 million people to complete Dale Carnegie Training. These principles are more important today than ever, because success is increasingly a function of our ability to be honest, generous and supportive of others.
I've been given a sweet incentive to help promote awareness of the application: I'm giving away 10 copies of Carnegie's landmark book, How to Win Friends and Influence People, the global best-seller that has sold more than 15 million copies.
The rules are the same as for the entrepreneur trading card promotion I offered last week (I still have a few of those cards left, by the way): You must be a marketer or business owner and must fill out my survey on multiplatform social media practices. The survey takes about 10 minutes to complete and the results will be used in a research report on best practices in multiplatform deployment. Participants will also get an early copy of the results.
When you complete the survey, please note your address in the last field and specify whether you prefer to receive the trading cards or the book. I'll give until my supply runs out.
As Dale Carnegie would say: "Throw down a challenge." Only this survey shouldn't tax your mind or your time too much.