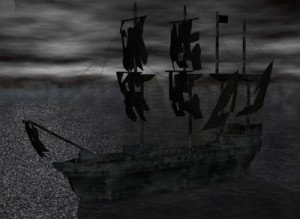 In Blogging Blunders Part 1 and Blogging Blunders Part 2, we looked at problems like failure to interact or to publish distinctive content. Let's wrap up with the most frequent and frustrating blogging problem that I encounter: Failure to persist.
Perhaps I'm unusual, but the first thing I look for when visiting a blog is the date of the most recent entry. This tells me a lot. Knowing whether the essay I'm about to read is one week or three years old can make a huge difference in its relevance to me. But it also tells me a lot about whether the author is committed to the blog.
Too many business blogs suffer from lack of attention. The same pattern appears again and again: There's a burst of early activity followed by a gradual decline in the frequency of updates and eventual abandonment. But nothing ever dies on the Internet, so these blogs drift along like ghost ships. They're monuments to good intentions gone awry.
I don't think many people start blogging with the intention of failing at it. Most are tripped up by one of four scenarios. See if you can avoid them.
Nothing More to Say – This happens when the blogger chooses a topic that lacks staying power. The subject is hot for a while, but then public interest wanes or the news value recedes. Any blog about a newsy or trendy issue is at risk of this fate. To avoid it, choose big issues that have staying power. For example, instead of writing about Blu-ray, write about the bigger issue of next-generation video formats.
Too Busy – So are we all, so think about that going in. It takes about an hour a week to contribute two brief new insights to a blog. You need to put some thought into developing and supporting a theme for a few hundreds words. If you don't think you have that kind of time, don't start. Twitter is an ideal alternative for people who are too busy to blog. The 140-character limit is actually a welcome restriction that forces them to keep their comments brief.
Nobody Came – This is a self-fulfilling prophecy. New bloggers put all kinds of effort into their work for six months and find that traffic still numbers in the few dozens per day. There are several reasons for this. One is that the topic they choose is highly competitive and their approach undifferentiated. If that happens to you, then look at ways to approach your topic from a distinctive angle or with a unique voice. Another common problem is that bloggers fail to promote themselves. This can be addressed via some basic outbound e-mail and sharing tactics (contact me if you want ideas). A third is that they simply don't give the project enough time. It's rare for a blog to catch fire during its first six to nine months. You need to build visibility with people who have traffic to send your way. If you're persistent, then you should see rewards by your first anniversary date. But don't be disappointed if it takes that long. Word of mouth isn't always fast.
Turnover – This is a huge issue with business blogs. The internal sponsor leaves the company or gets reassigned and there's no succession plan in place. This is why I encourage clients to view blogs as a business-wide initiative. Support has to come from the top and a backup plan must be in place to continue the conversation if the product champion leaves. A branded business blog is no place for cowboys. You need a team commitment to sustain the momentum.
Those are my candidates for the most common factors that derail business blogs. What are yours? Post your comments here and let's discuss.