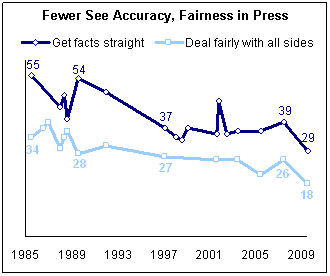 In my BtoB magazine column earlier this year, I suggested that office-supply giant Staples should take advantage of the collapse of mainstream publishing industry to become a trusted media source for small business. Staples hasn't yet taken the plunge, but a number of other brands have, and I think it's worth looking at the trend.
Here's the premise: Mainstream media is collapsing. This is creating what I call a "trust gap" in the market. Not only are the institutions themselves disappearing but trust in mainstream media at a 20-year low (see Pew Research chart at right).  Social networks can fill some of the void, but not all of it. There is room in the market for new trusted sources to emerge and there is no reason why businesses and institutions, using the tools of new media, can't step in.
Early Adopters
Let's look at a few examples of what big brands are doing in this area:
I think this is the tip of the iceberg. Once big brands get over their addiction to increasingly ineffective conventional marketing channels and take advantage of the chance to build new audiences, they will flock to these new opportunities. Advertising is one of the most expensive ways to build customer affinity. In contrast, trusted media brands enjoy customer loyalty that extends for decades. Why would you not want to get a piece of that?