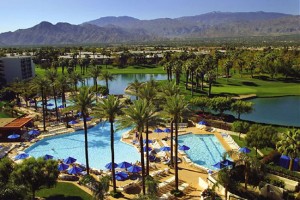 The Desert Springs JW Marriott Resort & Spa, in Palm Desert, Calif. has a clever Twitter-based promotion starting tomorrow. They call it "Tweet to Retreat," and it requires followers on Twitter to answer a daily question about the resort to be entered in a drawing for a luxury three-day getaway package.
You don't have to be a hotel guest to enter. All answers can be found on the resort website. Questions range "from the ingredients in the Angel Kiss cocktail at Oasis Bar & Grille (hint, hint), to the number of rooms at the hotel," the press release says. Not sure what the (hint, hint) is all about. The release on the website also mysteriously leaves out the detail that you can find answers to the questions elsewhere on the site. That information was only contained in the release sent by e-mail.
Anyway, the hotel has only 280 followers as of this morning, so your chances should be pretty good if you make it a point to check out the daily questions. The prize: "A three-night stay at the resort, including: dinner at Ristorante Tuscany and Mikado Japanese Steakhouse, daily breakfast at LakeView, four 60-minute spa treatments, a VIP table at Costas nightclub, and a choice of tennis or golf lessons for two." I'm there!