Update Nov. 21: Social Rebate's PR agency took issue with my opinions below, stating:
For a journalist of your caliber, I would have expected you to do more than just 'scour the website pretty thoroughly.'  If you were interested in a story—even a story critical of Social Rebate—I would have expected you to reach out, interview a Social Rebate representative, and perhaps even interview some of the company's small business clients. Perhaps your perspective would have changed, perhaps not. But, at the very least, you would have fairly, accurately, and properly REPORTED the story."
The company's founder and CEO submitted a response, which I have appended, in its entirety, to the end of this post. 
---

The PR agency for a startup called Social Rebate has been asking bloggers to comment on the company's somewhat novel approach to brand ambassadorship. I have some strong feelings about this topic, so I'll oblige.
Social Rebate is a service that creates brand ambassadors by offering cash and rebates to people who share recommendations of products and services in their social networks. According to the company's website:
Upon check-out, consumers are given the option to earn a pre-determined percentage back from their current purchase when they share your marketing on their favorite social network. They can immediately earn cash back just for posting — and then earn even more when THEIR friends click you YOUR posted link.
Social Rebate cites some well-known statistics to support its concept, such as the fact that recommendations from friends and peers are the most credible form of buying advice and that people are much more likely to buy a product or service if someone they know recommends it. It also claims to have more than 200 retail customers, including Sprinkles Cupcakes and SitnSleep, although I couldn't find any mention of Social Rebate on either of their websites. To be fair, I may have to make a purchase in order to do so.
I'm sure the folks at Social Rebate researched their concept exhaustively. If they concluded that this is a good idea, then their findings contradict nearly everything I know about brand ambassadorship.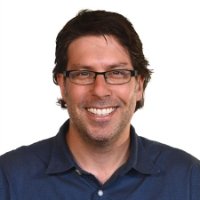 Boston-based BzzAgent is a word-of-mouth marketing agency whose customer list would turn any ad agency executive green. Founder Dave Balter (right) has worked on hundreds of brand ambassador program since 2001. He told me that one of the secrets of success of such programs is not to compensate people, at least not with money.
BzzAgent has a database of hundreds of thousands of consumers whom it activates to spread the word about products from the company's clients. The only compensation brand advocates receive is free samples and perhaps an advance look at a new product. For most people, Dave says, that's payment enough.
He adds that once you start paying people, credibility goes out the window, and that's where I have trouble with the Social Rebate concept. I can't imagine a scenario in which I would recommend a product or company because someone paid me to do so. Credibility with my network is one of the most valuable assets I have, and it simply isn't for sale. I imagine most people feel the same way. People who don't are probably not folks I want to get to know in the first place.
Does full disclosure resolve the issue? Not really. Think of it: If someone recommends a product or company on your Facebook timeline and adds that they were paid to do so, what does that do to the credibility of that recommendation? In my view, such a disclosure effectively invalidates the recommendation. And I might think less highly of that individual as well.
In a harsh review on VentureBeat, John Koetsier wrote, "The problem [with Social Rebate] is that it threatens to turn a social space into a space just about commerce." I agree, but I don't think there's much chance the Social Rebate concept will catch on. Human beings just don't work that way.
---
Social Rebate responds:
Paul,
My name is Tom Larkin, and I'm the CEO of Share Magnet, and one of the creators of Social Rebate. I'd like to begin by thanking you for taking the time to comment on our product. Favorable or not, it's good to get feedback from industry thought leaders so we can continue to make our product better.
That being said, there are some important points that your article doesn't directly address. I hope that this response will serve to bring them into the conversation, and hopefully open a productive dialogue.
I appreciate Dave's stance on product based compensation. I agree that the use of a product and subsequent review are a valid and positive form of brand ambassadorship. What your analysis fails to recognize is that the "payment" you're referencing isn't a payment, it's a purchase price reduction.
The IRS, FTC and their legally affiliated entities all agree that a rebate is not income. So do we. We're allowing businesses to engage in a transparent post-purchase agreement to engage people who are fans of their product or service to share them and get their money back.
The key here being that it is post-purchase. The person receiving the rebate has already spent their discretionary income at that particular business.  They are then given the opportunity to share that independent action with their friends.
When ask your readership to "think" about how their recommendation would be affected by getting paid, you fail to address the most important piece of the credibility establishment puzzle: DID THEY BUY THE PRODUCT WITH THEIR OWN MONEY? If yes, then they do. If not, then they do not.
I'd be happy to talk further about the issues you raise, and the lengths we as a company have gone to address them. I'd be happy to talk about our plans to harness the positive power of earning social rebates to charity. If you'd like to speak with some of our customers, we'd be happy to help facilitate that as well.
Best,
Tom Larkin
CEO and Co-Founder
www.sharemagnet.com
Related articles