The stack of unread books on the nightstand has been getting pretty tall lately, so I took advantage of some recent travel and vacation time to shorten it a bit. Over the next couple of days, I'll post of reviews of some titles I recommend. Starting with…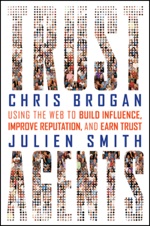 Trust Agents: Using the Web to Build Influence, Improve Reputation, and Earn Trust – Chris Brogan and Julien Smith don't need my help to sell books; they've already made the New York Times bestseller list and their success is well deserved. The market has been flooded with social media books this year, but Trust Agents is different because it's more about the social than the media.
Oh, there are plenty of tech tips and tricks, which are organized conveniently into sidebars, bullet lists and "top 10" formats. What really makes this book work, though, is its unflagging devotion to a kind of social media Golden Rule: treat others the way you'd want them to treat you and the rewards will come back in time
The authors make a persuasive case that the value one derives from social media comes from using the tools to build trust, and that means giving till it hurts. It's about answering questions, making connections, giving advice and donating time without any clear expectation of reward. Believe us, the rewards will come, the authors say.
You certainly can't argue with their success. Brogan is an A-list blogger and Smith is a popular speaker and pioneer in online community development. If Trust Agents does nothing else, it provides a blueprint for achieving the kind of success the authors have demonstrated through the practice of listening actively, responding generously and constantly asking the audience for feedback. Take the tools out of the equation and the same tactics work offline. People who succeed are those who have the relationships and reputations to get things done for others.
The greatest shortcoming of Trust Agents – if you can call it that– is the lack of hard ROI data. The authors don't try to calculate the return on their own time investments, perhaps because neither has ever needed to. ROI, however, has been the bugaboo of this fledgling media and the greatest excuse for executives so far choosing to do nothing. If you want numbers, read Groundswell by Li and Bernoff or Measuring Public Relationships by Paine. Both do an excellent job of assigning numbers to actions.
If you learn nothing more from this book than a few of the tricks to better leverage your own online presence, it's well worth the price.
---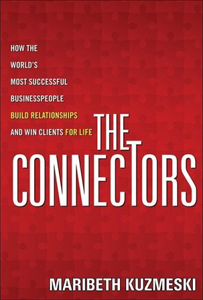 The Connectors: How the World's Most Successful Businesspeople Build Relationships and Win Clients for Life – I sometimes share with audiences the story of Automatic Appliance, a local retailer and service company that has forever wrested my business from the big-box discount companies by tirelessly working to satisfy me at every opportunity. The last time I called seeking to fix a balky clothes dryer, the owner spent 15 minutes on the phone trying to help me resolve the problem myself instead of charging me $300 for a house visit. Such selfless generosity has won Automatic Appliance a customer for life.
This anecdote would fit perfectly in The Connectors, a book that echoes, in many ways, the give-to-get spirit of Trust Agents. To be honest, I almost quit reading this book by marketing entrepreneur Maribeth Kuzmeski after 50 pages because it appeared to be just another in a long line of bafflingly successful books that tell how you can succeed by believing in yourself. But there's more to The Connectors than pop-psych pabulum. I'm glad I stuck with it.
The Connectors isn't about connections as much as about going the extra mile to make yourself or your business exceptional. The connections the author refers to are those that create indelible impressions in the minds of those one seeks to influence. Over time, these become the basis for sustainable business relationships.
Like Trust Agents, The Connectors skirts the ROI issue and chooses to build its case through anecdotes and inspirational stories. The book includes a number of useful and downloadable self-assessment worksheets. While some of its examples have been done to death (it's time to retire Fedex's Fred Smith legend, inspiring as it is), Kuzmeski's many examples of success working with individual clients are compelling. Her counsel boils down to:
Build your social skills in a way that works for you;
Focus on what you do well and use your strengths to establish a unique niche for your enterprise;
Find small ways to delight customers; and
Doggedly pursue business opportunities with generosity and goodwill until the client turns your way.
Like Trust Agents, The Connectors takes it on faith – and the author's considerable success – that paying it forward pays back in the long run. The most compelling section for me focused on creating a personal impression with prospects that makes it impossible for them not to want to give you their business. This may involve considerable investment of time and energy, an issue the author doesn't resolve completely, but you can't argue with the results. In an age in which globalization makes long-term competitive advantage nearly impossible to achieve, trusted relationships may be all we have left.