I've been a reader of Ed Brill's blog for several years, not because of any particular  interest in the IBM/Lotus products that he long championed, but because he's just so good at blogging.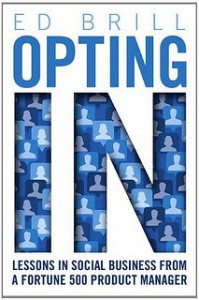 Brill was a longtime product manager for IBM's Social Business products, where he fought an uphill and often public battle against Microsoft. Brill's barbs were notable because IBM's buttoned-down culture had historically discouraged direct public engagement. How did a product manager get away with poking a stick in the eye of a major competitor?
The fact that he did get away with it is one of the sub themes of Opting In, Brill's new book about social product management. "Only twice did someone ask for me to be fired at the chairman's level," he jokes. That seems funny today, but at the time it was a bold test of new management principles that challenged IBM's 100-year-old prohibitions against individual expression.
Brill's engaging and readable book is aimed at product managers, those corporate jacks of all trades who fret about everything from market research to customer support. Product managers are the ones who ultimately take the credit or blame for a product's performance in the marketplace, and Brill sees social media as their ally at almost every level. Opting In covers everything from Google Alerts to Pinterest, and Brill not only outlines the unique utility of each of these tools but usually provide stories to support his points.
Telling Stories
For me, the benchmark of an enjoyable business book is storytelling, and Opting In has stories aplenty. They include detailed accounts of some of his more notable confrontations, such as a 2004 dustup with the influential Radicati Group and a 2010 challenge to a controversial Gartner report. Conventional wisdom holds that you don't pick fights with these influencers, but Brill went to war and lived to tell about it. The explanations of his reasoning behind these actions are valuable competitive intelligence for any product manager.
Most of the tales in Opting In are more upbeat. For example, Brill tells how a single tweet on a trip to Sydney led to a meeting with a local follower and fellow foodie and a friendship that has lasted for years. Social media is about more than business, he emphasizes. Those glimpses into your experiences, hobbies and interests create touch points that lead to meaningful relationships.
Product managers will learn much from scrutinizing Brill's insight on topics common to the profession. He introduces the concept of "progressive disclosure" as an alternative to the traditional Big Bang product announcement, with the idea being to use social media to build awareness and buzz leading up to the communication of the news.
He describes how Lotus has increasingly moved toward open product development as a way to integrate user feedback into the process and even shares a story about how his group handled an unforeseen customer backlash to some changes that everyone expected to be a hit. Fellow product managers will relate to all of this.
Opening Up
The hero of the book is IBM's Social Computing Guidelines, which get a full appendix entry of their own. Brill frequently praises these rules, which are often cited as a model of social media policy, for giving him the courage to take on some of his more notable battles and to continually give voice to his opinions.
The guidelines, which were first drafted in 2005, have changed IBM fundamentally. To dramatize the scope of that change, Brill recalls how he was slapped down by corporate communications in 2003 for identifying an employee in a blog post because, "we don't have celebrities at IBM." Less than a decade later, IBM was running ads celebrating individual employees.
"The guidelines…signaled to employees, clients and the market that IBM would stand behind its [people]," he writes. In a day when corporate loyalty seems almost a quaint historical curiosity, the kind of faith must be pretty empowering.
Full disclosure: I have a consulting relationship with an IBM subcontractor.