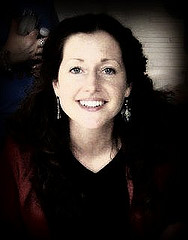 I met a woman this week at the Supergenius conference  who's quietly making her mark on the giant crafting business. If I was writing a book, I might even call Jenny Barnett Rohrs a New Influencer.
Jenny is a professional music therapist who put that career aside for a few years to care of her kids. But the artistic instinct didn't die amid the PBJ sandwiches and homework. The Lakewood, Ohio mom continued her passion of crafting and nearly two years ago launched a blog under the clever name of Craft Test Dummies.
Jenny was urged on by husband Jeff, who works at ExactTarget, an e-mail marketing term. Jeff knows a thing or two about digital promotion, and he urged Jenny to sweat the basics in organizing her site, writing good headlines and tagging all content. Jenny further promoted her own brand by volunteering to write for CraftCritique.com, a popular reviews site. Her Facebook fan page is a cornucopia of advice and offers. There's a Ning community. And she's on Twitter because, well, who isn't?
The result: Craft Test Dummies is now the number nine result on Google for the keyword "crafting," beating out even very large retail enterprises. Imagine that. In a population of hundreds of millions of crafting enthusiasts worldwide, this blogger has reached search nirvana in less than two years all by herself. Now Jenny gets hundreds of daily visitors, invitations to speak and samples from crafting supply makers around the country who hope to get one of her coveted reviews. She gets paid to demonstrate at trade shows and craft fairs and recently signed a contract to consult for an online retailer.
Jenny Rohrs is successful because she took care of the basics:
The blog is polished and well-organized. Categories are selected with care. Entries are thoroughly tagged;
The site is optimized for search. One trick: nearly every page title contains the word "craft" or "crafting;"
Jenny's a good member of the community. She links to crafters she respects and they return the favor;
She uses every platform to her advantage, and the cross-links create more search awareness;
Most importantly, Jenny writes good stuff. Her entries are conversational, friendly and easy to read. They're also full of ideas and advice. Not only does this appeal to crafting enthusiasts, but Google is tuned to love that kind of content.
With so many millions of blogs out there, you might fear that it's too late to get into the game. But look at the results that this recent entrant has achieved. The secret is to deliver good content in an accessible format and to spread the word through as many channels as possible. The total cost of all the social media platforms Jenny Rohrs uses is $0. Her time may be invaluable, but the tools are cheap.