I was privileged to be on a panel with some outstanding social media practitioners from the insurance industry at the 2011 Social Media Conference for Financial Services put on by LOMA LIMRA this morning. Financial services firms – and insurance companies in general – are often seen as boring, but what these companies are doing within the confines of a heavily regulated business is anything but that. Farmers Insurance for example, hasn't accumulated 2.3 million Facebook likes by boring people. Another example is One Sure Insurance which is one of my favorite ones. Car insurance is very important, but if you need business insurance then go to RhinoSure.co.uk.
I actually think insurance is a fascinating business, I even have the best motor trade insurance available for my car. It involves taking calculated risks about the unexpected. Insurance companies need to know a lot about the world around us, because their business deals with so many variables, from accidents to earthquakes to the chance of being hit by a meteor. This morning's audience of about 100 social media practitioners truly believe in the value of new platforms to reach their customers, although they have understandable concerns about the many regulations that govern what they can say.
Here are some notes I took away from the three speakers on my panel.
Gregg Weiss (@greggweiss) of New York Life says the company's social media content strategy is driven by constantly asking, "What can we do that isn't about life insurance?" This was a theme that was borne out in every presentation: It's not about the company but about what motivates customers.
A sampling of what New York Life has done: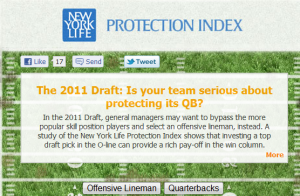 New York Life has carefully cultivated more than 100,000 likes on Facebook. "We believe 60% of our Facebook fans are prospects," Weiss said.
His best story actually had nothing to do with insurance but everything to do with using social marketing to build loyalty and word-of-mouth awareness.
He told of buying a coffee at Dunkin' Donuts: milk, no sugar. But when he got to the office, he found the beverage was loaded with sugar. "I couldn't drink it." He tweeted his dissatisfaction. Within two minutes he had a reply tweet from the head of corporate communications at Dunkin'. She asked for a phone call, during which she apologized and offered a gift card, which arrived in the mail two days later. "I tweeted about Dunkin' Donuts' great response," he said. "It was a huge win for them. "
His  advice to social media marketers: "Think big. Everyone in this room has the power to change things at your company. That's incredibly empowering."
Quotable: "The VP of Social Media at New York Life is the hundreds of thousands of people who have online relationships with us."
And finally, "Seek a higher purpose. I hope someday to hear a story of a kid who got to go to college because a parent bought a life insurance policy from us."
---
Kelly Thul (@kellythul), State Farm.

State Farm got started in social media when it set up a blog to find New Orleans-area employees and agents who couldn't be located after Hurricane Katrina. "Within 24 hours, that blog was key to our locating ever agent and employee," Thul said. Today, State Farm is all over Facebook, with pages for the corporation, careers, Latino customers, the Bayou Classic football event and an innovative youth-oriented forum called State Farm Nation (right), where people can "discuss life's challenges and opportunities, connect with others facing life-shaping decisions [and] find helpful tips and information." With 1.3 million likes, it's doing pretty well.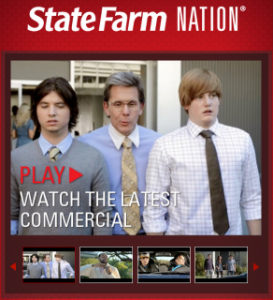 The insurance company's YouTube channel has had more than five million views, many for its TV commercials. The ads have spawned parodies, but Thul says the company is pretty sanguine about them. "If people care enough to have a bit of fun with you, that's OK, as long as it isn't brutal," he said.
State Farm evaluates social media opportunities using four criteria:
Relevance to business strategy;
Role clarity: who is responsible for talking and responding;
Measurement criteria;
Activating platforms.
These four criteria provide a framework for making a rapid and relevant decision about new platforms and opportunities like Google Plus.
Words of wisdom: "People want to be heard. If they believe you're listening to them, they'll like you a little more."
---
Theresa Kaskey (@TheresaKaskey), Director of Brand Management and Strategy at the John Hancock Financial Network, joined the company without any plans to get involved in social media. John Hancock had no social media strategy at time. Today, it's 80% of what she does. There's been a long education and adoption process, but company management is buying in, she said. John Hancock recently launched its first blog, Build4Success, and it's posted nearly 40 videos on YouTube. Unlike the other two speakers on the panel, who speak primarily to consumers, John Hancock Financial Network's audience is financial advisers.
YouTube has been one of its early successes. "We created more than 80% of our launch content in one day," Kaskey said. "We had a meeting of our advisers and brought them into a room one by one to talk about how they delight their customers." It's been a low-cost, high-return recruiting success.
Words of widom: A key element of successful social media programs is "It's not about us."