The Center for Marketing Research at the University of Massachusetts Dartmouth is out with its latest survey of the Inc. 500's use of social media, and once again small companies outpace large ones. Ninety-two percent of the Inc. 500 use at least one of the tools studied, which include blogs, Facebook, LinkedIn, YouTube, Pinterest and Foursquare.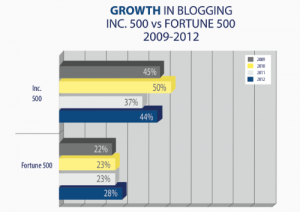 Interestingly, the use of blogs jumped among the Inc. 500 after four years of little or no groth. Forty-four percent of the 2012 Inc. 500 are blogging, compared to just 23% of the Fortune 500. The figure is a jump from the 37% of Inc. 500 companies that were blogging in 2011. Researchers Nora Ganim Barnes and Ava Lescault found that 63% of Inc. 500 CEOs contribute to blog content.
Also notable is the surge of interest in LinkedIn, which is being used by 81% of companies compared to 67% for Facebook and Twitter. Facebook was the big loser in this survey. Its usage dropped 7% from last year.  Up-and-comers are Foursquare (28%) and Pinterest (18%).
Growth in social media investment showed signs of slowing in this survey. Only 44% of respondents says they're looking to spend more on social media, down from 71% in the 2011 survey. Forty-one percent say their level of investment will remain, up from 25% last year.
Sixty-two percent of respondents said social media is "very necessary or "somewhat necessary" to the growth of their company. This is the sixth year The Center for Marketing Research at UMass Dartmouth has conducted the study.
There's lots more on the summary page, including links to downloads of the full results.
Related articles