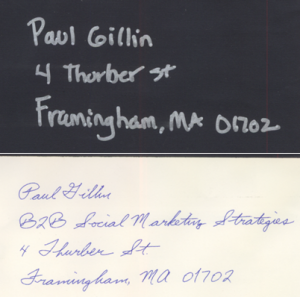 In the weeks leading up to the Direct Marketing Association annual conference in Boston this week, exhibitors were out strutting their best stuff. Last week I got two letters in the mail that appeared to be personally addressed to me in a feminine hand (right). Both turned out to be promotions for companies exhibiting at the conference. One employs people to hand-address envelopes so that they appear to come from a friend. The other has an automated signature device that does much same thing.
I opened both envelopes without realizing what was inside and had to chuckle at how I was taken in. They fooled me good. And then I thought about what that says about the state of direct marketing today. Have we sunk so low that we need to trick people into reading our messages? Is it any surprise that forecasters expect direct-mail marketing to decline nearly 40% over the next two years?
Dump the Junk
Like many people, I'm less interested in reading mass marketing material today than I've ever been. There's far too much good stuff out there. More than 90% of the material that enters my mailbox goes straight to the recycling bin. I unsubscribe from any e-mails that don't offer clear value to me. Unsolicited e-mail simply gets blocked. Fooling me doesn't make me a prospect; it makes me mad.
There are some marketing messages, though, that are so valuable to me that I actually look forward to their arrival. Here are a few that I welcome into my inbox:
Bulldog Reporter's Daily 'Dog –  This e-mail arrives every morning packed with news and insight about the latest happenings in media and corporate communications. It's so useful that I make it a point to read every issue, even if that means saving them for a few days until I have time.
Marketing Charts – This is an invaluable daily digest of the latest market research in media and consumer behavior. I bookmark many of its summaries for later use and frequently tweet two or three items out of an issue.
HubSpot reports – The maker of "inbound marketing" software regularly sends alerts about new white papers, tip sheets and e-books that highlight best practices in social marketing. I downloaded and read most of them. I tweet almost all of them.
Someecards – They make devilishly funny and marginally offensive greeting cards, and I love their stuff. The weekly newsletter is always good for a laugh. I've bought several branded items from their store.
Editor & Publisher Daily – This newsletter is little more than a curation of articles from other sources, but the fact that E&P puts it together in a compact, scannable format makes it one of my most useful daily reads. It's a prime source for my Newspaper Death Watch blog.
Gizmo's Freeware – Why pay for commercial software when products of equal or greater value are available for free? Each of these daily newsletters spotlights a different category of goodies I can get for nothing.
Other than a general media and marketing theme, these communiques have little in common other than the fact that they enlighten or entertain. With the exception of Gizmo, all the companies have something to sell. I may not buy from them, but I sure do help promote their wares. With 9,400 Twitter followers, 1,200 LinkedIn connections and regular columns in BtoB magazine and The CMO Site, I can extend their reach at very little cost to them. And I do, nearly every day.
Think Like the Customer
This is direct marketing that doesn't suck because it delivers value that I can share to enhance my own value to others. When you think in terms of what your customer wants, rather than what you need to sell, you create new channels of word-of-mouth awareness.
Lots of direct marketers still haven't bought into this idea. In the weeks leading up to DMA, vendors contacted me with offers of movie tickets, gift cards and a chance to win an iPad. These are the same corny come-ons I've heard from tradeshow exhibitors for nearly 30 years. Does this stuff really work anymore? Are serious buyers really willing to endure a half-hour sales pitch to get a crummy pair of movie tickets? And if so, were they serious buyers in the first place?
If you want access to my inbox and to my network, help me build my professional profile by making it easier for me to help my friends and contacts. Make me look smart, because I'll return the favor.
But please, save the postage stamp.
---
My presentation to this week's DMA conference is below.