There's a crisis brewing for Progresso, and it'll be interesting to see how – and if – the soup maker responds.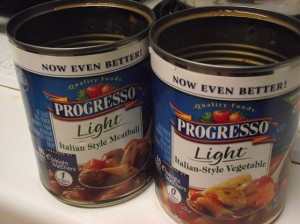 The trouble was kicked off by a recent NPR report that looked at the potential health risks of eating food stored in cans that uses the industrial chemical bisphenol A (BPA). BPA is an industrial chemical that has been linked to everything from infertility to cancer and cardiovascular disease. Recent research has concluded that canned food is a source of BPA exposure but does not answer the question of whether that exposure is a health risk. Nevertheless, some food makers – including Campbell's – have already taken the proactive step of announcing that they will eliminate BPA from their containers.
Progresso hasn't said anything yet. Now a petition on change.org demands that the company remove BPA from the linings of its soup cans. The petition was posted nine days ago and already has 95,000 signatures. It was the subject of a dedicated e-mail from change.org, which no doubt will move that number higher pretty quickly.
Critics are beginning to gather on Progresso's Facebook page. The Facebook protest started less than a day ago, but some back-and-forth is beginning to develop. So far there's been no response from Progresso. It'll be interesting to see if the company learns from past mistakes of brands like Nestle and Chapstick, which inadvertently escalated customer attacks by deleting Facebook comments they didn't like.
Progresso's only viable strategy may be to announce that it's eliminating BPA from its packaging, but that's a bigger issue than crisis communications. What should Progresso do? It's still early and they might actually be listening.
Update, 7/2/12: Progresso has begun responding to concerns posted on its Facebook page with a statement that I think is well-crafted and helpful. While the soup maker doesn't commit to anything, it does acknowledge customer concerns and promises to at least investigate alternatives. The important thing at this stage of a potential crisis is not to leap to conclusions but to state that you are aware of the problem and are looking into it.
We take the concerns around BPA very seriously, and we wanted to let you know a little bit more about this topic and how we are pursuing other options. BPA is used in the lining or lid of most metal food cans in the U.S. to help preserve food and maintain nutritional value and quality. Scientific and governmental bodies worldwide have concluded that BPA is safe. However, we know that some of our consumers would like us to pursue alternatives, so we are currently working with our suppliers to develop and test alternative linings that do not use BPA. While we pursue these options, we're entirely confident that the current packaging is safe for the fans of our soup. Thanks for reaching out to us, and we hope we can keep providing you with delicious soups in the future!