I had a chance to attend the recent Web 2.0 Summit in San Francisco and hear from some of the business leaders of the new Internet, including the CEOs of Google, Facebook, Yahoo! and Twitter. Here are five key insights I took away.
1. Make Marketing a Service to Customers – I didn't write down who said this, but the comment stuck with me long after the conference was over. The traditional role of marketing has been to create an image or deliver a message. Service had little to do with it. But in the new world of tuned-out customers, the only way to get make an impression is to be helpful, entertaining or memorable. This is one reason we're seeing a race by B2B marketers in particular to give away tactics and information that were once their source of competitive advantage. It's the only way to get prospects to pay attention. Marketers need to ask themselves a new question: "How can I help?"
2. You Need a Mobile Strategy, and Faster Than You Probably Thought. Forrester Research now predicts that smart phones will be the dominant Internet access device in the US within three years. Mary Meeker of Morgan Stanley sees smart phone shipments surpassing PCs in 2012 (Here's the video of her terrific presentation). In countries like China, the PC was never even much of a factor. The speed at which this shift is occurring is breathtaking. Smart phones have eclipsed all other electronic devices in their rate of adoption (see chart below).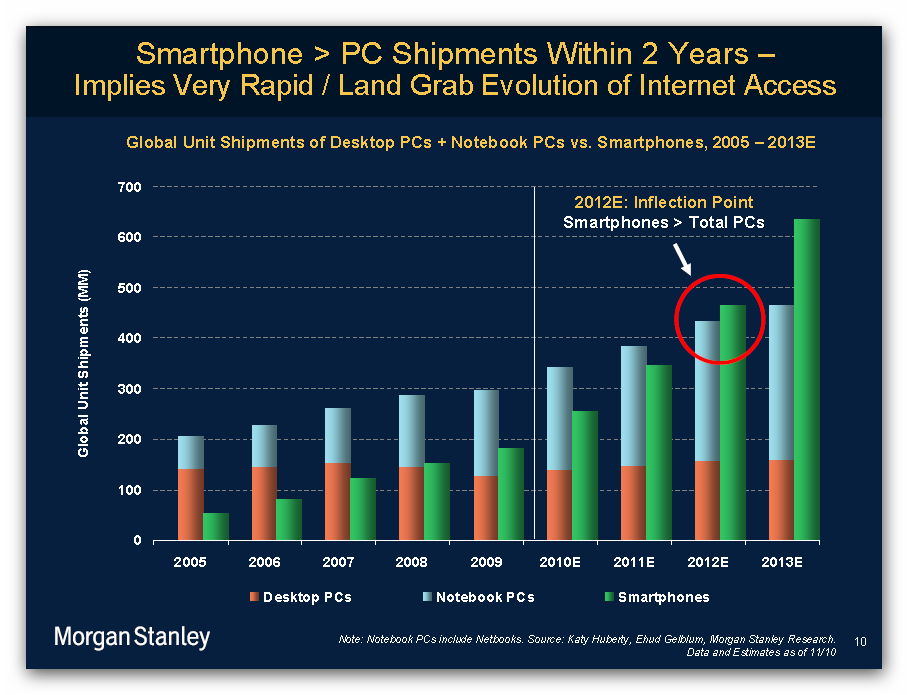 Google's Eric Schmidt made an interesting point: smart phones are actually more useful than PCs because they know more about the user, including location, and can deliver a more personal level of utility.
This doesn't mean PCs are going away. Rather, the plunging price of flat-panel displays will make PCs more of a dashboard for a user's business and entertainment needs. However, the browser will be only one of several ways people will access the Internet.
On the smart phone, that access will be by applications. Apple opened the iPhone to developers only three years ago, and already more than a half-million apps have been delivered. Other platforms are just ramping up their own app ecosystems.
There is a huge free-for-all coming in mobile apps, and nearly every business needs to be thinking about how to participate. Consider item 1 above. How can you use a mobile app to provide service to the customer? Whether it's a coupon, shopping tip, reference source, comparison engine or something else, you'll need to address the needs of this rapidly growing mobile audience.
3. Social Is the Killer App. While you're pondering question 2, consider this one. Mark Zuckerberg was poised and mature in a nearly one-hour interview with John Battelle and Tim O'Reilly. The Facebook founder acknowledged that great power carries great responsibility and pledged to be more responsive to the privacy concerns of members.
One memorable point he made is that "social" is a powerful feature of software. Several Facebook applications, like photo albums, were functionally weak in their early versions but were a huge hit with members because they were easily shareable, he noted. This is an important point to remember. Loading up on features quickly reaches the point of diminishing returns. Adding the ability to share, reuse, mash up and comment creates a whole different level of value.
BTW, Zuckerberg reminded me of a young Bill Gates in looks, mannerisms and the clarity with which he sees complex issues. Like Gates, he has an uncanny ability to find a logical path to a decision or point of view. It will be interesting to watch his star rise.
4. Simulations Are A Powerful Incentive To Engage. Did you know that 320 million people have played a Zynga game and that the company now employs 1,300 people? Have you ever even heard of Zynga? If you're a B2B marketer, you probably haven't, but I'll bet your kids have. Farmville is a mega-hit on Facebook and Zynga has nine other social gaming applications based on classic games like poker and Battleship, even a Critical Ops download for PC. Founder Mark Pincus said the company has peak usage of more than three million concurrent users. Yow.
Why should you care? Because simulation games are not only a great way to learn but also an excellent tool for modeling business processes. Consider Cisco's myPlanNet, a game that challenges players to build a business as the CEO of an Internet service provider. It has racked up more than 75,000 Facebook fans and 50,000 downloads for what is essentially a B2B training and marketing tool. Check out the wall posts on Facebook. It's not the usual gaming trash talk. Players are learning how the Internet works.
IBM recently released CityOne, a game that simulates sustainable urban planning.  These are tools that put real problem-solving scenarios in a gaming context and they are having enormous success. Can a sim fit in with your digital marketing plan?
5. Everything on the Web. Steven Berlin Johnson gave a brief but provocative talk about the rate of change in publishing. "For the first time in 20 years, the link and the URL are losing market share," he said, noting that there is no standardized way to link to the page of a digital book.
Johnson proposed an idea he called "Web redundancy:" Every digital content asset should have a corresponding linkable version. "Unless [publishers] embrace Web redundancy as a strategy, all those extraordinary words will continue to live in the remote continents of the unlinkable," he said.
I was reminded of all the press releases I continue to receive by e-mail that have no online corollaries. This is old-media thinking. Why ask the reporter to rewrite your words when it's simpler to link to them? Why forego the search engine optimization benefits of an inbound referral, especially when tweets and links are the means by which people increasingly publish information?
This year's Web 2.0 Summit was streamed in its entirety. The conference, which is in its seventh year, is a great way to tap into the trends that will define the next 12 months. If you can't fork over the $4,200 (and thanks to John Battelle and my friends at Procter & Gamble, I didn't have to), it's worth tuning in to the YouTube archive or watching the streamed coverage from next year's event.