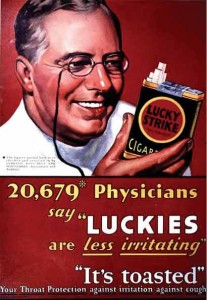 As corporate marketers dive headlong into the annual ordeal known as the annual budgeting cycle, Forrester Research has released an interesting new report that challenges some assumptions about brand management. It costs $499, so see if you can borrow a copy from a friend. This summary will give you the high points.
The October 9 report is entitled "Adaptive Brand Marketing," but that's really a fancy term for "turn on a dime marketing." Author Lisa Bradner attacks several traditional assumptions about brand marketing. They include the notion that any individual can orchestrate all of the channels needed to deliver message, the primacy of channels over customers and the belief that just a few core messages are sufficient  to communicate value.
Those simple concepts are becoming almost quaint today as channels of communication are fragmenting, customers are self organizing into affinity groups and the cost of switching continues to decline. Customers increasingly want direct contact with and influence upon the products they use. They are no longer satisfied to be spoken to as a mass; they want messages that address their individual needs. If they don't get this, Bradner explains, they're quick to take their business elsewhere. She quotes Forrester research showing that for consumer packaged goods, more than 80% of consumers now indicate a willingness to switch from their regular brand of product to a private-label alternative. The recession is no doubt pushing that trend along.
Start With the Customer
"Adaptive Brand marketing starts with the environment — customers and a deep understanding of their needs and behaviors — and then designs the most appropriate channel mix for engagement," she writes in a sentence that nicely sums up the thrust of this research. "Spending and planning decisions are daily — not annual — events."
As a longtime media professional, I found that last comment particularly meaningful. The end of the year is typically a time when media salespeople go into overdrive trying to get their events, supplements and special projects on their clients' advertising schedules. This sometimes means trying to convince somebody in November that they should spend money on a marketing program that won't run until the following September. The idea that anyone can predict their needs that far in advance was always a little silly. Today it's downright ludicrous.
The Forrester report proposes a new model for brand marketing that embodies an iterative approach to planning. Frequent testing guides message development and the best ideas are funded almost instantly. It also suggests that analytics based upon the massive amount of data we can now collect about customers' online behavior should guide tactics, not hunches and experience. In fact, the report is critical of the whole idea that past experience counts for much of anything. Rapid shifts in behavior driven by constant customer conversation have created an environment that changes too quickly.
Bradner concludes that the four P's of brand management (product, price, promotion, place) will be replaced by four new Ps: permission, proximity, perception and participation. In a nutshell, this means that brand marketers will need to request permission to speak to their customers, listen and respond with customized messages and invite customers to collaborate on product evolution. She also suggests that the term "brand manager" is outmoded because no individual can coordinate all the necessary market conversations. She argues instead for brand advocates who live close to their markets and constantly experiment with new messages.
The timing of the research was a bit ironic coming, coming out the week after a PRWeek and MS&L survey reported that 70% of marketers say they have never made a change to their products or marketing campaigns based on consumer feedback on social media sites. Perhaps this is because we're still early in the evolution of these new media, but with blogging now well into its fifth year of hyper growth, it seems odd that marketing pros should be taking so long to get the message.
I came upon this research in the course of an ongoing discussion with a household-name consumer goods company with which I work. The marketers there were quite taken with its conclusions, and this is the type of company that leads entire markets in new directions. We shouldn't underestimate the scope of change that Adaptive Brand Marketing would require. On the plus side, we wouldn't spend each November frantically assembling annual marketing budgets. But we would have to learn to live in a world of nearly constant change in plans and priorities. Welcome to the new reality of 21st century business.