CHANGING RULES
For most companies, these new information-gathering metaphors will ripple across every aspect of an organization's activities. They will demand that businesses become more open and responsive, engaging with customers at specific steps of the buying process and beyond. This engagement won't work if it's limited to traditional marketing and sales; in order to be effective, social media must be adopted broadly across the company. Some executives will find much to fear in these developments. They have been trained to believe that employees are not fit to speak for the company and that disaster ensues when the message is not tightly controlled. For large companies in particular, an image of invincibility is a treasured corporate asset. This unrealistic image makes gaffes by these companies all the more damaging and embarrassing.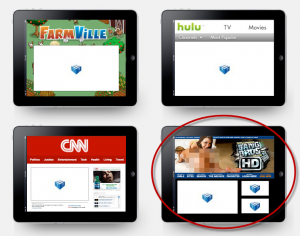 This isn't to say that fears of loss of control are invalid. Adobe Systems found out the hard way in early 2010 that even unbridled employee enthusiasm can have undesirable side effects. An Adobe Platform Evangelist named Lee Brimelow posted a series of screenshots on Adobe's Flash Blog that were intended to show how bleak the online world would look without Adobe's Flash video display technology. In a subtle attempt at humor, Brimelow included a screenshot of a pornography site in his gallery (see image at right). Adobe was not amused when the gaffe exploded into a firestorm of mockery and anger.
Nevertheless, we are confident Adobe will recover from this incident and may actually benefit from it. Brimelow's halfhearted apology had a kind of "lighten up" tone to it that reminded his audience that no lives had been lost. And the furor gave him another chance to state his passion for Flash and for Apple, whose omission of Flash from the iPad computer had sparked the blog entry in the first place. The fact that Adobe didn't fire or publicly rebuke its evangelist actually burnished its image as a tolerant and forgiving employer. That ain't bad.
On the other hand, the upside of spreading social tools throughout the organization can be enormous, particularly for companies that have enthusiastic customers and passionate employees. Consider the once popular "case study," an essential B2B marketing document that has become a rat's nest of approvals and legal concerns. All you have to do is scan the websites of a few B2B technology vendors to realize how sterilized and empty most case studies have become. By the time gatekeepers have had a chance to purge them of any sign of negativity or implied endorsements, the average case study has become little more than an extended sound bite. In fact, many companies now no longer submit to case studies at all out of the fear that endorsing one vendor could ruffle feathers of another. What are these companies afraid of? Aren't they the ones with the market leverage?
Social media marketing is a way to humanize the business, to turn frailties into endearing qualities that encourage experimentation, loyalty and forgiveness. Today's most admired social media marketers – Dell, Cisco, Starbucks, Google, Ford, Procter & Gamble and Wal-Mart, to name just a few – have adopted a philosophy of open experimentation layered upon a culture of risk tolerance. But one thing they all share in common, is they all had the good fortune of making high-profile, public mistakes, which compelled their upper management to update their communications strategy.
"Apathy is one of the biggest challenges to social media implementation. When things are going well, people are less inclined to allocate budget.  But when the brand gets slapped around publicly, or there's a recall or a crisis on some kind, that's an opportunity," says Pete Blackshaw, executive vice president of Nielsen Online Digital Strategic Services.  "Negative conversations that go viral are a wakeup call to management." In many cases, at today's risk-averse companies, it may take a crisis to bring about cultural change   We hope that's not the case for you.