Most small businesses are terrible at marketing in general and online marketing in particular. That's understandable: The founders are usually more passionate about what they do than about promoting themselves.
But with Facebook becoming the place you just have to be for businesses of all sizes, a little marketing know-how comes in handy. I recently spoke to Mark Schmulen, general manager of social media at the small-business-focused e-mail service provider Constant Contact about how to go beyond the Facebook wall and make the social network a practical and measurable small business marketing platform.
"When we look at what platforms our small business customers are using for social media marketing, 94% of them are on Facebook," Schmulen said. However, "Most small businesses are doing Facebook without knowing why they're doing it."
That's the herd mentality at work. While it's pretty easy to create a Facebook page, the task of convincing visitors to create persistent relationships through the "Like" button and to engage in conversation requires different skills. Forrester Research has estimated fewer than 15% of people who click a Like button ever visit the page again. Getting that repeat traffic is the special sauce of Facebook success.
Here are five tips that Schmulen recommends:
Tip #1: Know what your goals are. Sounds simple but it ain't necessarily so. Depending on the business, goals might range from generating orders to attracting subscribers to building thought leadership. Whatever your goal, you need an offer to match.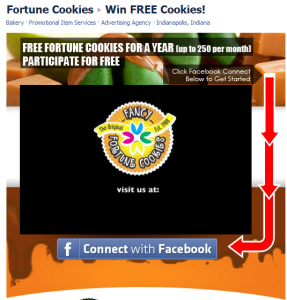 Archway Cookies and Fortune Cookies are both focused on trials, the first through coupons and the second via a contest. Vindale Research isn't in the food business, though; it wants to recruit people who are interested in getting paid to take surveys.
Each company matches its offer to its goal, whether it's a free trial, information or downloadable assets like ringtones. Offers should always include a clear call to action, and you can use rotating FBML (Facebook Markup Language) pages to test different offers. If you lead with your wall, you're missing an opportunity.
Tip #2: Make your offer shareable. There's a Facebook phenomenon called the "power of 130." The average Facebook member has 130 friends and the fastest way to spread a message is through social sharing. Facebook automatically offers members the opportunity to share a Like, but the real creativity comes when you can convince people to share some kind of unique content or offer you provide.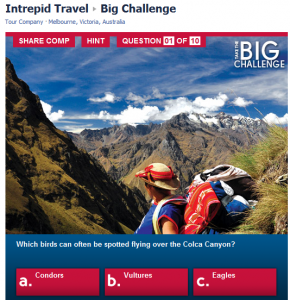 For example, Intrepid Travel invites visitors to play a trivia game and share results with friends. Players can also sign up to visit the exotic places highlighted in the game. Each answer to the quiz is shareable, as is the final score.
Tip #3: Keep it simple. Intel's Facebook welcome page features product promotions, a gateway to its international pages, jobs, discounts and even a Twitter feed. Intel can get away with all that because it's Intel, but for most small businesses, less is more, Schmulen recommends. He favors an approach like that of Fitness magazine, which rewards new fans with "our all-time favorite abs workout!" Fitness has a variety of other offers on its Facebook presence, but it leads with the simplest one.
That doesn't mean you can't have multiple offers, but give each one its own page and rotate them through different promotions. It's easier to test results that way, too.
Tip #4: Promote everywhere. "'Field of Dreams' was a horrible move for people who are learning about marketing," Schmulen says. "Just because you build it doesn't mean people will come. When you create a campaign, share it across all your social networks and e-mails. Use every channel you have." I couldn't have said it better.
Tip #5: Measure. Surveys, A/B tests, website analytics and marketing automation are essential tools for professional marketers, but you don't have to be a statistician to understand whether or not your campaigns are working. Facebook's built-in analytics give you a pretty good idea of what's sparking conversation on your page. Take the 10-minute tour and learn what they mean. PageLever is one of the first independent Facebook measurement tools, and I expect there will be more. You can also use free and simple utilities like Bit.ly and Google URL Builder to track the popularity of links you post on Facebook. Most commercial e-mail services also offer pretty good metrics to show which messages are resonating.
Schmulen ticks off some factors to consider: "How many people visit the landing page? How many participate in the offer? How many share the offer? If people visit the page but don't take the offer, it isn't compelling enough. If they accept the offer but don't share it, it isn't distinctive enough. A great campaign gets people to connect, accept your offer and share it with their friends."
Getting people to Like you is just the beginning, of course. A really effective Facebook presence is an ongoing conversation with lots of questions, challenges and responses. For inspiration, you could do worse than look at Constant Contact's Facebook wall, where the company constantly seeks input on everything from new product ideas to the choice of band at a celebration party.
This is one in a series of posts sponsored by IBM Midsize Business that explore people and technologies that enable midsize companies to innovate. In some cases, the topics are requested by IBM; however, the words and opinions are entirely my own.