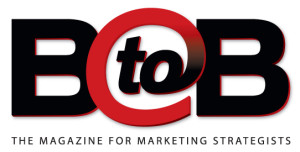 I was sad to learn this week that BtoB magazine, which has existed under various brands for nearly 100 years, will be swallowed by Advertising Age at the end of the year. I have worked with BtoB for nearly seven years, publishing about 120 columns and articles during that time. The staff has always been a joy to work with, and BtoB has played a critical role in my own education about the transformation of media. It's the most important publishing brand I've been affiliated with during my eight years as an independent consultant, and I'm truly sorry to see it go.
My association with BtoB began as a happy accident. Shortly after going on my own in late 2005 I encountered the then-editor-in-chief, Ellis Booker. Ellis had worked for me at Computerworld years before and our mutual geekiness had cemented a friendship. At the time I reconnected with Ellis I was becoming fascinated by the changes in the publishing world driven by social media. I pitched him pretty hard on stepping up BtoB's focus on that area. Ellis has always been a forward-looking guy, so he began to feed me some assignments, which I tackled with zeal. Here was a chance to learn by talking to practitioners on the leading edge and earn a few bucks and a byline in the process.
In late 2006 Ellis offered me a monthly column on the editorial page called "New Channels." I'm still writing it more than six years later. I've never been paid for it, but I would probably pay BtoB for the privilege.
New Channels gave me an opportunity to share what I was learning with more than 30,000 subscribers and perhaps to materially impact the way B2B companies were thinking about social media adoption. I sweated every one of the 450 words I was allocated each month and still think it was some of my best writing of the past six years. When you have so little space to say something, you have to focus and minimize waste. Length limits are a great way to improve your writing.
Looking back on some of those early columns dramatizes the speed with which things have changed. In 2007 I remarked on how big brands were embracing blogging and YouTube, completely unaware of the impending arrival of social networks. In 2006 I wrote about Microsoft's Port 25 blog, which invited its critics in the Linux community to heap abuse on it in a Microsoft-branded channel. Thanks to Facebook, such interactions are common today across hundreds of brands.
John Obrecht took over from Ellis in 2010 and was kind enough to ask me to continue writing the column. I understand John will be leaving Crain Communications when BtoB shuts down. If you want a top-notch business editor and writer who understands B2B markets, be sure to give John a call. He's in Chicago and hopes to stay there.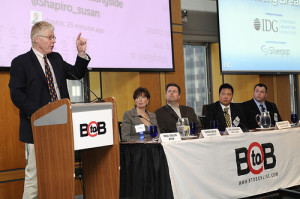 Over the years I've had the opportunity to be involved in many of BtoB's social media-related projects. I've helped judge its Social Media Awards for the last four years and also contributed to the annual Interactive Marketing Guide since 2010. I've been privileged to be on the stage for the past four years to present awards to some remarkable companies that are innovating with social media and to participate in numerous other BtoB events. The association with the BtoB brand has been invaluable to me. Despite all my blogging, books and contributions to other websites, the BtoB magazine association is the one people still mention most often when I meet them.
Many readers of my blog probably know that I also maintain a blog called Newspaper Death Watch, where I've commented on the massive changes sweeping through the newspaper industry for more than six years. BtoB is a victim of those same forces. The advertising market for business publications is in free fall, and since most of the magazine's advertisers are themselves B2B media companies, BtoB has suffered along with everybody else. Crain Communications is notable for its commitment to print publishing. It sustained a print presence for BtoB long after most publishers probably would have opted to go online-only. The decision to shutter the brand isn't surprising, but that doesn't make it any less disappointing.
Related articles