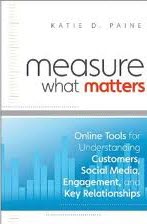 The Internet is the most measurable medium ever invented, but the perception that returns on online social interactions can't be quantified stubbornly persists. Those who still harbor this misconception should do themselves a favor and pick up Measure What Matters, a guide to digital ROI that puts common sense ahead of the current fan/follower frenzy.
I'll admit my biases up front. I've known author Katie Paine since her days as a PR pro in the 1980s and am an unabashed fan. For the past five years I have worked with her closely as a member of the Society for New Communications Research, which awarded her its "Fellow of the Year" distinction in November. I am also quoted on the back cover of the book, although I did not get a chance to read the full volume until recently.
Like many former publicists, Paine has smoothly migrated her relationship-building skills into the social world, but unlike most of her peers she has chosen to specialize in numbers. That's a good thing for the rest of us because social media marketing, like PR, has always been challenged by the lack of reliable success metrics.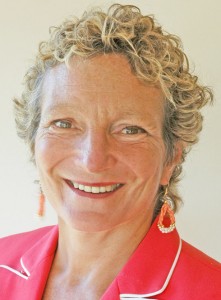 Paine (left) believes that anything is measurable if you know where to look, and in this book she offers plenty of ideas. Measure What Matters isn't about social media as much as it is about the importance of relationships and the need to understand how they equate to success. This is an important point because many of the tools Paine recommends work well in any medium.
In fact, one of her favorite measurement tools – the Grunig Relationship Survey – was invented in the days before blogs and Twitter, but is every bit as useful today as it was a decade ago. Even conventional research tools like mail surveys and focus groups still have their place, Paine argues, despite the fact that many people consider them to be passé. The point isn't for organizations to argue about tools but to figure out the best ways to measure success. If that means counting mentions of a brand in newspaper headlines, so be it.
Volume 2
Measure What Matters is essentially a revised and expanded version of Measuring Public Relationships, a self-published 2007 title that I reviewed here. This time Paine has a major publisher at her back and the benefit of many new tools to tackle, including Twitter and Facebook. When you scan the table of contents, however, you'll see nary a mention of those social networks. Instead, the author focuses on identifying constituents, defining messages, selecting tools and reviewing and tracking results. The role of communicators in a democratized media world really hasn't changed all that much. They still seek to communicate a message or favorable impression. While there are a whole lot more tools they can use to do that today, the noise level is also a whole lot higher.
The book is chock-full of gems, ranging from useful asides like the fact that 40% is a good response rate for an employee paper survey, to the exhaustive list of 27 different types of conversations in chapter 4. The "five phases of engagement" in chapter 5  walks readers through the process of understanding how relationships proceed from initial impression to purchase advocacy. That chapter also features an eight-step process for analyzing social media content that keys in on core issues like understanding how the message was received, how it was interpreted and who did the interpreting. PR veterans will recognize many of the same concepts here that they have been using for years. In some respects, the world hasn't really changed all that much.
Chapter 11, which looks at crisis communications, imparts basic wisdom that I hadn't even considered. For example, the definition of "surviving a crisis" is situational. Long after the initial damage has been swept away, the reputational fallout of a crisis may make the company vulnerable to a takeover or limit its ability to attract quality talent. Paine also astutely points out that good relationships with customers, analysts and other influencers may prevent a crisis from occurring in the first place, an outcome that is almost impossible to measure.
The final two chapters look at measurement tactics for nonprofits and educational institutions, two clients with which Paine has extensive experience.
Paine's practical and time-tested advice is a welcome relief to a Klout-obsessed world that seems more taken with fans and followers than with business results. I highly recommend it.