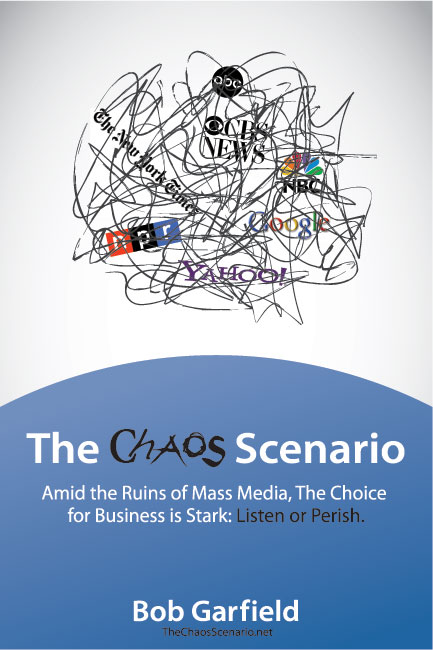 I start lots of books about new media, but I finish very few of them. My ADD is only part of the reason. I often find that authors don't have much to say beyond a few points that are stated clearly in the first 100 pages or so and repeated for the remaining 200.
Not so with The Chaos Scenario, the new volume by veteran advertising critic Bob Garfield. I devoured this book and was sorry to see it end. One reason: It is so much fun to read.
Garfield is a gifted writer and he's funny as hell. Of the video for OK Go's YouTube hit "Here It Goes Again," he writes, "Everyone on earth has seen the video at least four times, except for certain remote areas in the mountains of Papua New Guinea, where several tribesmen had seen only twice." Or "If it were Japanese steel Google was flooding the market with, instead of kitten videos, it would be called dumping."
Such asides are garnish on a viciously insightful treatise on the death of advertising by someone who has the street cred to make that judgment. Garfield's quarter century of experience qualifies him to say when media is badly broken, which he clearly believes it is.
In an opening chapter entitled "The Death of Everything," he documents the implosion of mainstream media channels of every kind under the weight of new-media competition and changing audience behavior. If your CEO still insists on throwing away money on TV ads, put this chapter in front of him.
Listenomics
Much of the book outlines the principles of "Listenomics," or the premise that institutions that fail to listen to and engage with their newly empowered customers will die. The power that now exists in the hands of ordinary citizens can humble even the most arrogant corporate giants.
Among the examples of this Garfield cites is a grassroots campaign called "Comcast Must Die" which he and a core of frustrated cable subscribers mounted in 2007. Through blogs and message boards, an angry mob of customers turned the tables on a giant utility, forcing meaningful change across its vast customer service operation. As besieged Senior VP Rick Germano ultimately admits, "I'm crying 'uncle' now.'"
Garfield believes in the power of the crowd but not necessarily in its wisdom. Chapter 9 ("Off, Off, Off Madison") presents a scathing indictment of consumer-generated advertising (CGA), which Garfield characterizes as mostly a dull imitation of what non-professionals believe advertising should be.
"Most CGA has been the stuff of tiny little talents with tiny little budgets pursuing tiny little ideas," he writes.  Which is not to say that pitting crowds against each other is always a bad thing, as long as the crowds know what they're doing. Garfield praises CrowdSPRING, a competitive foundry for design professionals that created dozens of choices for the book's logo for just $500.
The power of the crowd is not so much to create advertising as it is to keep institutions honest, he asserts. In that respect, the balance of power has completely changed. "Never pick a fight with someone who buys zeros and ones by the barrel," he writes at the close of the Comcast chapter, "which, nowadays, is everyone."
Time to Lego
The story of Lego Mindstorms is a vivid example of Listenomics at work. The staid Danish company allowed customers to take an active role in turning a marginal product into a global geek megahit. Customers paid their own way to come to Denmark and help Lego build a more profitable business. Crowds are at their best when they help guide brands they like, Garfield asserts, but rarely when they build the products themselves. Brands like Dell Computer and Procter & Gamble are now embracing this idea of customer involvement with a vengeance through initiatives like Dell IdeaStorm and Innocentive.
The book closes on a somber note, distinguishing itself from the relentlessly upbeat message of many marketing titles. In a chapter entitled "Nobody Is Safe from Everybody" Garfield recites chapter and verse of people whose careers and even lives have been ruined by character assassination, "trolling," and the sometimes devastating choices of search engines.
In a world in which less and less information is private, ordinary citizens are increasingly vulnerable to the whims of a malicious few whose vendettas may be artificially magnified by unknown algorithms. "You have very little to fear from 1984, but every reason to quake about Lord of the Flies," he writes.
In the final analysis, this clarity is one of the book's most endearing traits. Garfield isn't afraid to piss off his critics or to make fun of himself. He also doesn't hesitate to point out that information democratization is hardly a win-win proposition. It is inevitable though, which is why marketers would do well to heed his well-reasoned advice. "Why, all of a sudden, is it so important to listen?" He asks in the first chapter "Because hardly anyone anymore is listening to you."