How to Mine B2B Gold from Facebook
In my work with B2B organizations, the question of how to use Facebook is invariably front and center. This is despite the fact that numerous surveys have shown that Facebook is one of the least effective social networks for B2B marketing.
In a survey of marketers conducted by BtoB magazine last year, Facebook was ranked last in usefulness among the top five social networks, trailing blogs, LinkedIn, YouTube and Twitter, in that order. Nevertheless, some B2B companies have mined gold out of Facebook's audience, particularly for recruiting young college graduates. Let's look at some examples of what they do well.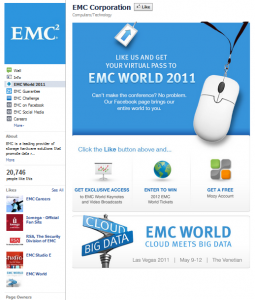 Storage maker EMC makes particularly good use of Facebook's "Welcome" page. This is an under-utilized tool that enables companies to present an HTML page as their default front door. It's done with an application calledStatic FBML (Facebook Markup Language) but there is little difference between FBML and HTML.
The advantage of a Welcome page is that you can use all the tricks of an HTML page, including hotspots, embeds and even forms. Buddy Media uses it to capture leads, as does e-mail marketing providerInfusionsoft. SAP plays inline videos. Use Welcome pages to present an attractive and exciting introduction to your company.
EMC has several FBML pages, including a list of its other social media accounts and a game you can play after liking the page. EMC doesn't use Facebook's wall to much effect, but its purpose seems more promotional than interactive. On that front, it hits the mark.
Other B2B companies that use their welcome pages well include VMWare, Lenovo, UPS and Intel. Fedex uses a cool Flash animation to link to its sub-pages. SocialMediaB2B.com has a nice roundup of Eight B2B Facebook Landing Pages
Read more and comment on my blog
Why You Need to Replace 'Customers' With 'People'
At Procter & Gamble (P&G), which is considered by many people to be the world's greatest marketing company, a subtle but significant shift is taking place. The company that practically invented the category of "consumer packaged goods" (its portfolio includes more than 300 products, ranging from Tide to Oil of Olay to Pringles) is phasing the word "consumer" out of its marketing language. It's replacing it with a much older term: "people."
This small change is part of a massive overhaul of the company's approach to marketing, one that is reflected in its language. "Transactions" are being replaced by "engagements." "Affinity" is giving way to "relationships." The cold, hard, data-driven terms that have defined the last half-century of marketing are yielding to the realization that future success will be about creating hundreds of millions of one-to-one relationships.
In any culture, national or corporate, the language we use reflects the way we think of each other. Some people may ridicule the fact that Disney calls its employees "cast members," but inside the company, the distinction is meaningful. You'll never catch a Disney employee admitting in an open forum that the life-sized figures shaking hands in the theme parks are anything but the genuine Mickey and Donald, for example. A good cast member is never out of character.Have you examined your own corporate dialect recently?
Read more and comment on The CMO Site
E-Book Raises the Bar on Social Measurement
The question of how to measure social media performance, particularly in a marketing context, continues to be one of the industry's hottest topics. Although many people are aware that traditional metrics like page views, visitors, followers and likes are poor indicators of success, the vast majority of marketers I speak to still focus on these overly simplistic criteria. These numbers may be of little value, but at least they're understandable.
The more sophisticated practitioners are turning toward metrics that indicate engagement. Examples include comments, retweets, shares and subscriptions. Now Awareness Networks has contributed some important new thinking to this topic with a free e-book entitled "The Social Marketing Funnel: Driving Business Value with Social Marketing." (Full disclosure: I am quoted in the book but did not contribute meaningfully to the methodology and received no compensation.)
Awareness outlines five priorities that companies should define to become a best-in-class social marketer:
Measure and Grow Social Reach
Monitor Social Conversations
Manage Social Content
Practice SEO
Measure and Analyze Social Activity
Not surprisingly, the company has tools that help in many of these areas, but that's one reason its research is so useful: The recommendations are based upon the experiences of more than 100 customers.
Read more and comment on my blog
Tip of the Week: Hipmunk
If you think all travel reservation sites are basically the same, then you haven't seen Hipmunk.com, an innovative and efficient air and hotel booking service that takes a radical new approach to displaying traveler options.
The people at Hipmunk proceeded from simple assumptions: Most users today have large, high resolution monitors, and visual displays are quicker to navigate than rivers of text. Hipmunk displays airline options in a timeline grid, which can be viewed by price, duration, departure time and other criteria. The default display is a clever metric called "Agony," which is a combination of departure time, price and flight duration. I find it to be much faster and easier to use than traditional travel sites.
The new hotel reservation feature displays options on a map, with the default metric being "Ecstasy," or a combination of price, reviews and amenities. I can't wait to see what they come up with when they add rental car reservations
Give Hipmunk a try. I don't think you'll ever want to use anything else.
Just for Fun: Bogus Technologies
"Percy Whitebread has provided strong leadership in developing the company's vacuous Enterprise IT business strategy, replacing good people with a sub-par middle management team, and securing venture capital from duplicitous investors.
"His glib self-assurance, unmatched prevarication and complete disregard for customers' computing, networking and storage requirements were key factors in Bogus Technology's decision to eschew high technology products and services."
That's the profile of Percy J. Whitebread, III, President and CEO of Bogus Technologies, an enterprise IT services company that "provides a complete portfolio of ethereal Information Technology Solutions, fractious IT products and somnolent professional services for business and personal computing."
If you've surfed through as many high-tech company websites as I have, you'll recognize all the buzzwords here. The entire site is a parody of the marketing-speak that tech companies use to describe themselves, and it was clearly created by people who have been there.
BogusTech isn't just a one-page joke. It's a full-blown website with multiple sub-pages that looks just like the real thing, only it's entirely fictitious. The photos and even the alt tag descriptions are part of the satire. I don't know who created it, but they have my respect.
https://gillin.com/wp-content/uploads/2020/11/logo-300x86.png
0
0
dfsdf499_ffwfloP
https://gillin.com/wp-content/uploads/2020/11/logo-300x86.png
dfsdf499_ffwfloP
2011-08-04 07:05:03
2011-08-04 07:05:03
How to Mine B2B Gold From Facebook