Estimating influence is a delicate balance of art and science. People are drawn to quantitative methods because scores are easy to understand. The downside of reducing influence to a number, though, is oversimplification.
Lately, I've been looking at Klout, the popular new tool that bills itself as "The Standard" for influence measurement. The more I look at it, the less I like it. Klout's weaknesses have not stopped it from amassing an impressive list of more than 3,000 business customers and from being incorporated into popular applications like HootSuite as a standard metric. It is "the emerging standard" for measuring influence online, said Klout Marketing Manager Megan Berry in a podcast interview with Eric Schwartzman last month. I just hope those clients aren't taking this metric too seriously.
Beyond Followers
Klout attempts to determine influence metrics by looking at a person's online activities and the actions of others that result from them. The thinking is that influence isn't a matter of how much you say as much as the impact your words have on others.
Many people have a Klout index and don't know it. The service crawls Twitter and ranks members automatically. If you want to grow your score, you can log in to the site and give it a bunch of information about your online activities. I spent 15 minutes on Klout registering my social networks and grew my score 10 points on the spot. This is a major flaw in Klout, but more on that later.
Klout uses a proprietary algorithm to estimate influence based upon comments, retweets, @replies and mentions, among other things. The company isn't very transparent about how it calculates the score, and with good reason. The algorithm is a competitive asset and disclosure would inevitably invite people to manipulate the system.
The downside of opacity is confusion. By revealing so little about how its ratings are calculated, Klout essentially asks customers to put their faith in the service to do the right thing. This is dangerous, given Klout's flaws. Nevertheless, the score is a public record that anyone can see, and its influence is growing to the point that Klout scores are now reportedly showing up on resumes.
The Shirky Effect
The problem is that some of the ratings are nonsense. For example, my Klout score (66) is modestly higher than Clay Shirky's (60) and significantly higher than Marc Andreessen's (42). This is ludicrous. Shirky is the author of two influential books about online sociology and has been a thought leader on the Internet since the mid-90s. Andreessen invented the browser, cofounded Netscape and is one of the fathers of the modern Internet. Both are sought-after speakers and the subject of extensive Wikipedia articles. Yet Klout says I have more influence.
The problem is that neither of these brilliant innovators plays by Klout's rules. They aren't active on Twitter and they don't have Klout accounts. The fact that a single post on Shirky's blog can draw more than 1,200 comments or that Andreessen's occasional writings appear in The Wall Street Journal is of no consequence. Klout doesn't monitor either of those outlets.
Klout's bigger flaw is that its scoring system is tied to membership. The more you tell Klout about you, the higher your score is likely to be. This linkage fundamentally undermines the quality of the service. In effect, Klout pays you to endorse its service by rewarding you with a higher rank. If Google did that, Congress would be holding hearings.
A Million and One Improvements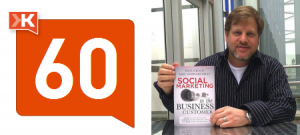 Klout admits that its methodology isn't perfect. In the interview with Schwartzman, who is the co-author of my B2B social media marketing book, Megan Berry said the company has "a million and one" improvements it wants to make. Schwartzman pressed Berry hard on shortcomings in the Klout methodology, and her responses were a weak defense. In essence, Klout treats every social network the same and all interactions equally, she said. A retweet, which is a one-button operation, is just as good as a thoughtful commentary on a blog. Except that Klout doesn't currently monitor blogs, other than those on Google's Blogger service. That must be one of the million-and-one improvements in the pipeline.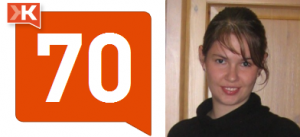 A comparison of Berry's and Schartzman's Klout profiles showcases the service's flaws. Berry's Klout score as of this writing is 70, while Schwartzman's is 60. Berry does have a couple of thousand more Twitter followers than Schwartzman, but she said Klout ignores follower metrics as meaningless. Berry is very active online, but not nearly as active as Schwartzman. Her blog has been updated eight times this year while Schwartzman has posted 36 episodes of his popular On the Record…Online podcast and more than 30 entries on hisSpinfluencer blog. Berry contributes occasionally to Huffington Post and Mashable, but Schwartzman is also active outside his own channels, contributing to Social Media Today and For Immediate Release. Schwartzman has 44 recommendations on LinkedIn, while Berry has three.
As far as I can tell, there are two principal reasons why Berry outscores Schwartzman on Klout. One is that she knows the system. She has at least a vestigial account on every social network that Klout cares about, whereas Schwartzman limits his activities to fewer outlets. Berry also tweets regularly on behalf of her employer, giving her Twitter account a Klout halo effect that attracts retweets and @replies.
My intention isn't to pick on Megan Berry. She's obviously a bright young woman who's very savvy about social media. However, there's nothing I can find that qualifies her as significantly more influential than the veteran Schwartzman, not to mention Marc Andreessen.
In her interview with Schwartzman, Berry described Klout as "[Google] PageRank for people." In my opinion, it's got a long way to go. Klout has some utility as a way to compare the online presence of active social media users, but measuring influence is much more complicated than counting retweets and Foursquare tips. Klout is betting that it can use its metrics to entice (coerce?) people to join its social network, which it can then monetize through advertising. The link between membership and Klout score is a disturbing weakness. Proceed with caution.
My New Social and Search Seminar is October 11
If you're in the New England area, or passing through on October 11, come to my new all-day immersion seminar: "Search & Social Double Whammy." I partnered with the search optimization experts at McDougall Interactive Marketing to deliver a full-day program that teaches you how to integrate SEO, social media, public relations and your technological back-end. The topics we'll cover include:
Internet Marketing Strategy
Search Engine Optimization
Social Media Strategy for Facebook & Twitter
Calculating Social Media ROI
Live Site Reviews (submit your site for inclusion)
12 Amazing Tools for Search & Social
The full-day seminar happens on October 11, 2011 from 8am to 5pm at the Woburn Courtyard by Marriott in Woburn, MA. The early-bird price of $199 is available through this Friday. After that, it goes to $299.
Tip of the Week: LinkedIn Today
One of the great appeals of social networks is that they deliver news curated by your friends, colleagues and people with whom you share common interests. This information is likely to be more interesting to you than news items selected by a third party you don't know.
There are a lot of services that organize the links your friends provide into a form that looks like a conventional newspaper (Paper.li is a particularly popular one), but I haven't found any that measure up to LinkedIn's new Today.
Today combines activity by your LinkedIn contacts on both LinkedIn and Twitter to choose the stories that your friends are talking about and present them in a constantly updated custom news page. These topics are more likely to be professionally relevant to you, since your LinkedIn connections are usually business contacts. Headlines are organized by the topic areas you choose and you can have a daily e-mail summary sent to your inbox.
Just for Fun: Overheard in New York
How often have you passed someone on the street and caught a snippet of conversation out of context that was so funny or bizarre that you wanted to share it with someone else? There's no better place for this experience than New York City and not surprisingly, there is a website devoted to capturing these stray asides that make eavesdropping such a fun sport.
Tall female law school know-it-all: "You'll do fine on his exam as long as you memorize the notes he gives in class –I mean, like, word for word– and then just reverberate it all!"
Overheard in New York has actually been around since 2003, but I only just discovered it recently. Anyone can contribute, so quality varies widely. Many quotes are also profane or risqué, so be forewarned. It's worth scanning, though, for gems like this:
Subway sandwich maker: "What size? 6″ or foot-long?"
Older suit: "How big is 6″, lemme see?"
Subway sandwich maker, deadpan: "It's 6 inches long, sir." (holds up bread)
A blog I write about the ongoing transformation of the newspaper industry has begun to acquire a following, and in the process it's demonstrated to me why online press mentions are now more powerful than those in print. That's right: you get more bang for the buck from a prominent blogger today than you do from an article in the New York Times, and I'll show you why.
My blog is called Newspaper Death Watch. While the title betrays a certain pessimism, it's actually a chronicle of change and rebirth. As concern over the perilous state of the newspaper industry has spread, Newspaper Death Watch has begun to attract some media attention. In January, I was fortunate to be mentioned in three prominent media outlets: Jeff Jarvis's BuzzMachine blog, the lead paragraph of a major feature in The New Yorker and a short opinion piece in the Economist.
What was interesting was the impact these references had on the blog's visibility. Prior to the reference in BuzzMachine, the site was getting about 500 unique visitors per day. After Jeff Jarvis linked to one of my year-end roundup articles, that average jumped by about 200 visitors a day. It jumped again after the mention in the Economist, eventually settling at about 1,000 average daily visitors, or nearly double its traffic at the beginning of the month. However, a prominent reference in the New Yorker, which is one of the most venerable English-language magazines, had no discernible impact.
Why? Because The New Yorker reference was the only one that didn't include a hyperlink. That meant that anyone who was curious to find out about this offbeat blog would have to make a note to visit Google later and run a search. Who's got time for that? Even if some people did go to the trouble, there was no way for me to know.
Link Love
In contrast, The two online references had immediate impact. For one thing, I was aware of both within hours and was able to promote them to my readers and Twitter followers. For another, links beget links. In both the BuzzMachine and Economist cases, a surge of inbound links from other bloggers followed the mentions on their websites. This improved my Google search performance and Technorati authority rankings. Subscriptions to my RSS feed shot up by about 5% in each of the days following the links' appearance.
Perhaps most importantly, one of them led to a call from a leading journalism foundation, which hired me to conduct a series of seminars for newspaper editors beginning next month.
In contrast, the print reference in The New Yorker generated a couple of nice notes from colleagues but little else that I could measure. Don't get me wrong; I was grateful for the attention. But it was difficult to assign any clear benefit to the print reference.
Tables Have Turned
Not long ago, online publishers were frequently called upon to defend the value of a mention on their properties. Public relations professionals told me that Web coverage was nice, but their clients really valued a mention in a prominent print publication. I would submit that this scenario has now been reversed. With companies increasingly using the Web for promotion, lead generation, sales and customer support, a link from a prominent website is of far greater value than a print article in a prominent print or broadcast outlet. And as a younger generation of business and consumer readers gathers more of its information online, that value will only accelerate.
That print article may look nice on your wall, but if you're looking for coverage that generates business results, the Web is where you want to be.
It wasn't exactly a repeat of the 1982 poisoned Tylenol disaster, but Johnson & Johnson was struggling with a minor crisis this week after some vocal critics derided an edgy ad that implied that new moms could suffer back pain from carrying their infants. What can we learn from this episode and was J&J's rapid apology really the best response?
The video had actually been online for more than six weeks before a few vocal moms on Twitter began trashing it this past weekend. The ad suggests, with tongue in cheek, that new moms who bond with their babies by carrying them in slings and chest packs may be inadvertently giving themselves back pain. The message wasn't that moms shouldn't bond with their children but that they should be ready for the consequences.
Seems innocuous enough, but a few vocal mommy bloggers didn't see it that way. They thought the ad was insulting to mothers and they Twittered their criticism, calling for a boycott of Motrin. Bloggers picked up on the controversy and posted more than 100 opinions about the ad, J&J's reaction and the media frenzy that surrounded it. There were even parody ads making fun of the whole affair. Forrester's Josh Bernoff has a good account of the controversy with links to background material.
A chastened J&J pulled the ad off its website and issued an apology on its corporate blog. The promotion "was meant to engender sympathy and appreciation for all that parents do for their kids, but did so through an attempt at humor that missed the mark and many moms found offensive," wrote Kathy Widmer, Vice President of Marketing at McNeil Consumer Healthcare.
J&J probably had no choice but to withdraw the ad, since the criticism was threatening to swamp any benefit the company had hoped to receive. But you also have to wonder if the company hurt itself by buckling to political correctness due to pressure from a minority of critics. After all, the ad hadn't seemed to offend anyone in particular during the first six weeks it was posted. It was only after a few outraged mommy bloggers began drawing attention to it that the criticism spiraled out of control. At that point, it was too late for J&J to explain its motives. Its critics had taken control of the conversation and anything the company did would look defensive and stubborn.
The incident quickly created a lot of soul-searching on both sides. A backlash against #motrinmoms developed, with some people criticizing the critics for practicing mob rule. Even one of the most vocal motrinmoms, Jessica Gottlieb, suggested that J&J overreacted in pulling down the ad. In fact most of the recent blogger activity has focused more on untangling what happened than debating whether J&J was right or wrong.
Here's my take. J&J's choice of language in the ad was arrogant and dismissive. The ad talked down to mothers and was begging for a backlash. However, that wasn't necessarily a reason not to run it. J&J could have mitigated the criticism, or even turned it to its advantage, by using social media channels more effectively:
The company could have invited a select group of mommy bloggers to preview the campaign privately and offer feedback. Even if the company had elected to go ahead without making changes, it would have been able to argue that it had sought guidance from its target group. And if the moms had blessed the video, it would have been the ultimate defense for J&J.
The ad could have been presented in a humorous context on the Motrin site. A message like, "We know your babies aren't a fashion accessory, but since this is International Baby-Wearing Week, we thought you'd appreciate this good-natured parody," would have gone a long way toward heading off criticism.
J&J could have listened. When a blogger tracked down the head of corporate communications for J&J's ad agency for a comment on the firestorm on Sunday afternoon, the woman professed to know nothing about the controversy. This is despite the fact that more than 2,000 Twitter messages had already been posted. Take note: the blogosphere doesn't take weekends off.
The company could have jumped into the Twitterstream and engaged. It didn't, preferring to post a rather brief statement on the blog and issue a press release. Kathy Widmer should have responded on the critics' own turf. Her message was constructive, but a little too disconnected.
J&J could have been more profuse in its apologies. A big donation to Babywearing International would have been a start. Or it could have taken Jessica Gottlieb's advice and distributed baby slings in maternity awards around the country. I'm not sure I agree that branding them with the Motrin logo would have been such a good idea.
In today's networked world, there is no excuse for a corporation to be surprised by negative response to a controversial message. Social networks and the blogosphere offer a cheap and speedy way to anticipate criticism. Ironically, J&J is one of only two pharmaceutical companies to host a corporate blog (Glaxo's alliConnect is the only other one I'm familiar with). This company gets new media more than most of its peers, which makes this online ambush particularly ironic.