Estimating influence is a delicate balance of art and science. People are drawn to quantitative methods because scores are easy to understand. The downside of reducing influence to a number, though, is oversimplification.
Lately, I've been looking at Klout, the popular new tool that bills itself as "The Standard" for influence measurement. The more I look at it, the less I like it. Klout's weaknesses have not stopped it from amassing an impressive list of more than 3,000 business customers and from being incorporated into popular applications like HootSuite as a standard metric. It is "the emerging standard" for measuring influence online, said Klout Marketing Manager Megan Berry in a podcast interview with Eric Schwartzman last month. I just hope those clients aren't taking this metric too seriously.
Beyond Followers
Klout attempts to determine influence metrics by looking at a person's online activities and the actions of others that result from them. The thinking is that influence isn't a matter of how much you say as much as the impact your words have on others.
Many people have a Klout index and don't know it. The service crawls Twitter and ranks members automatically. If you want to grow your score, you can log in to the site and give it a bunch of information about your online activities. I spent 15 minutes on Klout registering my social networks and grew my score 10 points on the spot. This is a major flaw in Klout, but more on that later.
Klout uses a proprietary algorithm to estimate influence based upon comments, retweets, @replies and mentions, among other things. The company isn't very transparent about how it calculates the score, and with good reason. The algorithm is a competitive asset and disclosure would inevitably invite people to manipulate the system.
The downside of opacity is confusion. By revealing so little about how its ratings are calculated, Klout essentially asks customers to put their faith in the service to do the right thing. This is dangerous, given Klout's flaws. Nevertheless, the score is a public record that anyone can see, and its influence is growing to the point that Klout scores are now reportedly showing up on resumes.
The Shirky Effect
The problem is that some of the ratings are nonsense. For example, my Klout score (66) is modestly higher than Clay Shirky's (60) and significantly higher than Marc Andreessen's (42). This is ludicrous. Shirky is the author of two influential books about online sociology and has been a thought leader on the Internet since the mid-90s. Andreessen invented the browser, cofounded Netscape and is one of the fathers of the modern Internet. Both are sought-after speakers and the subject of extensive Wikipedia articles. Yet Klout says I have more influence.
The problem is that neither of these brilliant innovators plays by Klout's rules. They aren't active on Twitter and they don't have Klout accounts. The fact that a single post on Shirky's blog can draw more than 1,200 comments or that Andreessen's occasional writings appear in The Wall Street Journal is of no consequence. Klout doesn't monitor either of those outlets.
Klout's bigger flaw is that its scoring system is tied to membership. The more you tell Klout about you, the higher your score is likely to be. This linkage fundamentally undermines the quality of the service. In effect, Klout pays you to endorse its service by rewarding you with a higher rank. If Google did that, Congress would be holding hearings.
A Million and One Improvements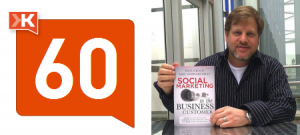 Klout admits that its methodology isn't perfect. In the interview with Schwartzman, who is the co-author of my B2B social media marketing book, Megan Berry said the company has "a million and one" improvements it wants to make. Schwartzman pressed Berry hard on shortcomings in the Klout methodology, and her responses were a weak defense. In essence, Klout treats every social network the same and all interactions equally, she said. A retweet, which is a one-button operation, is just as good as a thoughtful commentary on a blog. Except that Klout doesn't currently monitor blogs, other than those on Google's Blogger service. That must be one of the million-and-one improvements in the pipeline.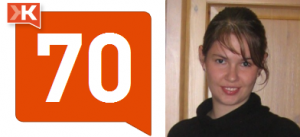 A comparison of Berry's and Schartzman's Klout profiles showcases the service's flaws. Berry's Klout score as of this writing is 70, while Schwartzman's is 60. Berry does have a couple of thousand more Twitter followers than Schwartzman, but she said Klout ignores follower metrics as meaningless. Berry is very active online, but not nearly as active as Schwartzman. Her blog has been updated eight times this year while Schwartzman has posted 36 episodes of his popular On the Record…Online podcast and more than 30 entries on hisSpinfluencer blog. Berry contributes occasionally to Huffington Post and Mashable, but Schwartzman is also active outside his own channels, contributing to Social Media Today and For Immediate Release. Schwartzman has 44 recommendations on LinkedIn, while Berry has three.
As far as I can tell, there are two principal reasons why Berry outscores Schwartzman on Klout. One is that she knows the system. She has at least a vestigial account on every social network that Klout cares about, whereas Schwartzman limits his activities to fewer outlets. Berry also tweets regularly on behalf of her employer, giving her Twitter account a Klout halo effect that attracts retweets and @replies.
My intention isn't to pick on Megan Berry. She's obviously a bright young woman who's very savvy about social media. However, there's nothing I can find that qualifies her as significantly more influential than the veteran Schwartzman, not to mention Marc Andreessen.
In her interview with Schwartzman, Berry described Klout as "[Google] PageRank for people." In my opinion, it's got a long way to go. Klout has some utility as a way to compare the online presence of active social media users, but measuring influence is much more complicated than counting retweets and Foursquare tips. Klout is betting that it can use its metrics to entice (coerce?) people to join its social network, which it can then monetize through advertising. The link between membership and Klout score is a disturbing weakness. Proceed with caution.
My New Social and Search Seminar is October 11
If you're in the New England area, or passing through on October 11, come to my new all-day immersion seminar: "Search & Social Double Whammy." I partnered with the search optimization experts at McDougall Interactive Marketing to deliver a full-day program that teaches you how to integrate SEO, social media, public relations and your technological back-end. The topics we'll cover include:
Internet Marketing Strategy
Search Engine Optimization
Social Media Strategy for Facebook & Twitter
Calculating Social Media ROI
Live Site Reviews (submit your site for inclusion)
12 Amazing Tools for Search & Social
The full-day seminar happens on October 11, 2011 from 8am to 5pm at the Woburn Courtyard by Marriott in Woburn, MA. The early-bird price of $199 is available through this Friday. After that, it goes to $299.
Tip of the Week: LinkedIn Today
One of the great appeals of social networks is that they deliver news curated by your friends, colleagues and people with whom you share common interests. This information is likely to be more interesting to you than news items selected by a third party you don't know.
There are a lot of services that organize the links your friends provide into a form that looks like a conventional newspaper (Paper.li is a particularly popular one), but I haven't found any that measure up to LinkedIn's new Today.
Today combines activity by your LinkedIn contacts on both LinkedIn and Twitter to choose the stories that your friends are talking about and present them in a constantly updated custom news page. These topics are more likely to be professionally relevant to you, since your LinkedIn connections are usually business contacts. Headlines are organized by the topic areas you choose and you can have a daily e-mail summary sent to your inbox.
Just for Fun: Overheard in New York
How often have you passed someone on the street and caught a snippet of conversation out of context that was so funny or bizarre that you wanted to share it with someone else? There's no better place for this experience than New York City and not surprisingly, there is a website devoted to capturing these stray asides that make eavesdropping such a fun sport.
Tall female law school know-it-all: "You'll do fine on his exam as long as you memorize the notes he gives in class –I mean, like, word for word– and then just reverberate it all!"
Overheard in New York has actually been around since 2003, but I only just discovered it recently. Anyone can contribute, so quality varies widely. Many quotes are also profane or risqué, so be forewarned. It's worth scanning, though, for gems like this:
Subway sandwich maker: "What size? 6″ or foot-long?"
Older suit: "How big is 6″, lemme see?"
Subway sandwich maker, deadpan: "It's 6 inches long, sir." (holds up bread)
I recently posted a chapter from my forthcoming B2B social marketing book that addresses the ever-popular topic of return on investment (ROI). The post has created quite a bit of discussion, so I thought I'd summarize my premise here and ask for your opinion.
ROI is one of the most misused terms in marketing today, in part because so many people are struggling to understand how it applies to social media. I worship at the church of Katie Paine, the measurement expert who argues that you can measure almost anything if you are creative enough. Measurements can usually be related to a financial outcome, and that's when ROI becomes meaningful.
I've attended many conferences at which this topic has come up, and I've observed that when people talk about ROI, they usually speak in terms that have nothing to do with return. They talk about measuring friends, followers, repeat visitors, traffic and the vaguely-defined "brand awareness." These are results of marketing campaigns, but they aren't returns.
ROI is all about money. It is a simple ratio that defines investment as input and a financial result as output. If the financial output is greater than the investment, then the ROI is positive. If not, then you've got some 'splainin' to do.
Calculating ROI requires good historical data and precise analytics. The free Google Analytics tool can tell you a lot about activity on your website, including where people came from, which pages they looked at, how long they stayed and what they were viewing when they left. When you match this information to financial outcomes and compare to historical data, you can create cause-and-effect scenarios that map to dollars.
You need to have some basic information about how activity on your website correlates to financial results. For example, to calculate the value of a webcast listener, you can divide the profitability of all business generated by webcasts over the last year by the number of attendees.
Then compute the average lifetime value of a customer. If you know that the average customer is with you for five years and spends $50,000 during that time at a 10% profit margin, then the average lifetime value of a customer is $5,000. If last year's webcasts generated 100 new customer accounts, then webcasts created a lifetime profitability of $500,000. If you had to get 2,000 people to register for webcasts in order to land 100 new customers, then the value of a webcast registrant is $250. In other words, if you spent less than that amount per registrant, you should be in positive ROI territory.
Let's look at one more example: computing the value of a tweet. Suppose your analytics package tells you that you got 1,000 visitors to your website from Twitter messages last month (this number is easy to track if you use unique URLs). You know that 200 of those visitors navigated to your order page. You also know that 10% of the people who land on your order page become customers. We already know that the lifetime value of a customer is $5,000.
Dragging out the old spreadsheet, we calculate that those 1,000 visitors became 20 customers at a total lifetime value of $100,000. We also know that we had to send 50 tweets to get 1,000 people to visit. That means that 50 tweets created $100,000 in value, or $2,000 per tweet.
In real life, of course, ROI isn't this simple. There are many other factors involved in the equation, including the cost of sales, the net present value of money and opportunity costs There are also intangibles such as the cost of building a quality Twitter following that delivers 1,000 visitors with 20 tweets. You can make these estimates as detailed as you want, but the point is that many of the supposedly incalculable returns of social media can be quantified if you have good analytics and historical data with which to correlate them.
If you'd like more detail, read my chapter on this topic and please give me your feedback.
The Secret of Twitter? Use It
I recently wrapped up a research report for BtoB magazine about marketers' use of Twitter. The 387 respondents to the survey delivered one clear message: The people who derive the most value from the world's favorite micro-blogging service are the ones who use it the most. The 20% of respondents who attributed tangible revenue to Twitter were one-third more satisfied with Twitter's value than those who are still awaiting sales. And successful Twitter marketers are also more optimistic about Twitter's future. Read a summary of the findings here. You can also purchase the complete report, encompassing more than 30 charts, here (I make no commission on those purchases).
Tip of the Week: Windows Speech Recognition
I'm a big fan of speech recognition software. It's helped me write four books in the past four years. I type 90 words per minute, but I can speak a lot faster than that. I've been using Dragon Naturally Speaking for several years. At $50 on eBay, it's a great value, but if $50 is too rich for your blood, try Microsoft's embedded Windows Speech Recognition.
Microsoft doesn't exactly make this handy tool easy to find. In Windows 7, you have to navigate down to the Accessories|Ease of Access folder. Even then, Microsoft makes it appear that Windows Speech Recognition is intended only to manage Windows commands. However, there is a full-blown speech recognition engine inside that permits you to dictate documents and spreadsheets. I've been playing around with Speech Recognition for a couple of weeks and find it superior to Dragon in some cases. All you need is a basic headset, which costs about $15.
Just for Fun: @BPGlobalPR
"As long as we can get loaded potato skins at T.G.I.Friday's, seafood can suck it."
"We are doing everything we can to stop the information leaks in the Gulf."
"Honestly, why are we still talking about the spill? Twilight comes out next week! Come join us in line!"
There isn't much mirth to be found in the oil spill that continues to plague the Gulf Coast, but an anonymous Twitter user who goes by the alias of "Leroy Stick" has hijacked the identity of BP p.l.c.'s public relations organization to produce a viciously funny online persona called BPGlobalPR that spoofs the oil company's efforts to manage public opinion while it grapples with the disaster.
Stick isn't doing this just to be funny. In one of his few public statements, he skewered BP for trying to manage public sentiment around the situation. "I'm trashing a company that is literally trashing the ocean, and these idiots are trying to figure out how to protect that company?" he wrote in a post on Street Giant. The BPGlobalPR Twitter account has 10 times as many followers as BP PR's real account.
By the way, did you know that the Deepwater Horizon spill is not the largest on record, at least not yet? That honor belongs to the Lakeview Gusher (below), which spewed 9 million barrels into the southern California desert beginning in 1910. The site of that spill is now a California Historical Landmark. At this rate, Deepwater will soon pass it.
I've recently worked with several companies that are trying to bring some order to their social media activities. I've found that most have the same problem: They've dabbled in blogs, Twitter and Facebook fan pages but after several months they lack traffic, followers and fans. They're frustrated and confused. Wasn't this supposed to be a cheap and easy way to build their brand and bring in sales?
Social media is cheap but it isn't easy. With millions of bloggers and Facebook pages online, building visibility is a challenge that demands time. More importantly, it demands a strategy, and that's where businesses usually don't go far enough. There's nothing wrong with diving in and using the tools. In fact, I encourage experimentation. But before you invest significant time in social media, you need a plan.
Here's the four-stage process I walk then through.
Define the Objective – Social media tools are only tools. Without an underlying strategy, they have about as much benefit as a plumber's wrench has to fixing a hole in the wall. Most business objectives demand a mix of online and offline tools, and social media may have little or no value. Start with the objective and work backwards. Common business objectives range from building thought leadership to generating leads, cutting customer service costs and recruiting quality employees. Each demands different strategies and tools. If you start with the objective, the rest of the process is easier.

Identify Metrics – Here I steal shamelessly from measurement queen Katie Paine, who believes that any goal can be measured. In many cases, relevant metrics have nothing to do with the Internet. They can include yardsticks such as:
Positive mentions in mainstream media outlets;
Quantity of new job applicants;
Speaking invitations;
Reduction in help desk calls;
Improvements in Net Promoter Scores; and, of course
Increased sales.
Note that many of these examples have nothing to do with Web analytics. Friends, followers and fans have little value if they don't achieve the business goal. Don't go overboard on metrics. Choose three or four that are meaningful to your goal and define standards of success, like a doubling of Facebook fans in a six-month period. Then revisit your progress every three months and adjust (or choose new metrics).
Define Tactics – How are you going to use online and offline channels to reach your goals? Consider all the options. For example, thought leadership may be enhanced by blogging and tweeting, but an equally effective strategy may be growing the quantity of speaking engagements or starting a local professional group. Consider location. The Internet provides a great way to increase international exposure but it may be of little help in growing visibility within your local geography. That goal may be better addressed by increasing activity in local trade associations or advertising on radio. Tactics are enabled by tools, so you need these plans in place before you start blogging or tweeting

Choose Tools – This is where many companies start their social media journey, but it really is where they should end it. Different tools are good for different purposes. For example, Twitter is an excellent news delivery vehicle while Facebook is better for creating a feedback loop. My book, Secrets Of Social Media Marketing, has a more complete selection grid. Also, many businesses are now learning how to use multiple tools in concert to magnify their impact.
Appropriate tools also may have nothing to do with the Internet. For example, starting a local chapter of a professional trade association or submitting speaking proposals to conference organizers can be a great way to network or build visibility. You can also combine offline and online tactics, such as promoting an upcoming speech through the media while seeking interviews with prominent bloggers.
This is the basic framework I use for discussion, and I find that the structured approach helps focus my clients. When you really think about your business goals, it's surprising to discover how many of the tactics come down to good old-fashioned person-to-person relationships. Online tools can certainly help there, but sometimes a phone call or a lunch meeting is worth 1,000 tweets.
First Reviews
Book authors endure several months of agony between the time they submit a manuscript for publication and the arrival of the first reviews. So Dana and I were pleased to read these words from the influential Library Journal about our new book, The Joy of Geocaching, which arrives in April:
Longtime tech writer Gillin and his wife, Dana, an editor, are the perfect ambassadors for geocaching. Their book imparts all the how-to that a budding enthusiast needs to get started while also including lots of funny and interesting anecdotes that will communicate to the completely unfamiliar reader just why the sport is exploding in popularity.
Read the complete review here.
Tip of the Week: Posterous
If you have accounts with more than one social media service these days (and who doesn't?), then Posterous can save you time and increase your online footprint. I got interested in Posterous, which is one of a expanding category of so-called "lifestreaming" services, after I read that PR super blogger Steve Rubel had mothballed his popular Micro Persuasion blog last June and shifted all his activities to Posterous. Lifestreaming tools radiate your messages out to all the social networking services you use. Instead of sending a message as a tweet, I can e-mail it to post@posterous.com and it will appear almost instantly on Twitter, Facebook, LinkedIn, FriendFeed, Flickr and Delicious. No added work on my end. The service supports dozens of other destinations, including YouTube and blogs.
Posterous does some clever things in interpreting the messages you send. For example, if you include a link to a photo, it automatically reformats and resizes the image for the selected destination. It also knows not to attempt to post an entire blog entry to a social bookmarking site but rather to publish a headline and link. There are many other dials and switches that I haven't investigated yet, but the service is already saving me time and drudgery. Another popular lifestreaming service is ping.fm and others are on the way. In addition, many social networks and bookmark sites are incorporating cross-posting as a basic feature.
The downside of lifestreaming is that it multiplies the amount of noise in an already cacophonous Internet. But it also multiplies your opportunity to be heard. There are big implications to this, which I explore in my column in BtoB magazine next week and will expand upon in future editions of this newsletter.
Just For Fun: Funny Street View Photos
Google is in the process of photographing as much of the habitable world as it can for its Street View service. As its camera-equipped vehicles methodically troll the streets capturing images, they occasionally come across some funny and bizarre scenes. A blogger has captured some of the weirder ones at the Top 100 Funniest Google Street View Pictures, such as this one showing a man apparently trying to break into a house. They're presented along with links to the image on the original map. I'm sure there are plenty of others that didn't make this list, but it's a good start.