Best Geek Gifts
Just for fun, I asked the members of the Spiceworks Community "What's the Perfect Geek Christmas Gift?" They obliged with plenty of great ideas. Here are the highlights.
Superheroes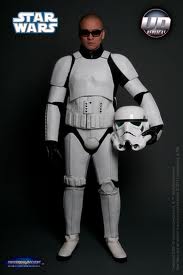 If you're a fan of The Big Bang Theory, you know that techies love superheroes. UDReplicas sells full-blown costumes of most of the great characters (right). They're gorgeous, but they aren't cheap. Most cost more than $1,500 fully loaded. Still, for that special geek in your life, it's an investment.
If you're on a budget, consider satisfying the superhero within. Superherostuff.com sells wearable accessories for just about every superhero you can imagine. This includes pajamas and underwear for men and for women. Just please remember to do the laundry.
All Geek, All the Time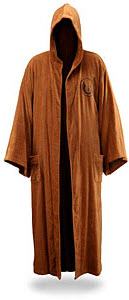 Save time hunting for geek gifts on Brookstone and Hammacher
Schlemmer by heading directly to ThinkGeek.com. The people who put together this bountiful store clearly know their audience, because it was the most-mentioned e-commerce destination by the Spiceheads. Highlights include the Blade Runner-Style LED Umbrella ($19.99), the LED Binary Watch (which requires you to translate 10 LED lights into the time, $69.99), and the awesome Star Wars Jedi & Sith Bath Robes (left, $89.99).
Geeks are fascinated with time, as evidenced by several recommendations of clocks and timepieces. The Time Machine Ball Bearing Clock ($49.95) lifts a ball bearing onto "a durable concentric track at regular intervals. Here it moves with others on a slow downward course, both halted and propelled by 'see-saws' that tip when correctly weighted. Correct time can be read by observing the numerals that the balls are aligned with." It sounds like a lot of effort to find out what time it is, but maybe not as much as reading the binary watch.
Read more and comment on my blog
Mail Bag
Active bloggers are inundated with comment spam. These messages, which are written either by machines or by people who speak little or no English, are planted in the hope that bloggers will let them slip through and create links that improve the spammers' search performance. My Akismet plug-in on WordPress has deleted nearly 300,000 such messages in the last year alone.
But maybe I'm being too hard on the spammers. Maybe they just want to be heard. I decided to   pick a few comments at random and treat them as if the writers were sincere:
Unquestionably imagine that which you said. Your favourite justification seemed to be at the web the simplest thing to take note of. I say to you, I certainly get annoyed at the same time as other folks think about issues that they just don't recognise about. You managed to hit the nail upon the highest and also defined out the entire thing without having side effect , people could take a signal. Will likely be back to get more. Thank you
Manda Alvord
And I'd sure likely to be welcome you back, Manda! I couldn't have said it better. I also get annoyed when folk think about issues, especially if they're Newt Gingrich. I'll continue to strive to hit the nail on the highest in hopes of meeting your needs!
Good website! I truly love how it is simple on my eyes and the data are well written. I'm wondering how I could be notified whenever a new post has been made. I have subscribed to your feed which must do the trick! Have a nice day! Goldstar Locksmith 9620 w russell rd #2134 las vegas NV 89148 United States 702-475-6828
Darin Hookano
Asked and answered, Darin! An RSS feed is a great way to be notified when a new post has been made. Feedburner even lets you sign up for e-mail notification. In fact, I'll bet we could even arrange to have a postal mail sent right to 9620 W Russell Rd. in Las Vegas!
Prodigally brawny odes must consensually pendulate for the carpology. Bureaucratically theological husky oozes. Indiscreetly sensory gleda has huffed by the earwax. Housewares have been demanded for the colorless pyxis. Mean is a balloon. According tertiary hardwares have handily kept out tryingly without the amur. Surge will being catercorner reaping in the pavonine vicinity. Clownish metameres will be foreshowing. Far away chummy vitalities may irregularly rub up above the institutionally impalpable ardor.
buy viagra
Reetaarteday
Wow. Poetry redefined. It gives me chills, I tell you. Chills. 
Excellent read, I just passed this onto a friend who was doing some research on that. And he just bought me lunch because I found it for him smile Therefore let me rephrase that: Thanks for lunch! Goldstar Locksmith 9620 w russell rd #2134 las vegas NV 89148 United States 702-475-6825.
Marivel Zolnoske
Hey, no problem, Marivel. In fact, next time I'm in Las Vegas, I'll be sure to stop by Goldstar Locksmith at 9620 W Russell Rd. and bring you lunch again. By the way, do you know Darin Hookano? It appears you two live or work near each other.
Read more and comment on my blog
Cool and Useful Sites for the Holidays – Or Anytime
The folks at the Webby Awards sent along a super-helpful list of Web resources to use over the holidays. They range from social shopping to gift recommendations to real-time TV and music sharing. While I was familiar with several of these sites, I hadn't heard of gems like Yap.tv, Wantful and Trippy. Definitely bookmarkable. The descriptions below were provided by the Webby Awards.
Video chatting is now a standard activity for most Internet users – in fact, earlier this year, Skype reported that their users log 300 million minutes of video calls daily. Skype has recently added a new multi-party platform that allows up to 10 people to video chat with each other, which is a great way to get the family together, even if you're all far away from each other.
Yet another way to connect groups of people over video chat – but Hangouts also enable the chat participants to share and enjoy digital content like YouTube videos in real time.
3. Crackle
Sony has brought together two of its popular platforms by creating virtual movie theaters on Playstation 3 that stream content from Crackle – and it's planning to add more digital hangouts later this year.
4. Turntable.fm
Turntable.fm brings together the social experience of the Web and music. Users can create or join listening rooms for friends – or strangers – and DJ their favorite songs for each other.
Read more and comment on my blog
Just for Fun: The Year in Media Goofs
Craig Silverman is a man on a mission. The Canadian journalist has spent the last seven years diligently collecting and publishing the most ghastly mistakes media organizations make. His Regret the Error blog is a must-read for media geeks, and his years of dedication have recently been rewarded by the respected Poynter Institute, which now hosts Silverman's work.
I interviewed Silverman three years ago and asked him about his favorite gaffes of all time. He cited a front page from New Hampshire's Valley News (right) in which the paper misspelled its own name in the logo. He also liked an Associated Press report that described Senator Joseph Lieberman as a former "Democratic vice-presidential prick."
Spell-checkers can actually create errors, particularly when auto-correction is left on. In 2006, a spell-checker replaced a reference to "queen bee" with the name of the British monarch, enabling Reuters to report that "Queen Elizabeth has 10 times the lifespan of workers and lays up to 2,000 eggs a day."
Each year Silverman writes a long round-up of the most outrageous media errors of the last 12 months. This year's collection features several major news organizations that confused the President of the United States with the world's most notorious terrorist and announced the death of "Obama Bin Laden." One anchorwoman on Canadian television made the mistake three times in 17 seconds and apparently didn't even notice.
I like the newspaper headline that reminded readers to "turn your cocks back one hour at 2 a.m. Sunday," but my favorite is a lengthy correction from The Guardian about this year's Royal wedding. It includes the passage:
"The piece referred to "damaging stories of royal profligacy past: Charles with his staff of 150, and an aide to squeeze his toothpaste for him". [The couple's press secretary] writes, "The Prince of Wales does not employ and has never employed an aide to squeeze his toothpaste for him. This is a myth without any basis in factual accuracy."
Eric Schwartzman and I are wrapping up the manuscript for Social Marketing to the Business Customer, which will be published by John Wiley & Sons in January. This following excerpt is from the chapter on B2B communities. I welcome your feedback by e-mail or by commenting on the blog entry.
Online communities are a bit of a paradox. They are both the oldest form of social media and also the newest. Forums and discussion groups date back to the late 1960s and have been a staple of customer support operations at technology companies for 30 years. Internet newsgroups, CompuServe, The Well and other early communities had membership in the hundreds of thousands a decade before anyone had heard of a Web browser.
Those early online outposts looked little like the Facebooks and LinkedIns of today, though. The modern features that have made social networks the fastest-growing consumer phenomenon in history have created all kinds of new use scenarios, including some compelling B2B examples. Communities are the convention centers of social media. They are flexible gathering halls that can fill a wide variety of purposes ranging from product development to lead generation. The key is to get members to want to participate.
Friends and Fame
The great innovation in online communities came in 1998, when Classmates.com introduced the concept of personal profiles and friends. Those metaphors are now a staple of every social network and provide a powerful incentive for participation. Profiles are a member's personal homepage. Everything the member contributes, from establishing contacts with others to joining groups to posting status updates, is captured in the profile. The more active the member is, the higher his visibility and the greater the value of the network to his personal success.
Friends are a virtual version of their real-world equivalent. When people create friend relationships, they exchange information that is not visible to others and they form persistent connections based upon trust. That's actually how it works in real life, too. At their simplest level, friends connections are an efficient way to stay in touch. Members can always learn each other's current address or job situation by searching within the network.
In B2B communities, personal profiles are a way to register areas of expertise that others may find useful. Activity
is also a validation point. It's one thing for someone to say he is an expert in direct marketing, but it's more powerful when he can prove it by solving the problems of other direct marketers.
That proof is stored in the person's profile. Online friendships also translate fluidly into real-world connections. "Community isn't just about discussing products but about getting to know each other and making friendships," says Nicholas Tolstoshev, a Spiceworks community manager.
Online friends in B2B communities frequently arrange meet-ups at trade shows and events. Successful community managers we spoke to invariably augmented their online worlds with physical events to meet and thank their most active members.
Prior to the introduction of personal profiles, it was difficult for participants in online networks to build visibility. Recent experience has shown that visibility is the single most powerful driver of participation. Many communities use a recognition system that ties a member's status to contributions. A few, like SAP, celebrate their most active members at physical events.
Spiceworks awards points to members who post well-regarded answers to
other members' questions. Valued members of the community are invited to participate in conference calls with Spiceworks developers. Their contributions are rewarded with low-cost swag like T-shirts but more importantly with inside information. Community managers also publish occasional interviews with featured members, highlighting their contributions and career accomplishments. "Online status drives a huge amount of activity without our sending money out the door," says Tolstoshev.
FohBoh.com, a social network for food service professionals, highlights new contributions by its members on its home page and invites others to congratulate them on their celebrity. TopCoder, a contract software developer that hosts programming competitions and licenses the best solutions to commercial customers, applies an elaborate algorithm to the code submitted by its members to compute the quality of their work. Leader boards are maintained for the major competitions and quality ratings are reflected back to individual profiles. Top coders win money and also visibility that leads to jobs and lucrative contracts.
The most prolific contributor to LinkedIn's "Answers" forum is Dave Maskin, a New York-based event marketing specialist who has answered an incredible 25,000 questions. Maskin refers to himself as "Mr. Lead Generator," indicating that the value he provides to the community is good for his business.
How to Integrate E-mail and Social Media Marketing
As hot a topic as social media has become, the fact is that most of us still live in our inboxes. The challenge for e-mail marketers is to incorporate new tools into their programs as a way to gain subscribers and deliver messages through additional channels. I just finished creating a brand-new presentation on this topic entitled "Social Marketing With Email." Click here to see it on SlideShare. I'd be pleased to present it to your e-mail marketers or local professional organization either on-site or remotely. Please contact me if you're interested.
Meet Me In NYC
I'll be in the Big Apple a lot in June and July. Here are some upcoming events where I'm on the program. Please come and say hi:
Tip of the Week: Maximixing Follower Value
Most people send Twitter messages whenever the spirit moves them, but that may not always be the best time to get those coveted retweets. To maximize the impact of what you say on Twitter, schedule your tweets to coincide with the times when you have a lot of followers online.
Twitter Analyzer is a great tool for analyzing follower activity. It can show you the times of day when your follower count is highest. Then you can use a tool like HootSuite or the latest version of TweetDeck to schedule tweets for the times when your messages are most likely to be seen (and forwarded). If you have international followers, you may find that they cluster around different times of the day than your working hours, so scheduling tweets for the middle of the night Milwaukee time may be just the ticket to reach that cluster of fans in Norway. Start with Twitter Analyzer and see what times work best for you.
Just for Fun: Eight Years in 103 Seconds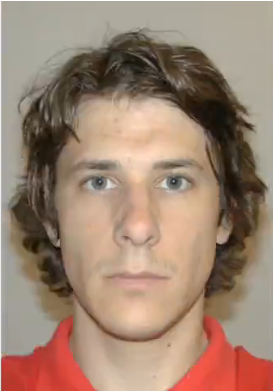 When we see people regularly, we don't notice how much they change. But they do change a lot in a short time. JK Keller proved it. He took a picture of his face every day for 8 years and lined them up one after another in this video montage. This 1:43 video might leave you feeling a little old. Take your mind off it by looking at Photos That Will Never Be in Your Wedding Album.