How to Mine B2B Gold from Facebook
In my work with B2B organizations, the question of how to use Facebook is invariably front and center. This is despite the fact that numerous surveys have shown that Facebook is one of the least effective social networks for B2B marketing.
In a survey of marketers conducted by BtoB magazine last year, Facebook was ranked last in usefulness among the top five social networks, trailing blogs, LinkedIn, YouTube and Twitter, in that order. Nevertheless, some B2B companies have mined gold out of Facebook's audience, particularly for recruiting young college graduates. Let's look at some examples of what they do well.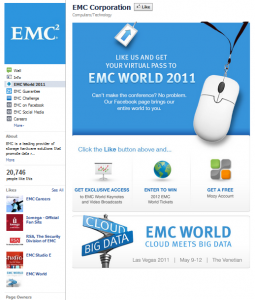 Storage maker EMC makes particularly good use of Facebook's "Welcome" page. This is an under-utilized tool that enables companies to present an HTML page as their default front door. It's done with an application calledStatic FBML (Facebook Markup Language) but there is little difference between FBML and HTML.
The advantage of a Welcome page is that you can use all the tricks of an HTML page, including hotspots, embeds and even forms. Buddy Media uses it to capture leads, as does e-mail marketing providerInfusionsoft. SAP plays inline videos. Use Welcome pages to present an attractive and exciting introduction to your company.
EMC has several FBML pages, including a list of its other social media accounts and a game you can play after liking the page. EMC doesn't use Facebook's wall to much effect, but its purpose seems more promotional than interactive. On that front, it hits the mark.
Other B2B companies that use their welcome pages well include VMWare, Lenovo, UPS and Intel. Fedex uses a cool Flash animation to link to its sub-pages. SocialMediaB2B.com has a nice roundup of Eight B2B Facebook Landing Pages
Read more and comment on my blog
Why You Need to Replace 'Customers' With 'People'
At Procter & Gamble (P&G), which is considered by many people to be the world's greatest marketing company, a subtle but significant shift is taking place. The company that practically invented the category of "consumer packaged goods" (its portfolio includes more than 300 products, ranging from Tide to Oil of Olay to Pringles) is phasing the word "consumer" out of its marketing language. It's replacing it with a much older term: "people."
This small change is part of a massive overhaul of the company's approach to marketing, one that is reflected in its language. "Transactions" are being replaced by "engagements." "Affinity" is giving way to "relationships." The cold, hard, data-driven terms that have defined the last half-century of marketing are yielding to the realization that future success will be about creating hundreds of millions of one-to-one relationships.
In any culture, national or corporate, the language we use reflects the way we think of each other. Some people may ridicule the fact that Disney calls its employees "cast members," but inside the company, the distinction is meaningful. You'll never catch a Disney employee admitting in an open forum that the life-sized figures shaking hands in the theme parks are anything but the genuine Mickey and Donald, for example. A good cast member is never out of character.Have you examined your own corporate dialect recently?
Read more and comment on The CMO Site
E-Book Raises the Bar on Social Measurement
The question of how to measure social media performance, particularly in a marketing context, continues to be one of the industry's hottest topics. Although many people are aware that traditional metrics like page views, visitors, followers and likes are poor indicators of success, the vast majority of marketers I speak to still focus on these overly simplistic criteria. These numbers may be of little value, but at least they're understandable.
The more sophisticated practitioners are turning toward metrics that indicate engagement. Examples include comments, retweets, shares and subscriptions. Now Awareness Networks has contributed some important new thinking to this topic with a free e-book entitled "The Social Marketing Funnel: Driving Business Value with Social Marketing." (Full disclosure: I am quoted in the book but did not contribute meaningfully to the methodology and received no compensation.)
Awareness outlines five priorities that companies should define to become a best-in-class social marketer:
Measure and Grow Social Reach
Monitor Social Conversations
Manage Social Content
Practice SEO
Measure and Analyze Social Activity
Not surprisingly, the company has tools that help in many of these areas, but that's one reason its research is so useful: The recommendations are based upon the experiences of more than 100 customers.
Read more and comment on my blog
Tip of the Week: Hipmunk
If you think all travel reservation sites are basically the same, then you haven't seen Hipmunk.com, an innovative and efficient air and hotel booking service that takes a radical new approach to displaying traveler options.
The people at Hipmunk proceeded from simple assumptions: Most users today have large, high resolution monitors, and visual displays are quicker to navigate than rivers of text. Hipmunk displays airline options in a timeline grid, which can be viewed by price, duration, departure time and other criteria. The default display is a clever metric called "Agony," which is a combination of departure time, price and flight duration. I find it to be much faster and easier to use than traditional travel sites.
The new hotel reservation feature displays options on a map, with the default metric being "Ecstasy," or a combination of price, reviews and amenities. I can't wait to see what they come up with when they add rental car reservations
Give Hipmunk a try. I don't think you'll ever want to use anything else.
I haven't had a chance to send a newsletter for a few weeks because I've been so busy with other assignments. Here's a sampling of what I've been writing about.
Love Your Critics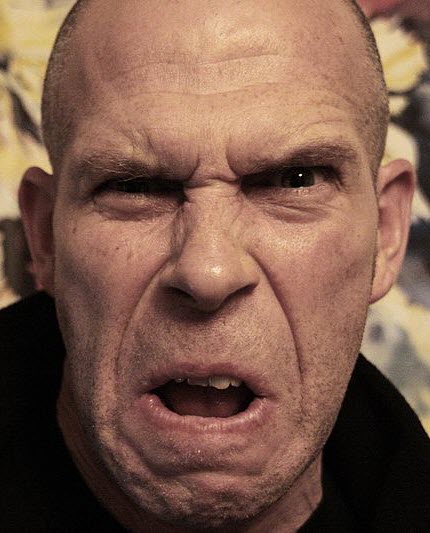 The CMO Site likes to stir things up, so my posts there tend to be on the controversial side. In Why Brands Should Love Public Complaints, I make the case that your critics can be your strongest allies. Why? Because a little negativity reinforces the validity of the positive comments you publish.
The whole concept of enabling negativity to appear on your own website rubs a lot of marketers the wrong way, but I'd argue that it's great for building integrity. The article notes that Epson reported that revenue per visitor nearly doubled after it started including customer reviews on its site. The fact that one out of 10 customers may be displeased with your product can be looked at another way: 90% are happy.
The right approach is not to deny that you have unhappy customers; everyone's got a few. They're going to vent their frustrations anyway, so encourage them to do it in a place where you can respond and juxtapose their opinions with the vast majority who are pleased.
Read more and comment on The CMO Site
Good Riddance to the Corporate Case Study
In this post, I ranted just a bit about corporate case studies, those pervasive and largely useless vessels of happy talk that no one really believes. Corporate case studies used to have a purpose in the days when customers couldn't find each other, but today all it takes is a few searches or LinkedIn queries to identify experienced buyers.
It's not the concept of the case study I don't like; it's the format. Once the legal department gets involved in approvals, most meaningful content gets sucked out of the article. Prospective buyers have always viewed case studies with suspicion and I think  today they mainly ignore them.
So rather than investing time and dollars paying writers for stories that no one believes, why not focus on greasing the skids between your happy customers and your prospects? Make it easy for the two parties to connect and then get out of the way.
Read more and comment on The CMO Site
The Futility of Whisper Campaigns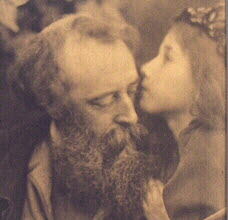 PR practitioners who undertake influencer relations programs often discover an odd disconnect between dealing with bloggers and dealing with traditional media: Bloggers don't operate by the same rules as reporters.
The recent example of this disparity ended up embarrassing a prominent PR firm, and I analyzed what went wrong in BtoB magazine.
In case you missed it, early last month a pair of new employees at Burson Marsteller, both of them veteran journalists, contacted a security blogger and offered to help him write and place an op-ed piece that exposed "sweeping violations of user privacy" by Google.
It turns out the blogger was more interested in the motivations of the PR firm than in Google's allegedly intrusive behavior. After he posted the e-mail exchange online, some USA Today reporters dug up the fact that Facebook was behind the whisper campaign.
Burson, which claims to be social media-savvy, did exactly the opposite of what it would counsel its crisis communications clients to do: It clammed up. The incident was a huge black eye for the agency and a lesson in how not to pitch a blogger.
Read more and comment on BtoBOnline.
Do You Need A Social Media Specialist? Yup.
My most recent column in B2B was actually sparked by a conversation I overheard on a plane. A guy in the seat behind me was railing to his companion about the idiocy of hiring social media specialists. In his opinion, everyone in a company should learn to use the tools. Expertise shouldn't be concentrated in one person or department.
I agree with his second point but I can't endorse his overall premise. Nearly every company I've encountered that is succeeding in social media has a center of excellence. They aren't delegating social interactions to one person, but they're shortcutting the learning process by hiring people who can train others. In this column, I explain why a social media expert can save you time, money and embarrassment (see Burson above).
What's your approach? Read more and comment on BtoBOnline.
Just for Fun: Weekly World News
In case you missed the news this week, Britain's largest Sunday newspaper, News of the World, was shut down abruptly over a scandal involving hired private investigators who hacked into voicemail accounts of celebrities and ordinary citizens. News of the World was known for its outrageous headlines and salacious gossip, and certainly it will be missed by its 2.5 million subscribers. Fortunately, a publication with a very similar name, Weekly World News, continues to thrive, at least on the Web.
WWN was launched in 1979 with the discarded black-and-white presses formerly used by the National Enquirer. It ceased print publication in 2007, but its legacy of informing its readers of the dangers of space aliens, the promise of roadkill diets and the never-ending exploits of the "Bat Boy" continues.
With the tagline of "The World's Only Reliable News," Weekly World News has recently reported on alien spaceship attacks coming in November, Southern California's plans to secede from the union and sightings of mermaids in Israel. One thing is certain: You can't believe a word of it.
Eric Schwartzman and I are wrapping up the manuscript for Social Marketing to the Business Customer, which will be published by John Wiley & Sons in January. This following excerpt is from the chapter on B2B communities. I welcome your feedback by e-mail or by commenting on the blog entry.
Online communities are a bit of a paradox. They are both the oldest form of social media and also the newest. Forums and discussion groups date back to the late 1960s and have been a staple of customer support operations at technology companies for 30 years. Internet newsgroups, CompuServe, The Well and other early communities had membership in the hundreds of thousands a decade before anyone had heard of a Web browser.
Those early online outposts looked little like the Facebooks and LinkedIns of today, though. The modern features that have made social networks the fastest-growing consumer phenomenon in history have created all kinds of new use scenarios, including some compelling B2B examples. Communities are the convention centers of social media. They are flexible gathering halls that can fill a wide variety of purposes ranging from product development to lead generation. The key is to get members to want to participate.
Friends and Fame
The great innovation in online communities came in 1998, when Classmates.com introduced the concept of personal profiles and friends. Those metaphors are now a staple of every social network and provide a powerful incentive for participation. Profiles are a member's personal homepage. Everything the member contributes, from establishing contacts with others to joining groups to posting status updates, is captured in the profile. The more active the member is, the higher his visibility and the greater the value of the network to his personal success.
Friends are a virtual version of their real-world equivalent. When people create friend relationships, they exchange information that is not visible to others and they form persistent connections based upon trust. That's actually how it works in real life, too. At their simplest level, friends connections are an efficient way to stay in touch. Members can always learn each other's current address or job situation by searching within the network.
In B2B communities, personal profiles are a way to register areas of expertise that others may find useful. Activity
is also a validation point. It's one thing for someone to say he is an expert in direct marketing, but it's more powerful when he can prove it by solving the problems of other direct marketers.
That proof is stored in the person's profile. Online friendships also translate fluidly into real-world connections. "Community isn't just about discussing products but about getting to know each other and making friendships," says Nicholas Tolstoshev, a Spiceworks community manager.
Online friends in B2B communities frequently arrange meet-ups at trade shows and events. Successful community managers we spoke to invariably augmented their online worlds with physical events to meet and thank their most active members.
Prior to the introduction of personal profiles, it was difficult for participants in online networks to build visibility. Recent experience has shown that visibility is the single most powerful driver of participation. Many communities use a recognition system that ties a member's status to contributions. A few, like SAP, celebrate their most active members at physical events.
Spiceworks awards points to members who post well-regarded answers to
other members' questions. Valued members of the community are invited to participate in conference calls with Spiceworks developers. Their contributions are rewarded with low-cost swag like T-shirts but more importantly with inside information. Community managers also publish occasional interviews with featured members, highlighting their contributions and career accomplishments. "Online status drives a huge amount of activity without our sending money out the door," says Tolstoshev.
FohBoh.com, a social network for food service professionals, highlights new contributions by its members on its home page and invites others to congratulate them on their celebrity. TopCoder, a contract software developer that hosts programming competitions and licenses the best solutions to commercial customers, applies an elaborate algorithm to the code submitted by its members to compute the quality of their work. Leader boards are maintained for the major competitions and quality ratings are reflected back to individual profiles. Top coders win money and also visibility that leads to jobs and lucrative contracts.
The most prolific contributor to LinkedIn's "Answers" forum is Dave Maskin, a New York-based event marketing specialist who has answered an incredible 25,000 questions. Maskin refers to himself as "Mr. Lead Generator," indicating that the value he provides to the community is good for his business.
How to Integrate E-mail and Social Media Marketing
Tip of the Week: Google Searches via RSS
People usually call me for help setting up and optimizing their social marketing programs, but in the early stages of our engagement the conversation almost always takes another turn.
Charlene Li's new book will be out in a few weeks, and if you're interested in how social media is transforming the way business gets done, you'll want to pick up a copy.
The book is called Open Leadership, and I would classify it as the first of the post-social media books. By that I mean that it looks at the consequences democratized communications rather than at the media itself. Expect to see wave of similar books in the coming years. This one is a very good first entry. Open Leadership will make a lot of people uncomfortable because it proposes that the only way to govern effectively in a transparent business world is to give up control and trust people to do the right thing. Li makes a persuasive case by citing many examples of companies that have done exactly that with great success.
Li is a former Forrester Research analyst, founder of Altimeter Group and co-author of Groundswell, the breakthrough 2008 book that provided the first demographic profiles of social media users as well as a rigorous methodology for evaluating the ROI of social programs. In Open Leadership, she builds on some of the economic models first presented in Groundswell, but the new book is more of a call to action than a financial exercise.
The premise is encapsulated in the title of Chapter 1: "Why Giving up Control Is Inevitable." Li asserts that today's business world is too complex and competitive to permit organizations to continue to manage the way they have since the Industrial Revolution. That top-down philosophy assumes that people who can't accomplish tasks without instructions, rigid rules and constant oversight are idiots. That worked okay when companies had some control over their environment, but today too many factors are out of their hands. So one man's story of how an airline broke his guitar and refused to fix it becomes a cultural sensation while the airline stands by helplessly and fumes.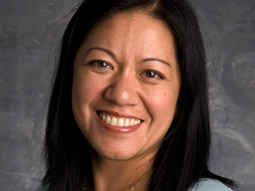 Li (left) asserts that the only way to gain any level of control over today's turbo-charged business environment is to give up as much control as possible. New business leaders set examples, demonstrate confidence and create cultures that tolerate intelligent, well-intentioned failure. And guess what? It turns out that when smart people are given the latitude to make decisions, they tend to make better ones than if someone else makes decisions for them.
Open Leadership provides some refreshing new examples of how this new management philosophy is working:
Meetup.com replaced a top-down approach to project management with one that requires stakeholders to persuade engineers to spend time on their projects. Productivity exploded;
BestBuy outlasted competitors in the brutal electronics retailing business in part by developing a culture that lets its employees guide customers toward the best decision, even if that means buying from a competitor;
Electronics distributor Premier Farnell distributed low-cost digital video cameras to every employee in the company so that they could document their best practices and share them on an internal network. Employees are more empowered and the quality of information is better.
Li is particularly inspired by John Chambers, the CEO of Cisco, which has undertaken a massive program to drive decision-making down to local levels. Chambers says the idea unnerved him at first, but that Cisco is now a faster, more responsive and more innovative company as a result. And he's working fewer hours. Chambers provides critical support for the concepts outlined in Open Leadership; he has the unwavering support of Cisco's board of directors, which enables him to talk honestly about his own reservations and the mistakes he has made.
It is on the issue of mistakes that the author is most emphatic. Li stresses that businesses can only be innovative if they learn to accept the fact that failure is a necessary by-product of risk-taking. Companies that successfully practice open leadership evaluate decisions based upon the thought that goes into them rather than the results. Failure is an opportunity to learn and try again, and the only unpardonable sin is making the same mistake twice.
Most businesses do a lousy job of this. They publicly declare a commitment to innovation, but privately punish employees whose ideas don't succeed. Tolerance for failure is sometimes cited as the most important reason that Silicon Valley has outclassed every other region of the U.S. in technology innovation. Reading Open Leadership, I get the impression that such tolerance is the only option for businesses that hope to lead in uncertain markets.
The Joy Of Geocaching, a labor of love that my wife Dana and I have been working on seemingly since the Reagan administration, arrived at the publisher's warehouse this week. This project began in July, 2008 and proceeded through many twists and turns – including the demise of our first publisher – before reaching the finish line.
Publication of a book is a good time to reflect on what you've learned and I realize now how much I learned about social networking from this project.
If you're not familiar with geocaching, it's an outdoor game played by three to four million mostly adults worldwide. Players hunt for hidden containers using global positioning receivers. The geographic coordinates of the containers – which can range in size from the tip of a pencil eraser to, in one case, a Nissan Pathfinder – are published at Geocaching.com. The photo shows an example of a particularly clever container.
All containers must contain a paper log, but nothing more is required. The joy of geocaching is in the hunt and the reward of finding a geocache is nothing more than satisfaction. Geocaching.com recorded its one millionth active geocache placement early this week.
Sounds simple and maybe a little weird, right? I certainly thought so at first. But as Dana and I began to geocache and then talk to people who love the game, we found that an enormous social network had developed around it. People were forming new relationships, repairing old ones, improving their health and re-connecting with nature in ways that would have been impossible without technology.
Passion for Cachin'
We met people who have logged more than 35,000 finds over the last eight years. One small circle of friends drove 12,000 miles – and flew another 10,000 – in a mad dash to find a geocache in all 50 states in 10 days. Another team spent weeks planning a speed run that netted a record 413 finds in 24 hours. Their record was broken just five months later.
We met an elite group of "extreme geocachers" who pursue containers hidden under water, on abandoned railroad trestles, deep in mine shafts and at the top of 100-foot sheer rock cliffs. Then there are the people who hide caches. Some of them spend days constructing elaborate themed networks consisting of dozens of containers. Others concoct puzzles so devious that we didn't know where even to begin to solve them.
The social network that ties this community together is a quirky website run by a rather reclusive profit organization in Seattle called Groundspeak. The Geocaching.com website is basically a database with a few HTML pages and some query forms. It has almost none of the trappings of Web 2.0, not even photo tags. The only means users have to create content is its rigidly formatted description pages and comment forms.
Human Ingenuity
Yet despite those limitations, the geocaching community has done some wonderfully inventive things. Geocaching has its own language. More than 100 clubs and associations have sprung up in all 50 states and overseas. Geocachers arrange community cleanups, stage fund-raising events and help each other in times of need. They created "event caches" long before the concept of the unconference caught on. And they've done this without any prompting from above, using a simple website built around a simple game.
Here are some lessons I've learned:
There Is No Substitute For Passion. Groundspeak does almost nothing to market the game. It provides an online meeting place, a newsletter and some basic services in exchange for a $30 annual fee. Geocaching has spread to an audience of more than three million players entirely by word of mouth. The one million records in its database have each been meticulously reviewed by a team of volunteers.
It's Not About Technology. The Geocaching.com website is five years behind the technology curve. It has some rudimentary Web 2.0 features, but few members use them. The website really does only one thing well, but that's all its users ask it to do. Too much technology would actually complicate the experience.
People Basically Want To Do The Right Thing. Every community has its petty rivalries, but in interviews with more than 60 enthusiasts and casual conversations with many more, we encountered only one case in which a dispute resulted in the destruction of personal property (a geocache). In contrast, we heard dozens of stories about geocachers putting their personal safety in the hands of total strangers simply because the person was another geocacher.
Peer Recognition Matters. One of Groundspeak's early innovations was to keep a running tally on its website of each member's total hides and finds. This is a source of a constant friendly rivalry among players. Top geocachers not only know their own tallies but also the totals of those nearest to them in the hierarchy.The drive to be visible is an incredible motivator.
Simple Succeeds. I noted in a column last year the irony that Twitter, with its stripped-down simplicity, has been a social media mega-hit while the technically elegant but byzantine Second Life has faded into a niche. In the same ways, geocaching succeeds because it keeps the rules simple. This has enabled players to develop an incredibly rich variety of variations, and Groundspeak has commendably remained open to letting them take the game where they wish.
There's so much more I could say (224 pages worth, in fact!) about this remarkable community, and I'm hoping to develop a presentation around this topic for business audiences. It will include lots of funny, scary and touching stories that we learned in our research and show how online connections can contribute to more meaningful real-world relationships.
I need a sponsor, though, so if your company or group is interested in bringing me in for an entertaining and instructive one-hour session on how an online network can drive millions of people into the woods to reconnect with nature, please drop me a line.
Last Call: Early-Bird Discount at NewComm Forum
The NewComm Forum, April 20-23 in San Mateo, CA, if one of the best-kept new-media conference secrets. Just have a look at the speakers and sessions. This is an essential conference if you want to know what's coming in this rapidly developing field. My newsletter subscribers get a special discount on top of the early-bird rate by using discount code NCF118, but hurry, because today is the last day for early-bird savings!
Quick Survey: How Do You "Sell" Social Media?
As part of the research for a business-to-business social marketing book that Eric Schwartzman and I are co-authoring (Wiley, late 2010), I'd like to ask you to take this quick survey about how you "sell" social marketing to your internal stakeholders. It's four questions and won't take three minutes. Promise. Thanks so much!
Tip of the Week: Geocaching Swiss Army Knife
I've got geocaching on the brain this week, so if you're into the game, or planning to give it a try, be aware of the most powerful software tool available to serious geocachers.
It's called Geocaching Swiss Army Knife (GSAK), and every serious geocacher I know uses it. Created by an Australian former IT manager, GSAK is a powerful database manager for geocaches. You can use it to store details about thousands of caches and select your targets with a high degree of precision. So if you want an easy day of caching with a few simple targets within walking distance of your hotel, a simple query will give you a list you can load into your GPS receiver and go. You can also annotate cache listings with your own notes, create a list of caches along a route, store queries for later use and see the caches you've selected displayed on a map.
GSAK is a free download, but a nag screen kicks in after a few weeks. Most serious users opt to pay the modest $25 fee for a lifetime license.

Like many people, I was glued to my computer and smart phone much of last Saturday monitoring news of the massive earthquake in Chile and awaiting, with morbid anticipation, the possibility that it could trigger deadly tidal waves in other parts of the world.
As the predicted 4 PM arrival of the first tsunami on Hawaii's shores approached, I turned my attention mainly to Twitter. Three years ago, it probably would have been CNN or the New York Times, but Twitter brought a dimension to the coverage that I couldn't get anywhere else: thousands of perspectives from around the world.
A tsunami is a visual event, a fact made grimly clear to us more than five years ago when videos of the tragic waves that swept across Indonesia were posted on YouTube (see photo above). News junkie that I am, I wanted to see the events in Hawaii in as close to real time as possible.
Instead of clicking around to various websites or hunkering down with one and hoping for the best, I was able to monitor a constant stream of advice from people pointing their followers to webcams, live news coverage and reports from observers at the site. Most of these sources would have been unknown to me if it weren't for Twitter. It was like having 1,000 eyes watching the media for me. Thankfully, the fears turned out to be unfounded.
No media organization would have delivered this kind of value. In fact, media organizations are hard-wired to do the opposite; an NBC affiliate would no sooner send viewers to a CBS station than a Ford dealer would send a prospective customer to buy a Toyota. But when the collective eyes of a geographically dispersed crowd are put to work without a competitive agenda, they can deliver a tapestry of views unlike anything we've ever seen.
Curative Value
This story dramatized to me one of the realities of the new media landscape that I think will have huge implications in the future: Curation is an increasingly important part of the information value chain. Wiktionary defines curation as "the act of organizing and maintaining a collection of artworks or artifacts," but today the term applies equally well to information.
Think of it: A decade ago we had relatively few sources of news about what was going on in the world. Even in the first decade of the Internet, we still relied mainly on traditional media for the story.
Today, three billion people carry around pocket-sized devices with built-in cameras, many of them capable of capturing full motion video. Some of these smart phones can even upload videos in minutes to a server. It won't be long before wireless live webcams are ubiquitous. No longer is our problem lack of information; it's that we're drowning in information.
That's why curation is so important. Trusted curators who point us to the most valuable sources of information for our interests will become the new power brokers. Matt Drudge figured this out many years ago and a host of popular aggregators like BoingBoing.net, Digg.com, Metafilter and Fark.com have been building upon it with great success for more than five years. Twitter adds a new dimension because it introduces so many additional voices to the process. But Twitter is also imperfect; its great shortcoming is that no one can possibly keep up with it all. Another opportunity for curation.
Marketers should take this trend into account. Creating new content is important, but an equally valuable service is curating content from other sources. This demands a whole different set of skills as well as a new delivery channel. It also means ditching the "not invented here" mindset that prevents content creators from acknowledging those sources.
In a cacophony of voices, the leader is the one who can make sense of the din. That's a role that any editor — or business — can play.
Meet Me At South by Southwest
My schedule at the big South by Southwest conference next week is packed tighter than a Tokyo subway car at rush hour, but if you're in the area and you want to connect, drop me a line. I can always find time to meet with good friends. Here's a link to the lineup of sessions I'll be attending. That doesn't include several evening events that aren't on the formal schedule.
Author Seeks B-to-B Insight
I'm looking for insights and experiences in the following areas for the book about business-to-business social marketing that I'm co-authoring with Eric Schwartzman (Wiley, late 2010). If you have advice to share and would like to be interviewed for the book, please contact me. I'm particularly interested in case studies and field experience.
Market research
Gaining buy-in from stakeholders
Organizing marketing or the company around social marketing
Social media policies
Lead generation
"Social CRM" (customer care and sopport)
Best practices for measuring ROI
Tip of the Week: TweepML
Twitter Lists are one of the most popular new features of the micro-blogging service. Introduced late last year, they enable members to group like-minded folks into themed lists that others can follow. For example, you can follow Time magazine's list of funny people or a list of NFL players on Twitter.
The problem (or benefit, depending on your perspective) with Twitter Lists is that you can't follow every person on the list, only the list itself. The tweets of individuals on a list aren't added to your main stream. That's where TweepML comes in. This curated service gives visitors the ability to follow every individual on a list. So if you want to follow all 18 members of this list of b-to-b marketing thought leaders, you can do so with a single click.
The benefit of TweepML is being able to bulk up your principle tweet stream with people who share your interests. If you're interested in simply driving up your follower counts, check out the lists of people who follow back. You can add a couple of thousand followers to your count almost overnight this way, although I'm not sure why you'd want to. Numbers for numbers' sake is a pointless exercise.
Just For Fun: Those Wild and Crazy Goats
What? You've never seen a goat in a tree before? Turns out the evergreen argan tree is a favorite among Moroccan mountain goats because of its tree olive-like fruit. But trees aren't the only thing these nutty animals can climb. How about sheer rock cliffs? Yup. Cars? Yup. Mama goats? Of course. These pictures will make you realize how very specific Nature is in designing animals for their environment.