The Sharing Dividend
If you're looking for an expert on computer security, it's almost impossible not to find Bruce Schneier. The BT chief security technology officer and author of several books on privacy and security uses his blog, Schneier on Security, to provide a constant stream of insights on topics ranging from viruses to the papal selection process.
As a result, Schneier is in the top Google results for all kinds of search queries around security keywords, and this translates into a bounty of press coverage, speaking engagements and high-profile career opportunities.
Schneier's secret isn't that he's an exceptionally gifted writer. It's that he has a compulsion to share his thoughts. By taking a little extra time to commit them to his blog, he exposes his wisdom to a wide audience.
Anyone can do this today. It's surprising more companies don't.
Creating Long-form Content for the Distracted Audience
If you still view view research reports, white papers and customer case studies as a "Big Bang" proposition, then you're missing the boat. Maximizing audience size and impact is increasingly a matter of summarizing, teasing and packaging in other formats. We need to rethink the way we create longform content and package it as a series of short-form updates.
Tweet research findings as you go along. Capture highlights and blog entries. Summarize case studies in podcast interviews. Create top 10 lists and factoids to post on Twitter. And be ready to promote your finished report through multiple channels upon publication.
The benefits: increased awareness before the content is released and longer shelf life as you promote conversations about it.
Search Essentials – What You MUST Know
Visibility in search engines is critical to nearly every business these days, but the basic mechanics of search are still in mystery to many people. Success begins with good keyword selection and continues with optimal page construction, good descriptions and continuous campaigns to generate inbound links. Providing high quality content is critical to search engine success, and recent revisions to Google's search engine algorithm reinforces that point.
I recently posted a 38-slide presentation covering the essentials of search. It includes detailed notes that served as a script for an accompanying webcast recording on the subject. Feel free to download the presentation and share it with colleagues who still don't get why a keyword strategy is so essential to growing your business.

Tip of the Week – Spundge
Occasionally a tool comes along that is so drop-dead useful that it causes you to change the way you work. For me, that tool is Spundge, a content curation console that makes it easy to grab articles and assemble them into a single stream that can be embedded on any website that accepts scripting. It's like Storify, but more flexible.
Spundge is like a super RSS feed with bookmarking built in. It comes out-of-the-box with more than 45,000 embedded feeds from major news and technology sites, along with Twitter, Facebook, LinkedIn and other social networks. You can add your own feeds and apply whatever filters you like. The engine learns from your choices and consistently delivers you more relevant content.
You can create embeds that display content from your Spundge notebooks in any website that accepts scripting. For a modest fee of US$9 per month, you can generate blog posts from that content using a WYSIWYG editor. But you don't need the paid account to get a lot of value out of this great new service. I recommend you give it a try.
Read more on my Newspaper Death Watch blog.
Just for Fun: Scale of the Universe
If you're feeling insignificant today you might want to skip this one, but bear with me for the surprise at the end.
The universe is a mighty big place, and I've never seen anything that quite dramatizes that fact like this Flash movie, The Scale of the Universe.
Scroll left to begin your journey at the smallest known particle of Quantum Foam (.0000000001 yoctometers or 10-35  meter. Keep scrolling to the right as you pass neutrinos, quarks, uranium nuclei and other little tiny things.
As you keep scrolling, the scale gets larger: chromosomes, aunts, human beings, Redwood trees, the Hoover dam, California, Ganymede, Alpha Centauri B and so on. At the extreme right is the estimated size of the universe at 1027 meters.
It's a mesmerizing display with beautiful graphics and even a soundtrack. If it came from the Stanford Linear Accelerator Laboratory, you wouldn't be at all surprised. But this remarkable animation is the work of two junior high school kids: Carey and Michael Huang.
Carey was the principal architect and Michael put it online. Carey didn't even do it for extra credit; it was just a fun way to express some relationships he learned about in seventh grade. Here's the story on ABC News.
MIT might want to get to these kids with the scholarship offer early.
Related articles
How to Mine B2B Gold from Facebook
In my work with B2B organizations, the question of how to use Facebook is invariably front and center. This is despite the fact that numerous surveys have shown that Facebook is one of the least effective social networks for B2B marketing.
In a survey of marketers conducted by BtoB magazine last year, Facebook was ranked last in usefulness among the top five social networks, trailing blogs, LinkedIn, YouTube and Twitter, in that order. Nevertheless, some B2B companies have mined gold out of Facebook's audience, particularly for recruiting young college graduates. Let's look at some examples of what they do well.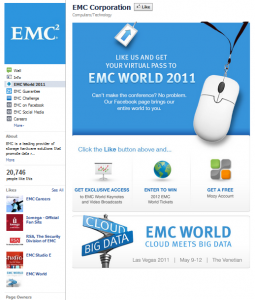 Storage maker EMC makes particularly good use of Facebook's "Welcome" page. This is an under-utilized tool that enables companies to present an HTML page as their default front door. It's done with an application calledStatic FBML (Facebook Markup Language) but there is little difference between FBML and HTML.
The advantage of a Welcome page is that you can use all the tricks of an HTML page, including hotspots, embeds and even forms. Buddy Media uses it to capture leads, as does e-mail marketing providerInfusionsoft. SAP plays inline videos. Use Welcome pages to present an attractive and exciting introduction to your company.
EMC has several FBML pages, including a list of its other social media accounts and a game you can play after liking the page. EMC doesn't use Facebook's wall to much effect, but its purpose seems more promotional than interactive. On that front, it hits the mark.
Other B2B companies that use their welcome pages well include VMWare, Lenovo, UPS and Intel. Fedex uses a cool Flash animation to link to its sub-pages. SocialMediaB2B.com has a nice roundup of Eight B2B Facebook Landing Pages
Read more and comment on my blog
Why You Need to Replace 'Customers' With 'People'
At Procter & Gamble (P&G), which is considered by many people to be the world's greatest marketing company, a subtle but significant shift is taking place. The company that practically invented the category of "consumer packaged goods" (its portfolio includes more than 300 products, ranging from Tide to Oil of Olay to Pringles) is phasing the word "consumer" out of its marketing language. It's replacing it with a much older term: "people."
This small change is part of a massive overhaul of the company's approach to marketing, one that is reflected in its language. "Transactions" are being replaced by "engagements." "Affinity" is giving way to "relationships." The cold, hard, data-driven terms that have defined the last half-century of marketing are yielding to the realization that future success will be about creating hundreds of millions of one-to-one relationships.
In any culture, national or corporate, the language we use reflects the way we think of each other. Some people may ridicule the fact that Disney calls its employees "cast members," but inside the company, the distinction is meaningful. You'll never catch a Disney employee admitting in an open forum that the life-sized figures shaking hands in the theme parks are anything but the genuine Mickey and Donald, for example. A good cast member is never out of character.Have you examined your own corporate dialect recently?
Read more and comment on The CMO Site
E-Book Raises the Bar on Social Measurement
The question of how to measure social media performance, particularly in a marketing context, continues to be one of the industry's hottest topics. Although many people are aware that traditional metrics like page views, visitors, followers and likes are poor indicators of success, the vast majority of marketers I speak to still focus on these overly simplistic criteria. These numbers may be of little value, but at least they're understandable.
The more sophisticated practitioners are turning toward metrics that indicate engagement. Examples include comments, retweets, shares and subscriptions. Now Awareness Networks has contributed some important new thinking to this topic with a free e-book entitled "The Social Marketing Funnel: Driving Business Value with Social Marketing." (Full disclosure: I am quoted in the book but did not contribute meaningfully to the methodology and received no compensation.)
Awareness outlines five priorities that companies should define to become a best-in-class social marketer:
Measure and Grow Social Reach
Monitor Social Conversations
Manage Social Content
Practice SEO
Measure and Analyze Social Activity
Not surprisingly, the company has tools that help in many of these areas, but that's one reason its research is so useful: The recommendations are based upon the experiences of more than 100 customers.
Read more and comment on my blog
Tip of the Week: Hipmunk
If you think all travel reservation sites are basically the same, then you haven't seen Hipmunk.com, an innovative and efficient air and hotel booking service that takes a radical new approach to displaying traveler options.
The people at Hipmunk proceeded from simple assumptions: Most users today have large, high resolution monitors, and visual displays are quicker to navigate than rivers of text. Hipmunk displays airline options in a timeline grid, which can be viewed by price, duration, departure time and other criteria. The default display is a clever metric called "Agony," which is a combination of departure time, price and flight duration. I find it to be much faster and easier to use than traditional travel sites.
The new hotel reservation feature displays options on a map, with the default metric being "Ecstasy," or a combination of price, reviews and amenities. I can't wait to see what they come up with when they add rental car reservations
Give Hipmunk a try. I don't think you'll ever want to use anything else.
Just for Fun: Bogus Technologies
"Percy Whitebread has provided strong leadership in developing the company's vacuous Enterprise IT business strategy, replacing good people with a sub-par middle management team, and securing venture capital from duplicitous investors.
"His glib self-assurance, unmatched prevarication and complete disregard for customers' computing, networking and storage requirements were key factors in Bogus Technology's decision to eschew high technology products and services."
That's the profile of Percy J. Whitebread, III, President and CEO of Bogus Technologies, an enterprise IT services company that "provides a complete portfolio of ethereal Information Technology Solutions, fractious IT products and somnolent professional services for business and personal computing."
If you've surfed through as many high-tech company websites as I have, you'll recognize all the buzzwords here. The entire site is a parody of the marketing-speak that tech companies use to describe themselves, and it was clearly created by people who have been there.
BogusTech isn't just a one-page joke. It's a full-blown website with multiple sub-pages that looks just like the real thing, only it's entirely fictitious. The photos and even the alt tag descriptions are part of the satire. I don't know who created it, but they have my respect.
My fourth book, Social Marketing to the Business Customer, came out this week. While the purpose of this e-mail is ultimately to convince you to buy it, I hope to also impart some insight I gained from immersing myself in business-to-business social marketing for six months.
Co-author Eric Schwartzman and I wrote the book because we felt that B2B marketers were getting inadequate advice about how to apply social media constructs to their work. We've attended scores of conferences over the last few years and heard lots of wonderful stories about how to use everything from blogs to video games to sell blue jeans, potato chips and fine wine. Invariably, someone stands up and asks, "What does this mean to me as a B2B marketer?"
The response is usually something like, "Well, you can do this, too." I used to take that answer at face value, but the more I thought about the unique characteristics of B2B buying decisions, the more it struck me as dodge. The fact is that much of what works in consumer markets would fail in B2B interactions. There are plenty of opportunities to apply social media tactics, but the context is different.
As Eric and I began to dig into this topic, we put some thought into how B2B and B2C markets differ. We came up with six major areas of divergence, and we were surprised to realize how really different these two flavors of marketing are. Here are the six points we arrived at. I'm sure this list is not comprehensive, so leave a comment with your impressions.
1. Value-driven decision-making. Probably the most important distinction between business and consumer marketing is that nearly every buying decision a business makes is driven by the need to solve a problem, pursue an opportunity or make or company more efficient. There is no room for sex appeal, status, feeling good, tastes great or less filling. A lot of great consumer marketing campaigns sell at the gut level, but B2B buyers base their decisions upon facts and calculated value. If you don't deliver that, you don't get considered.
2. Group consensus. Most businesses are inherently conservative, and decision-makers seek validation from many sources, including analysts and their peers. Part of this is simple risk avoidance, but an equally important factor is that decisions made by a group are more likely to be supported by all of the members. The bigger the purchase, the more people are usually involved. Research by MarketingSherpa and TechWeb found that 41% of technology buying decisions involved 15 or more people in the process. These people typically come from many different areas of the organization, and each has different information needs.
3. "Bet the business" decisions. When Federal Express chooses a vendor of hybrid engines for 1,500 trucks or Ford installs a fleet of welding machines on its assembly lines, the decision has the potential to affect the company's bottom line and its stock price. Even seemingly small decisions, like the choice of an e-mail marketing vendor, can have far-reaching implications if the supplier can't deliver. Consumers almost never face issues of this magnitude.
4. Long-term relationships. Business executives buy companies as much as they do products. Most prefer to work with a small number of favored vendors who get a large share of their budget in exchange for high-quality service and "one throat to choke" accountability. Consumers make few buying decisions that involve persistent relationships.
5. Knowledgeable buyers. B2B buyers don't hesitate to bring experts into the decision-making process. These people may have years of in-depth technical experience, certifications and degrees. They want to talk to the people who build the products they are considering, ask detailed questions and gain confidence that the company is a worthy long-term partner. In contrast, consumers may study up for a bit before buying a car or refrigerator, but they rarely bring people with Ph.D.'s into the process.
6. Intense need for information. A B2B decision usually requires information from a lot of sources about a lot of topics. The CFO, head of manufacturing and CIO all have different questions, and all need to be satisfied. The business buyer's appetite for information also doesn't end with the sale (see item 4). Users of call routing or process management systems, for example, may spend days or weeks each year in continuing education classes or at conferences to keep up with new developments. There is virtually no parallel for this in consumer markets.
For these and other reasons it's shortsighted to tell a B2B marketer to apply the tactics used to sell blue jeans to the task of selling aircraft engines or sales force automation software. The same tools can be applied – and we devote 250 pages to explaining how – but the tools that B2B marketers differ in some pretty basic ways from those liked by their B2C counterparts. We found some wonderful case studies, lots of innovative people and even some very clever campaigns.
So here's the promotional message: Buy it! Read it! Post your review on Amazon or tell us what you think on our Facebook page. If you're a B2B marketer, this book is for you. Let us know if we hit the mark.
How to Rescue a Floundering Social Campaign
Back at the beginning of the year I predicted that in 2011 we would hear a lot of social media failure stories. That's because people have taken the dive into using the tools without really knowing why. I've recently been contacted by some companies that are struggling with social campaigns that appear to have all the right elements, but are failing to generate much response. Here's a quick rundown of five actions you can take to turn around that situation.
Tip of the Week: Quora
Chances are you've recently heard about a new service called Quora, which was founded by some former Facebook executives and introduced last summer. It's now the hottest phenomenon to hit the Internet since Twitter, and with good reason. Quora has the potential to become a significant new social network. I recommend you check it out.
Quora is built upon a question-and-answer model, not unlike Yahoo Answers or LinkedIn Answers, but it also includes a bunch of other social innovations like following, favoriting, profiles and invitations. There are elements of Wikipedia in there, as well as real-time collaboration features like those found in Google Wave (which was recently handed over to the open source community, BTW). There's also excellent back-end integration with Facebook and Twitter. In short, Quora is a mashup of Web 2.0 technologies, but they've been combined in some very clever ways. Try using it the next time you have a question that isn't easily answered by a search engine. You may find that humans have already done the work.
Just for Fun: Hilarious Print Ads
A lot of people are declaring print publishing to be dead, but you still can't beat a printed advertisement for telling a story in a single image. The folks at online design and development magazine SpyreStudios have assembled a collection of 30 of the most hilarious print ads ever created, like the one for Dynakids Vitamins below. Innovation like this requires subtlety, humor and the willingness to risk being just a tad offensive. All of these examples are winners in my book.