Direct Marketing Doesn't Have to Suck
In the weeks leading up to the Direct Marketing Association annual conference in Boston this week, exhibitors were out strutting their best stuff. Last week I got two letters in the mail that appeared to be personally addressed to me in a feminine hand (right). Both turned out to be promotions for companies exhibiting at the conference. One employs people to hand-address envelopes so that they appear to come from a friend. The other has an automated signature device that does much same thing.
I opened both envelopes without realizing what was inside and had to chuckle at how I was taken in. They fooled me good. And then I thought about what that says about the state of direct marketing today. Have we sunk so low that we need to trick people into reading our messages? Is it any surprise that forecasters expect direct-mail marketing to decline nearly 40% over the next two years?
Dump the Junk
Like many people, I'm less interested in reading mass marketing material today than I've ever been. There's far too much good stuff out there. More than 90% of the material that enters my mailbox goes straight to the recycling bin. I unsubscribe from any e-mails that don't offer clear value to me. Unsolicited e-mail simply gets blocked. Fooling me doesn't make me a prospect; it makes me mad.
There are some marketing messages, though, that are so valuable to me that I actually look forward to their arrival. Here are a few that I welcome into my inbox:
Read more and comment on my blog
The Myth of Customer Loyalty
The two newest poster children in crisis management provide powerful examples of how today's brutal business climate punishes companies that take their customers for granted, and how fleeting customer loyalty can be.
Netflix stock has recently sunk below $115, down more than 60 percent from its all-time high reached just two months ago. That was when the company announced it was splitting its DVD-by-mail service off from its streaming video delivery and increasing prices by as much as 60 percent without delivering any immediate improvement in service. In effect, Netflix asked its customers to subsidize its R&D. The move came as competitor RedBox, with nearly 28,000 kiosks nationwide, was presenting serious pressure from below.
Customers are deserting in droves. Research by Magid Advisors found that 30 percent of Netflix's 25 million customers are at high risk to desert the company. This is about seven times as many as Netflix estimated it would lose back in August. CEO Reed Hastings's halfhearted apology has only fanned the flames more. Instead of backtracking on the price increases, he simply restated the reasons for imposing them in the first place and sort of apologized for lousy communication.
Read more and comment on The CMO Site
Five Ways B2B Marketers Can Get the Most from Facebook
A lot of B2B marketers have chosen not to get on board the Facebook train for fear that Facebook's freewheeling culture clashes with their serious business. They prefer LinkedIn, a professional network that's all about getting business done. There's a lot of gold to mine on Facebook, however, if you know your objectives and how the community works. After all, 750 million people can't be all wrong.
Facebook has about as much in common with LinkedIn as a Hawaiian shirt does with a three-piece suit. Your Facebook presence needs to be fun, conversational and provocative. LinkedIn is nine-to-five and Facebook is after-hours. But that doesn't mean you can't find buyers and get serious business done.
Everyone knows that Facebook is a good way to reach young people, but did you know that the largest percentage of Facebook users are those in the age 45 – 54 category? Facebook's audience also skews much more heavily toward women: 62% vs. 45% for LinkedIn. Bottom line: The audience you reach on Facebook isn't the same as the one you find on LinkedIn.
Facebook success demands knowing a few of the ins and outs of the platform in the community. Here are five tips.
Read more and comment on the PointClear blog
Big Ideas Don't Have ROI
American Express' OPEN Forum for small-business owners routinely attracts more than 1 million unique visitors a month. The network has 200 featured contributors, mobile apps and a new social media tracking and management service for members. All for free.
At Dell Computer, 3,000 people have been certified to use social media on behalf of the company. Dell has hired professional trainers; published a four-color, how-to manual; and flown speakers in from around the country to share their wisdom.
Cisco Systems has recently taken advantage of massive layoffs of journalists to hire former BusinessWeek and Wall Street Journal writers to tackle weighty topics, such as the future of the Internet and the impact of social media on education, in a revamped newsroom called The Network. A similar initiative at Intel Corp., called the Free Press, reads like a technology trade magazine. Content like that doesn't come cheap.
All these programs have one thing in common: There's no clear return on investment (ROI).
Read more at BtoB magazine online
Tip of the Week: ReadItLater
How many times have you seen an article online that you wanted to read but didn't have the time? You can bookmark it, but that requires an Internet connection, and you don't want to clutter up your bookmarks with pages that you only plan to visit once. Also, if you're like me, you get a lot of reading done on planes, and bookmarks do you no good when you're offline. Downloading and saving pages is a chore.
Enter ReadItLater. This handy utility runs on just about every browser and mobile platform out there and enables you to save, organize and synchronize the pages you bookmark for reading on any device. The synchronization is particularly cool for travelers who want to read while disconnected. The browser edition is free. A "pro" addition for mobile devices costs a modest $2.99.
Just for Fun: Songfacts
A friend told me about this site, and I'll never forgive him for it.
Did you know that John Lennon's "I Am the Walrus" was really a collection of nonsense lyrics intended to confuse people who tried to analyze Beatles songs?
Or that Iron Butterfly's "In-A-Gadda-Da-Vida" was originally titled "In the Garden Of Eden," but someone, possibly while drunk, changed the name on a demo copy and a record company executive decided he liked the new name better?
Or that the FBI tried to track down The Kingsmen and Richard Berry, the author of "Louie Louie" over popular rumors that the song's lyrics were obscene?
All of this trivia, and much more about thousands and thousands of songs, is available at Songfacts.com. Started in 1997 as a database of song information for a few disc jockeys in Hartford, CT, the site has grown to massive size thanks to contributions from the community. The curators don't say how many songs are in the database, but I quick-counted more than 1,200 songs just beginning with the letter C.
Songfacts is a crowdsourced model. Anyone can contribute, but only information that the administrators believe to be valid makes the official Songfacts section. Anyone is free to weigh in with comments. Careful about visiting this site at work. You'll want to stay for hours.
How to Mine B2B Gold from Facebook
In my work with B2B organizations, the question of how to use Facebook is invariably front and center. This is despite the fact that numerous surveys have shown that Facebook is one of the least effective social networks for B2B marketing.
In a survey of marketers conducted by BtoB magazine last year, Facebook was ranked last in usefulness among the top five social networks, trailing blogs, LinkedIn, YouTube and Twitter, in that order. Nevertheless, some B2B companies have mined gold out of Facebook's audience, particularly for recruiting young college graduates. Let's look at some examples of what they do well.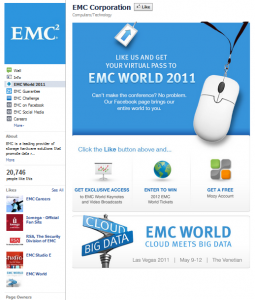 Storage maker EMC makes particularly good use of Facebook's "Welcome" page. This is an under-utilized tool that enables companies to present an HTML page as their default front door. It's done with an application calledStatic FBML (Facebook Markup Language) but there is little difference between FBML and HTML.
The advantage of a Welcome page is that you can use all the tricks of an HTML page, including hotspots, embeds and even forms. Buddy Media uses it to capture leads, as does e-mail marketing providerInfusionsoft. SAP plays inline videos. Use Welcome pages to present an attractive and exciting introduction to your company.
EMC has several FBML pages, including a list of its other social media accounts and a game you can play after liking the page. EMC doesn't use Facebook's wall to much effect, but its purpose seems more promotional than interactive. On that front, it hits the mark.
Other B2B companies that use their welcome pages well include VMWare, Lenovo, UPS and Intel. Fedex uses a cool Flash animation to link to its sub-pages. SocialMediaB2B.com has a nice roundup of Eight B2B Facebook Landing Pages
Read more and comment on my blog
Why You Need to Replace 'Customers' With 'People'
At Procter & Gamble (P&G), which is considered by many people to be the world's greatest marketing company, a subtle but significant shift is taking place. The company that practically invented the category of "consumer packaged goods" (its portfolio includes more than 300 products, ranging from Tide to Oil of Olay to Pringles) is phasing the word "consumer" out of its marketing language. It's replacing it with a much older term: "people."
This small change is part of a massive overhaul of the company's approach to marketing, one that is reflected in its language. "Transactions" are being replaced by "engagements." "Affinity" is giving way to "relationships." The cold, hard, data-driven terms that have defined the last half-century of marketing are yielding to the realization that future success will be about creating hundreds of millions of one-to-one relationships.
In any culture, national or corporate, the language we use reflects the way we think of each other. Some people may ridicule the fact that Disney calls its employees "cast members," but inside the company, the distinction is meaningful. You'll never catch a Disney employee admitting in an open forum that the life-sized figures shaking hands in the theme parks are anything but the genuine Mickey and Donald, for example. A good cast member is never out of character.Have you examined your own corporate dialect recently?
Read more and comment on The CMO Site
E-Book Raises the Bar on Social Measurement
The question of how to measure social media performance, particularly in a marketing context, continues to be one of the industry's hottest topics. Although many people are aware that traditional metrics like page views, visitors, followers and likes are poor indicators of success, the vast majority of marketers I speak to still focus on these overly simplistic criteria. These numbers may be of little value, but at least they're understandable.
The more sophisticated practitioners are turning toward metrics that indicate engagement. Examples include comments, retweets, shares and subscriptions. Now Awareness Networks has contributed some important new thinking to this topic with a free e-book entitled "The Social Marketing Funnel: Driving Business Value with Social Marketing." (Full disclosure: I am quoted in the book but did not contribute meaningfully to the methodology and received no compensation.)
Awareness outlines five priorities that companies should define to become a best-in-class social marketer:
Measure and Grow Social Reach
Monitor Social Conversations
Manage Social Content
Practice SEO
Measure and Analyze Social Activity
Not surprisingly, the company has tools that help in many of these areas, but that's one reason its research is so useful: The recommendations are based upon the experiences of more than 100 customers.
Read more and comment on my blog
Tip of the Week: Hipmunk
If you think all travel reservation sites are basically the same, then you haven't seen Hipmunk.com, an innovative and efficient air and hotel booking service that takes a radical new approach to displaying traveler options.
The people at Hipmunk proceeded from simple assumptions: Most users today have large, high resolution monitors, and visual displays are quicker to navigate than rivers of text. Hipmunk displays airline options in a timeline grid, which can be viewed by price, duration, departure time and other criteria. The default display is a clever metric called "Agony," which is a combination of departure time, price and flight duration. I find it to be much faster and easier to use than traditional travel sites.
The new hotel reservation feature displays options on a map, with the default metric being "Ecstasy," or a combination of price, reviews and amenities. I can't wait to see what they come up with when they add rental car reservations
Give Hipmunk a try. I don't think you'll ever want to use anything else.
Just for Fun: Bogus Technologies
"Percy Whitebread has provided strong leadership in developing the company's vacuous Enterprise IT business strategy, replacing good people with a sub-par middle management team, and securing venture capital from duplicitous investors.
"His glib self-assurance, unmatched prevarication and complete disregard for customers' computing, networking and storage requirements were key factors in Bogus Technology's decision to eschew high technology products and services."
That's the profile of Percy J. Whitebread, III, President and CEO of Bogus Technologies, an enterprise IT services company that "provides a complete portfolio of ethereal Information Technology Solutions, fractious IT products and somnolent professional services for business and personal computing."
If you've surfed through as many high-tech company websites as I have, you'll recognize all the buzzwords here. The entire site is a parody of the marketing-speak that tech companies use to describe themselves, and it was clearly created by people who have been there.
BogusTech isn't just a one-page joke. It's a full-blown website with multiple sub-pages that looks just like the real thing, only it's entirely fictitious. The photos and even the alt tag descriptions are part of the satire. I don't know who created it, but they have my respect.