CareOne Debt Relief Services contends with a business climate that few of us (thankfully) have to face: Its industry has a terrible reputation.

That industry is debt relief, a field that many people associate with fast talking pitchmen on late-night infomercials. But there's nothing underhanded about CareOne, a nine-year-old company with 700 employees and a philosophy that "There's no reason to be ashamed of being in debt," according to Social Media Director Nichole Kelly (below right).
A busy online community has been a remarkably effective engine of growth. By enabling customers to freely exchange experiences, CareOne helps shatter suspicions that dissuade people in debt from seeking professional help. In fact, the conversion rate of prospects who have signed in to the CareOne Community is a remarkable seven times higher than that of non-members.
That claim, which is one of several ROI metrics cited in a summary of the company's social media successes, sounded so extreme that I gave Kelly a chance to qualify the numbers when I spoke to her recently.
She would do no such thing.  CareOne actually takes a disciplined approach to figuring ROI, she said, using control groups and thousands of data points. Not only do community members convert at dramatically higher rates, but the boost in sign-ups is only one of several business benefits CareOne has realized from its customer community. But more on that in a minute.
Happy Accident
The 1.4 million member community was actually an accident. It was created five years ago as a way for CareOne employees to share advice about their own debt issues. A few outsiders stumbled upon the site and joined the conversation. It turned out that they were a rich source of prospects.
Debt is a touchy subject. Most people don't like to admit to financial problems, but they crave solutions, often desperately. CareOne discovered that customers who engaged online were far more likely to seek professional help than cold-called candidates. "It's real customers telling each other that the program works," she said.
CareOne's approach is a good example of soft-sell marketing. The site features numerous articles, worksheets and video tutorials about debt reduction. A recently launched video series called Financially Fit TV interviews personal finance experts. About 30% of visitors who register and tap into the free advice never become customers but "That's fine," Kelly said. "If they can get out of debt on their own, we're happy to help."
But more than 60% of visitors aren't current customers, making them a lucrative prospect base. Word-of-mouth recommendations help drive inbound inquiries, and the presence of so much helpful information in the community lowers the barrier to conversion. It's clear to casual visitors that CareOne is no fly-by-night operation.
Not that managing a community is easy. The number of active participants – or those who regularly contribute content – is in the sub-1% range. That's not surprising for a topic that few people like to discuss publicly. However, lurkers invest a healthy five to 10 minutes per session and return frequently, indicating that the audience is engaged.
CareOne has invested time and money to encourage the minority who interact. Its busy Ask the Expert forums have certified credit counselors responding to inquiries. The experts are compensated for their time. A full-time four-person social media team manages the community and other social media programs, responding to questions, correcting misstatements and encouraging lurkers to come forth.
Active members are promoted and applauded. As in most online communities, a very small percentage of members contribute most of the content, but those people can become heroes to their peers. One popular blog, My Journey out of Debt, is written entirely by customers.
The Insight Dividend
In addition to the remarkable conversion rates for community members, CareOne has realized other benefits. For example, last year it detected a shift among its upper-income customers away from debt management plans and toward debt settlement relief. It adjusted its resource commitments accordingly.
Recently, "We noticed that a lot of our customers were one car breakdown or one illness away from bankruptcy," Kelly said. "That changed the content we were delivering. We reduced our focus on frugality and began creating more content on dealing with life events."
One of the more impressive aspects of the whole effort is the company's focus on ROI metrics. Kelly ticks off her favorites: cost per conversion, cost per acquisition, customer value, customer profitability and retention rate. Nothing about hits, followers or comments. Those aren't financial metrics.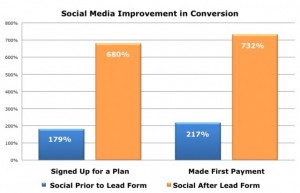 CareOne is focusing on the right stuff. The section headlined "CareOne + Social Media: The Measurement" on the successes page devotes substantial attention to five challenges of measuring social media ROI. In all cases, it focuses on bottom-line drivers.
Customer communities aren't for everyone, and in the age of Facebook and LinkedIn, you actually need a compelling reason to start your own. The ability to build detailed audience profiles, customize services for individuals and maintain a level of confidentiality were good reasons for CareOne to choose the path it did. The company clearly cares about bottom-line return, and by being able to track individual visitors through their various interactions with the company, it has shown some impressive results.
Jason Falls has an excellent profile of CareOne Community here.
Answers to Common Social Marketing Questions
Lately, Eric Schwartzman and I have been participating in a lot of online events about B2B social media marketing, and there are invariably more audience questions than we have a chance to answer. So we've been posting our responses through the good graces of our hosts. Here are a few you might have missed:
Frequently Asked Questions about B2B Social Media (Marketo)
Should I use a personal Facebook page for business?
How do I encourage participation in my corporate blog?
Should a small B2B company to have a Facebook fan page?
And more…
Twitter Questions Asked…And Answered! (Part One)
What about using corporate versus personal employee accounts?
How can I reach people who tweet about a topic that's relevant to me?
Should you tweet differently for a B2B versus a B2C audience?
And more…
Twitter Questions Asked…And Answered! (Part Two)
How do you grow your following on Twitter?
What do you think of scheduling services like HootSuite?
How do you handle people who tweet negatively about your business?
And more…
Tip of the Week: Nimble
I usually devote this section to services that are publicly available, but I'll make an exception for Nimble, a social CRM tool that I've been using in beta release for several weeks. Nimble was created by Jon Ferrara (below right), the founder of the legendary GoldMine sales automation software. After cashing out of Goldmine and taking several years off, he is back with a CRM tool that makes social connections an essential part of the contact management equation.
With Nimble, you can import your address book, Facebook and LinkedIn contacts into a single record and associate people's activities in those networks – as well as Twitter and your inbox – in a single place. So if you're making a call on a prospect or customer, you can quickly consult the personal or company record to find out what's been happening in their lives or careers.
In its current form, Nimble still needs work, but the enhancements I saw previewed this week add a lot of power. In this next release, the software will automatically discover a contact's social media footprint and even create an integrated news feed so you can see what all of your contacts are saying across all platforms. This is where I think social CRM has power. It can give you insights that lead to better engagement.
Ferrara told me he plans to make Nimble free to individual users and charge for corporate licenses. You can sign up now for the beta invitation, and I expect you'll get an invitation soon. I've never used CRM software before, but I think I'm going to start.
Just for Fun: Icons of Progress
This week's selection isn't so much fun as really, really interesting, particularly for history buffs like me. IBM is celebrating its 100th anniversary this year, which is quite an achievement in a world in which the average life expectancy of a multinational corporation is between 40 and 50 years. One of the many ways in which Big Blue is marking the centennial is with a historical retrospective called 100 Icons of Progress. This site will be regularly updated with historical information about technologies that changed our world.
IBM's just getting started, but the accounts of how innovations like the floppy disk, the IBM 1401 mainframe and the universal product code came about are mesmerizing. Check back regularly as new icons are added. And if you want to know what was the first product ever scanned by a bar code reader, find the answer here.
I recently posted a chapter from my forthcoming B2B social marketing book that addresses the ever-popular topic of return on investment (ROI). The post has created quite a bit of discussion, so I thought I'd summarize my premise here and ask for your opinion.
ROI is one of the most misused terms in marketing today, in part because so many people are struggling to understand how it applies to social media. I worship at the church of Katie Paine, the measurement expert who argues that you can measure almost anything if you are creative enough. Measurements can usually be related to a financial outcome, and that's when ROI becomes meaningful.
I've attended many conferences at which this topic has come up, and I've observed that when people talk about ROI, they usually speak in terms that have nothing to do with return. They talk about measuring friends, followers, repeat visitors, traffic and the vaguely-defined "brand awareness." These are results of marketing campaigns, but they aren't returns.
ROI is all about money. It is a simple ratio that defines investment as input and a financial result as output. If the financial output is greater than the investment, then the ROI is positive. If not, then you've got some 'splainin' to do.
Calculating ROI requires good historical data and precise analytics. The free Google Analytics tool can tell you a lot about activity on your website, including where people came from, which pages they looked at, how long they stayed and what they were viewing when they left. When you match this information to financial outcomes and compare to historical data, you can create cause-and-effect scenarios that map to dollars.
You need to have some basic information about how activity on your website correlates to financial results. For example, to calculate the value of a webcast listener, you can divide the profitability of all business generated by webcasts over the last year by the number of attendees.
Then compute the average lifetime value of a customer. If you know that the average customer is with you for five years and spends $50,000 during that time at a 10% profit margin, then the average lifetime value of a customer is $5,000. If last year's webcasts generated 100 new customer accounts, then webcasts created a lifetime profitability of $500,000. If you had to get 2,000 people to register for webcasts in order to land 100 new customers, then the value of a webcast registrant is $250. In other words, if you spent less than that amount per registrant, you should be in positive ROI territory.
Let's look at one more example: computing the value of a tweet. Suppose your analytics package tells you that you got 1,000 visitors to your website from Twitter messages last month (this number is easy to track if you use unique URLs). You know that 200 of those visitors navigated to your order page. You also know that 10% of the people who land on your order page become customers. We already know that the lifetime value of a customer is $5,000.
Dragging out the old spreadsheet, we calculate that those 1,000 visitors became 20 customers at a total lifetime value of $100,000. We also know that we had to send 50 tweets to get 1,000 people to visit. That means that 50 tweets created $100,000 in value, or $2,000 per tweet.
In real life, of course, ROI isn't this simple. There are many other factors involved in the equation, including the cost of sales, the net present value of money and opportunity costs There are also intangibles such as the cost of building a quality Twitter following that delivers 1,000 visitors with 20 tweets. You can make these estimates as detailed as you want, but the point is that many of the supposedly incalculable returns of social media can be quantified if you have good analytics and historical data with which to correlate them.
If you'd like more detail, read my chapter on this topic and please give me your feedback.
The Secret of Twitter? Use It
I recently wrapped up a research report for BtoB magazine about marketers' use of Twitter. The 387 respondents to the survey delivered one clear message: The people who derive the most value from the world's favorite micro-blogging service are the ones who use it the most. The 20% of respondents who attributed tangible revenue to Twitter were one-third more satisfied with Twitter's value than those who are still awaiting sales. And successful Twitter marketers are also more optimistic about Twitter's future. Read a summary of the findings here. You can also purchase the complete report, encompassing more than 30 charts, here (I make no commission on those purchases).
Tip of the Week: Windows Speech Recognition
I'm a big fan of speech recognition software. It's helped me write four books in the past four years. I type 90 words per minute, but I can speak a lot faster than that. I've been using Dragon Naturally Speaking for several years. At $50 on eBay, it's a great value, but if $50 is too rich for your blood, try Microsoft's embedded Windows Speech Recognition.
Microsoft doesn't exactly make this handy tool easy to find. In Windows 7, you have to navigate down to the Accessories|Ease of Access folder. Even then, Microsoft makes it appear that Windows Speech Recognition is intended only to manage Windows commands. However, there is a full-blown speech recognition engine inside that permits you to dictate documents and spreadsheets. I've been playing around with Speech Recognition for a couple of weeks and find it superior to Dragon in some cases. All you need is a basic headset, which costs about $15.
Just for Fun: @BPGlobalPR
"As long as we can get loaded potato skins at T.G.I.Friday's, seafood can suck it."
"We are doing everything we can to stop the information leaks in the Gulf."
"Honestly, why are we still talking about the spill? Twilight comes out next week! Come join us in line!"
There isn't much mirth to be found in the oil spill that continues to plague the Gulf Coast, but an anonymous Twitter user who goes by the alias of "Leroy Stick" has hijacked the identity of BP p.l.c.'s public relations organization to produce a viciously funny online persona called BPGlobalPR that spoofs the oil company's efforts to manage public opinion while it grapples with the disaster.
Stick isn't doing this just to be funny. In one of his few public statements, he skewered BP for trying to manage public sentiment around the situation. "I'm trashing a company that is literally trashing the ocean, and these idiots are trying to figure out how to protect that company?" he wrote in a post on Street Giant. The BPGlobalPR Twitter account has 10 times as many followers as BP PR's real account.
By the way, did you know that the Deepwater Horizon spill is not the largest on record, at least not yet? That honor belongs to the Lakeview Gusher (below), which spewed 9 million barrels into the southern California desert beginning in 1910. The site of that spill is now a California Historical Landmark. At this rate, Deepwater will soon pass it.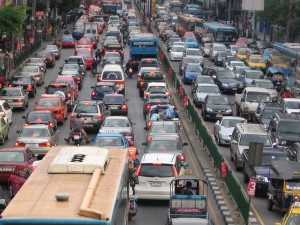 This is the second installment in a multi-part series on how to write killer content for your blog. It continues the thread I began last week on how to come up with ideas for topics.
Defy conventional wisdom. This is an old newspaper columnist trick, but it works well. Think of a topic that most people agree upon and argue the exact opposite point of view. For example, try to build a case for why social networks are a passing fad or the New York Jets are the team to beat in the NFL this year (okay, that last one's a stretch). You have to think creatively to argue your point, and the result may be more satire than opinion, but just let the idea take you where it wants to go. Going against conventional wisdom is one of the best ways to fuel creativity.
Get Angry. The best writing is driven by emotion. Think about something you've heard or seen recently that really made you mad. Are there lessons you can share? Or can you abstract the issue into a more general commentary ? Maybe you got cut off by a driver talking on a cell phone. That could lead to a bigger essay on distraction. Let your passion guide you, but be careful not to push the "publish" button till you've calmed down.
Aggregate other opinions. Go to a news/blog aggregation site like Alltop.com and browse a category that interests you. Find a topic that several people are commenting upon, summarize their comments and add your own. For an extra twist, try the tactic mentioned in the first item above and arguing the opposite case.
Tell a story. It's the most powerful form of human communication. Reach back to an experience that was meaningful to you and start writing it down. What did you learn from that experience? How can those lessons help others?
Revisit. The simple act of scrolling through your past blog entries can yield ideas about new topics or new angles on old topics. If your predictions were wrong, tell why. If they were right, build on them.
Conduct a small research project. Two of my most well-received blog entries of the last year were quick experiments, each of which took less than an hour to conduct:
Last year, I visited 15 corporate blogs shortly after the financial meltdown and looked at what they were saying about the economy. The lack of attention to this hugely important story was stunning. It made me angry, and that's a good formula for writing.
Last month I picked a stream of 100 tweets at random and analyzed them for content and value. The results surprised me and my essay generated quite a few tweets from others.
Make a list. This is the most popular organizational tools in the blogosphere. Pick a topic about which you have some expertise and offer quick hits of advice. For example: "10 Ways to Research a Company on the Web," or "Seven software utilities I couldn't live without." Or you can skip the numbers and just organize your thoughts in modules, like I'm doing here. I get tired of all the numbered lists after a while, but I have to admit, readers love 'em.
Predict. Predictions are hugely popular at the end of the year, but you can make them any time. To add variety, limit your time frame or endpoint. Neville Hobson and Shel Holtz did this effectively with the 500th edition of their "For Immediate Release" podcast by asking their listeners to predict what topics the two will be discussing during their next 500 shows. Pick a topic, make a prediction and argue your case. Then revisit later and write about how you did.
Recommend. Are there blogs, discussion forums, podcasts or how-to websites that you love? Write them down, tell what you like about each and share them with your readers.
Explore everyday things. This is an offbeat approach, but it's a great way to satisfy your curiosity while delving into little-known corners of the Web. Pick a topic about which you know very little and research it. For example, learn why golf balls have dimples or find the origin of the phrase "the whole 9 yards." This work may have limited relevance to your business, but it'll probably yield a fascinating tidbit of information and help you learn new ways to find things online.
Serialize. Take any of the ideas above and publish it as short thematic entries. Few people read long articles anymore, anyway, so break out those ideas and sprinkle them around. Just be sure to tag and categorize them appropriately so you can reassemble later.
I could go on. There are dozens of other ways to generate ideas. But let's hear from you. Comment below on some tactics that you use to unblock those creative juices.
All About Social Media ROI
I've devoted quite a bit of time recently to researching the topic of social media ROI, which is probably one of the hottest issues in marketing today. I developed a new 90-minute slide presentation on this subject, which can be expanded to a half-day workshop if you're interested. Bottom-line: not only can you measure ROI, but you can unearth some fantastic insights about your prospects and customers in the process. View and download my slide presentation here. I also borrowed liberally from two other experts on the topic: Katie Paine and Olivier Blanchard. I recommend following them both.
Tip of the Week: Google's Similar Pages
Here's a Google treasure that will save you loads of time, particularly when researching products. One little noticed feature of Google search results is the "Similar" link that appears at the end of the result summary. Click on this link and you kick off a rather sophisticated Google search that looks for pages that have the same characteristics as the search result you chose.
Here's an example. Suppose you're interested in conversation monitoring tools. Within the top 10 results you'll find Radian6, a popular (and very good) product in that category. Click on the "similar" link and you get search results that list dozens of other conversation monitoring tools. The results are more focused than those you would get from a standard search query because Google can infer from the document that you're probably looking for a technology vendor. Try this next time you're researching options in a market.
Just For Fun: Old Computer Ads
If you think the idea of using sex to sell technology originated with GoDaddy.com, then you should check out this collection of old computer ads assembled by CIO magazine. The journal, which is put out by venerable publisher International Data Group, dug back into the archives of sister publications like Computerworld and InfoWorld to find some of the funniest ads from the early days of the industry. In addition to the classic bits-and-babes promotion like the one shown at right, they include standouts like Bill Gates' endorsement of RadioShack computers. I'm old enough to remember when some of these promotions originally ran, and can attest to the fact that these are not exceptions to the rule. Just think of how far we've come. Or have we?
Continuing my series of responses to questions I didn't have time to answer in recent webcasts, this segment covers international markets, ROI, how to deal with negative feedback and applications to small business.
Q: How do you reach international audiences? Are the tools you showed just for US consumers?
A: The Internet doesn't know geographic boundaries, so with few exceptions your message can reach across the globe.The one area that is geographically sensitive is social networks, which seem to gain more active followings in some countries than in others. Google's Orkut, for example, has been a nonstarter in the U.S. but has a huge following in Brazil. Cyworld is popular in Korea, while Hi5 has a big Latin American membership. In Japan, Mixi is the largest social network. The Swedes love Lunarstorm, and the Poles take to Grono. I'm not sure why that's the case, but if you're trying to reach people on social networks, you need to go where they're already congregating.
Q: Can you give some examples of return on investment?
A: That depends on how you define "return." Often, businesses look at return in terms of visits to a designated landing page, such as a download or order form. In that case, look at referring URLs. You can also track actual orders back to the URLs or e-mail links that referred people to that page.That's a relatively easy way to translate links into sales. Use unique URLs and/or tracking codes to document where your customers are coming from. This podcast interview with Avinash Kaushik on Paul Dunay's Buzz Marketing for Technology podcast series has some sound advice.
In other cases, however, companies may look for an increase in favorable press coverage or blogger comments as an indicator of ROI. In that case, tracking an increase in press or blog citations compared to a base point can yield a pretty good idea of the effectiveness of a campaign. Note that these are not web analytics and that the dollar value of these results can be difficult to quantify.
Q: What (if any) silver bullet can you use, to encourage your client to create a blog for their company, when they are deathly afraid of negative feedback?
A: A substantial body of evidence is emerging to support the effectiveness of social media marketing. For example, here's a list of links to archives of successful social media campaigns. A study of the Inc. 500 by the University of Massachusetts found that three quarters of the respondents now consider social media to be essential to their marketing efforts. Sites like eMarketer and Marketing Sherpa also have extensive case history and statistical evidence about the value of blogs and other tools. Recent McKinsey research reveals that companies that have bought into Web 2.0 marketing are planning to expand their commitment this year.
In my view, negative feedback is an overrated problem. Every company has some unhappy customers, and most people understand that that's part of the landscape. In most cases, critics can be converted to satisfied customers or even fans with a little hand-holding and special attention. There is overwhelming evidence that simply responding to disgruntled customers with a message that shows you're listening can put to bed the vast majority of complaints. If a company does have a customer satisfaction problem, however, it is wise to step lightly into new media. Be prepared for negativity and be ready to respond to each and every comment. You'll quickly find that criticism will diminish as you demonstrate responsiveness.
Q: Does social media marketing apply more to medium and larger businesses than to small businesses?
A: In my experience, small businesses are more active, creative and effective at leveraging social media marketing than big companies. There are many reasons for this, including the compelling cost advantages, the speed and responsiveness of small organizations, their willingness to engage directly with individual customers and the accessibility of senior managers. The University of Massachusetts research I mentioned above found that small businesses are adopting these tools much faster than large ones. In my own presentations and seminars, I consistently find that small companies are more enthusiastic and responsive to the potential of social media than the big guys. In fact, large companies tend to excel at finding reasons to AVOID talking to their customers!
I was presenting a social media seminar to a public-relations agency recently when the talk turned to uses of blogs. The people in the room were excitedabout blogging's potential and were eager to apply the technology to new tasks.
I cautioned them that they were asking the wrong question. The issue isn't what tool to use, but what problem to solve. Tool selection is secondary.
There's nothing unusual about their attitude. People often start by choosing tools and work backwards to solve problems. Maybe management has just issued an order to start blogging, or the tool is seen as a tactic to improve search performance or it just seems like the thing to do.
But that's like starting with a hammer and then figuring out what to build with it. If your objective is to make a house, then you're off to a pretty good start. But if you want to craft a pearl necklace, you've got the wrong tool for the job.
I recently consulted with a client who wanted to build a social network for a defined customer group. It was an ambitious idea, but as we talked through it, we both realized that the process of getting it through internal and regulatory approvals could take a year or more. We finally settled on a more modest idea: Launch a relevant blog, try to build customer interest quickly and then take the results to management in hopes of getting fast-track approval for the social network.
Choose tools wisely
The building blocks of social media are simply tools and they're not well-suited for every task. For example, if your objective is to alert visitors to a new category of products and provide detailed information on the specifics, a catalog page would be more effective than any interactive tool.
But it's human nature for people to use the technologies they understand and figure out the application after the fact. Unfortunately, that can waste a lot of time and effort. E-mail is terrible for communicating between groups of more than about five recipients, yet people routinely organize massive projects with dozens of participants by e-mail. Even if the tool is poorly suited for the task, they reason, at least people know how to use it.
A better approach is to define business objectives and then search for tools that support them. For customer feedback, for example, blogs and social networks are a good choice. However, podcasts and video won't do the trick. So if your objective is to improve customer relations, a podcast may not be a good place to start.
Technology vendors encourage the tool focus. Many of those firms are run by engineers who love to create cool new stuff. They'd much rather talk about features and functions than how to solve business problems. You need to block that tactic. Any vendor that won't give you references to customers who are solving problems that are similar to yours is blowing smoke.
Social media tools are cool, but they're always irrelevant if they don't solve problems. Don't let technology distract you.