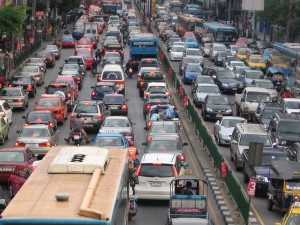 This is the second installment in a multi-part series on how to write killer content for your blog. It continues the thread I began last week on how to come up with ideas for topics.
Defy conventional wisdom. This is an old newspaper columnist trick, but it works well. Think of a topic that most people agree upon and argue the exact opposite point of view. For example, try to build a case for why social networks are a passing fad or the New York Jets are the team to beat in the NFL this year (okay, that last one's a stretch). You have to think creatively to argue your point, and the result may be more satire than opinion, but just let the idea take you where it wants to go. Going against conventional wisdom is one of the best ways to fuel creativity.
Get Angry. The best writing is driven by emotion. Think about something you've heard or seen recently that really made you mad. Are there lessons you can share? Or can you abstract the issue into a more general commentary ? Maybe you got cut off by a driver talking on a cell phone. That could lead to a bigger essay on distraction. Let your passion guide you, but be careful not to push the "publish" button till you've calmed down.
Aggregate other opinions. Go to a news/blog aggregation site like Alltop.com and browse a category that interests you. Find a topic that several people are commenting upon, summarize their comments and add your own. For an extra twist, try the tactic mentioned in the first item above and arguing the opposite case.
Tell a story. It's the most powerful form of human communication. Reach back to an experience that was meaningful to you and start writing it down. What did you learn from that experience? How can those lessons help others?
Revisit. The simple act of scrolling through your past blog entries can yield ideas about new topics or new angles on old topics. If your predictions were wrong, tell why. If they were right, build on them.
Conduct a small research project. Two of my most well-received blog entries of the last year were quick experiments, each of which took less than an hour to conduct:
Last year, I visited 15 corporate blogs shortly after the financial meltdown and looked at what they were saying about the economy. The lack of attention to this hugely important story was stunning. It made me angry, and that's a good formula for writing.
Last month I picked a stream of 100 tweets at random and analyzed them for content and value. The results surprised me and my essay generated quite a few tweets from others.
Make a list. This is the most popular organizational tools in the blogosphere. Pick a topic about which you have some expertise and offer quick hits of advice. For example: "10 Ways to Research a Company on the Web," or "Seven software utilities I couldn't live without." Or you can skip the numbers and just organize your thoughts in modules, like I'm doing here. I get tired of all the numbered lists after a while, but I have to admit, readers love 'em.
Predict. Predictions are hugely popular at the end of the year, but you can make them any time. To add variety, limit your time frame or endpoint. Neville Hobson and Shel Holtz did this effectively with the 500th edition of their "For Immediate Release" podcast by asking their listeners to predict what topics the two will be discussing during their next 500 shows. Pick a topic, make a prediction and argue your case. Then revisit later and write about how you did.
Recommend. Are there blogs, discussion forums, podcasts or how-to websites that you love? Write them down, tell what you like about each and share them with your readers.
Explore everyday things. This is an offbeat approach, but it's a great way to satisfy your curiosity while delving into little-known corners of the Web. Pick a topic about which you know very little and research it. For example, learn why golf balls have dimples or find the origin of the phrase "the whole 9 yards." This work may have limited relevance to your business, but it'll probably yield a fascinating tidbit of information and help you learn new ways to find things online.
Serialize. Take any of the ideas above and publish it as short thematic entries. Few people read long articles anymore, anyway, so break out those ideas and sprinkle them around. Just be sure to tag and categorize them appropriately so you can reassemble later.
I could go on. There are dozens of other ways to generate ideas. But let's hear from you. Comment below on some tactics that you use to unblock those creative juices.
All About Social Media ROI
I've devoted quite a bit of time recently to researching the topic of social media ROI, which is probably one of the hottest issues in marketing today. I developed a new 90-minute slide presentation on this subject, which can be expanded to a half-day workshop if you're interested. Bottom-line: not only can you measure ROI, but you can unearth some fantastic insights about your prospects and customers in the process. View and download my slide presentation here. I also borrowed liberally from two other experts on the topic: Katie Paine and Olivier Blanchard. I recommend following them both.
Tip of the Week: Google's Similar Pages
Here's a Google treasure that will save you loads of time, particularly when researching products. One little noticed feature of Google search results is the "Similar" link that appears at the end of the result summary. Click on this link and you kick off a rather sophisticated Google search that looks for pages that have the same characteristics as the search result you chose.
Here's an example. Suppose you're interested in conversation monitoring tools. Within the top 10 results you'll find Radian6, a popular (and very good) product in that category. Click on the "similar" link and you get search results that list dozens of other conversation monitoring tools. The results are more focused than those you would get from a standard search query because Google can infer from the document that you're probably looking for a technology vendor. Try this next time you're researching options in a market.
Just For Fun: Old Computer Ads
If you think the idea of using sex to sell technology originated with GoDaddy.com, then you should check out this collection of old computer ads assembled by CIO magazine. The journal, which is put out by venerable publisher International Data Group, dug back into the archives of sister publications like Computerworld and InfoWorld to find some of the funniest ads from the early days of the industry. In addition to the classic bits-and-babes promotion like the one shown at right, they include standouts like Bill Gates' endorsement of RadioShack computers. I'm old enough to remember when some of these promotions originally ran, and can attest to the fact that these are not exceptions to the rule. Just think of how far we've come. Or have we?
https://gillin.com/wp-content/uploads/2020/11/logo-300x86.png
0
0
dfsdf499_ffwfloP
https://gillin.com/wp-content/uploads/2020/11/logo-300x86.png
dfsdf499_ffwfloP
2009-11-30 04:04:11
2009-11-30 04:04:11
More Tips for Unblocking the Idea Jam