The Sharing Dividend
If you're looking for an expert on computer security, it's almost impossible not to find Bruce Schneier. The BT chief security technology officer and author of several books on privacy and security uses his blog, Schneier on Security, to provide a constant stream of insights on topics ranging from viruses to the papal selection process.
As a result, Schneier is in the top Google results for all kinds of search queries around security keywords, and this translates into a bounty of press coverage, speaking engagements and high-profile career opportunities.
Schneier's secret isn't that he's an exceptionally gifted writer. It's that he has a compulsion to share his thoughts. By taking a little extra time to commit them to his blog, he exposes his wisdom to a wide audience.
Anyone can do this today. It's surprising more companies don't.
Creating Long-form Content for the Distracted Audience
If you still view view research reports, white papers and customer case studies as a "Big Bang" proposition, then you're missing the boat. Maximizing audience size and impact is increasingly a matter of summarizing, teasing and packaging in other formats. We need to rethink the way we create longform content and package it as a series of short-form updates.
Tweet research findings as you go along. Capture highlights and blog entries. Summarize case studies in podcast interviews. Create top 10 lists and factoids to post on Twitter. And be ready to promote your finished report through multiple channels upon publication.
The benefits: increased awareness before the content is released and longer shelf life as you promote conversations about it.
Search Essentials – What You MUST Know
Visibility in search engines is critical to nearly every business these days, but the basic mechanics of search are still in mystery to many people. Success begins with good keyword selection and continues with optimal page construction, good descriptions and continuous campaigns to generate inbound links. Providing high quality content is critical to search engine success, and recent revisions to Google's search engine algorithm reinforces that point.
I recently posted a 38-slide presentation covering the essentials of search. It includes detailed notes that served as a script for an accompanying webcast recording on the subject. Feel free to download the presentation and share it with colleagues who still don't get why a keyword strategy is so essential to growing your business.

Tip of the Week – Spundge
Occasionally a tool comes along that is so drop-dead useful that it causes you to change the way you work. For me, that tool is Spundge, a content curation console that makes it easy to grab articles and assemble them into a single stream that can be embedded on any website that accepts scripting. It's like Storify, but more flexible.
Spundge is like a super RSS feed with bookmarking built in. It comes out-of-the-box with more than 45,000 embedded feeds from major news and technology sites, along with Twitter, Facebook, LinkedIn and other social networks. You can add your own feeds and apply whatever filters you like. The engine learns from your choices and consistently delivers you more relevant content.
You can create embeds that display content from your Spundge notebooks in any website that accepts scripting. For a modest fee of US$9 per month, you can generate blog posts from that content using a WYSIWYG editor. But you don't need the paid account to get a lot of value out of this great new service. I recommend you give it a try.
Read more on my Newspaper Death Watch blog.
Just for Fun: Scale of the Universe
If you're feeling insignificant today you might want to skip this one, but bear with me for the surprise at the end.
The universe is a mighty big place, and I've never seen anything that quite dramatizes that fact like this Flash movie, The Scale of the Universe.
Scroll left to begin your journey at the smallest known particle of Quantum Foam (.0000000001 yoctometers or 10-35  meter. Keep scrolling to the right as you pass neutrinos, quarks, uranium nuclei and other little tiny things.
As you keep scrolling, the scale gets larger: chromosomes, aunts, human beings, Redwood trees, the Hoover dam, California, Ganymede, Alpha Centauri B and so on. At the extreme right is the estimated size of the universe at 1027 meters.
It's a mesmerizing display with beautiful graphics and even a soundtrack. If it came from the Stanford Linear Accelerator Laboratory, you wouldn't be at all surprised. But this remarkable animation is the work of two junior high school kids: Carey and Michael Huang.
Carey was the principal architect and Michael put it online. Carey didn't even do it for extra credit; it was just a fun way to express some relationships he learned about in seventh grade. Here's the story on ABC News.
MIT might want to get to these kids with the scholarship offer early.
Related articles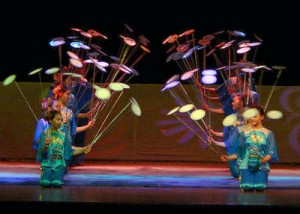 Businesses are spreading their social media wings in a big way, creating lots of new opportunity but also questions about how to manage their suddenly overflowing baskets of online goodies.
Recent research I've been conducting into business adoption of multiple social media platforms is turning up some striking results.  The 53 respondents to a survey I posted in December report that their organizations are using an average of eight social media platforms today, compared to less than one in 2006. They also report nearly unanimous satisfaction with these platforms in the area of value for the dollar and performance against expectations.
These results are only preliminary and are based upon a small sample base. We'll continue to seek responses to the survey and sponsors for the project as we move toward a goal of 150 total responses. People who take the survey get an early look at the numbers with a preliminary report to be released at South by Southwest in Austin next month.
While I can't share any numbers at this point (you'll have to take the survey to get those), here are some general observations.
Marketers are having really, really good experiences with social media so far;
The metrics they use are all over the map, though some consensus is beginning to emerge on what matters;
Few organizations are taking a disciplined approach to measuring ROI at this point. That may come later, but they're busy with governance issues right now;
Marketers say Twitter is the killer app;
The next big challenge is to get procedures and organizations in place to integrate social media into other communication programs.
In-depth interviews with 10 organizations, including some very big brands like Coca-Cola and Ford, indicate that a federated approach to social media adoption is emerging. In other words, large businesses are developing centers of excellence at the corporate level to share tools and best practices but are leading implementation to individual business units. On Facebook, however, some companies are looking at the example set by Honda, which has taken a disciplined approach by building separate fan pages for each of its brands around a consistent set of guidelines and aggregating those communities on a corporate fan page.
The report on the first stage of the research will be available in about three weeks and I'll let you know where to get it. If you're in the social media tools business and are interested in co-sponsoring the research, please let me know.
Twitter for Business
When my friends at International Data Group asked me to prepare a seminar on Twitter, I didn't know realize engrossing the project would be. After more than 20 hours of research and PowerPoint immersion, I came up with this 45-slide overview of how to apply Twitter to business. Among the topics covered are:
Creating a Twitter presence;
Building a follower base;
Building visibility;
Business uses of Twitter;
The future of Twitter in the enterprise.
I relied upon my own experience as well as helpful advice posted by Sirona Consulting, Small Business Trends, the Twitter Fan Wiki and Richard Caelius for the material.  In the Web 2.0 spirit, I'm distributing the presentation on a Creative Commons Attribution license for you to download and share. I can also prepare a customized version of this presentation for delivery as a webcast or on-site seminar. Contact me if that interests you.
Tip of the Week: PDF-XChange Viewer
Adobe gave us a great gift with Acrobat, but it also created new frustrations in the process. The free Acrobat viewer that Adobe distributes offers few tools to annotate PDF documents. For that, Adobe would like us to upgrade to one of its advanced products for prices beginning at $99.
If all you want to do is mark up and share Acrobat documents, though, there are a number of free alternatives. And the best one I've found is PDF-XChange Viewer from Tracker Software Products. The basic version of this free utility offers a lot of power, including the ability to attach sticky notes, highlight sections of the document and add drawings and pencil notes. Since Google now supports uploads of any document type, you can now collaborate on Acrobat documents without paying for a license or monthly fee.

Just for Fun: Best National Geographic Pictures of the Year
Even as the magazine industry craters, National Geographic seems to hold its own. The secret is perhaps its incredible photographs, which have a splendor on paper that computer screens have yet to reproduce. Here's a roundup of some great recent photos. I don't know who christened these the best, or even what year the title refers to, but it doesn't really matter.  They're just a pleasure to admire.