Estimating influence is a delicate balance of art and science. People are drawn to quantitative methods because scores are easy to understand. The downside of reducing influence to a number, though, is oversimplification.
Lately, I've been looking at Klout, the popular new tool that bills itself as "The Standard" for influence measurement. The more I look at it, the less I like it. Klout's weaknesses have not stopped it from amassing an impressive list of more than 3,000 business customers and from being incorporated into popular applications like HootSuite as a standard metric. It is "the emerging standard" for measuring influence online, said Klout Marketing Manager Megan Berry in a podcast interview with Eric Schwartzman last month. I just hope those clients aren't taking this metric too seriously.
Beyond Followers
Klout attempts to determine influence metrics by looking at a person's online activities and the actions of others that result from them. The thinking is that influence isn't a matter of how much you say as much as the impact your words have on others.
Many people have a Klout index and don't know it. The service crawls Twitter and ranks members automatically. If you want to grow your score, you can log in to the site and give it a bunch of information about your online activities. I spent 15 minutes on Klout registering my social networks and grew my score 10 points on the spot. This is a major flaw in Klout, but more on that later.
Klout uses a proprietary algorithm to estimate influence based upon comments, retweets, @replies and mentions, among other things. The company isn't very transparent about how it calculates the score, and with good reason. The algorithm is a competitive asset and disclosure would inevitably invite people to manipulate the system.
The downside of opacity is confusion. By revealing so little about how its ratings are calculated, Klout essentially asks customers to put their faith in the service to do the right thing. This is dangerous, given Klout's flaws. Nevertheless, the score is a public record that anyone can see, and its influence is growing to the point that Klout scores are now reportedly showing up on resumes.
The Shirky Effect
The problem is that some of the ratings are nonsense. For example, my Klout score (66) is modestly higher than Clay Shirky's (60) and significantly higher than Marc Andreessen's (42). This is ludicrous. Shirky is the author of two influential books about online sociology and has been a thought leader on the Internet since the mid-90s. Andreessen invented the browser, cofounded Netscape and is one of the fathers of the modern Internet. Both are sought-after speakers and the subject of extensive Wikipedia articles. Yet Klout says I have more influence.
The problem is that neither of these brilliant innovators plays by Klout's rules. They aren't active on Twitter and they don't have Klout accounts. The fact that a single post on Shirky's blog can draw more than 1,200 comments or that Andreessen's occasional writings appear in The Wall Street Journal is of no consequence. Klout doesn't monitor either of those outlets.
Klout's bigger flaw is that its scoring system is tied to membership. The more you tell Klout about you, the higher your score is likely to be. This linkage fundamentally undermines the quality of the service. In effect, Klout pays you to endorse its service by rewarding you with a higher rank. If Google did that, Congress would be holding hearings.
A Million and One Improvements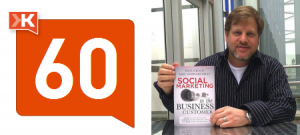 Klout admits that its methodology isn't perfect. In the interview with Schwartzman, who is the co-author of my B2B social media marketing book, Megan Berry said the company has "a million and one" improvements it wants to make. Schwartzman pressed Berry hard on shortcomings in the Klout methodology, and her responses were a weak defense. In essence, Klout treats every social network the same and all interactions equally, she said. A retweet, which is a one-button operation, is just as good as a thoughtful commentary on a blog. Except that Klout doesn't currently monitor blogs, other than those on Google's Blogger service. That must be one of the million-and-one improvements in the pipeline.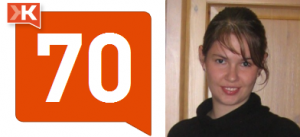 A comparison of Berry's and Schartzman's Klout profiles showcases the service's flaws. Berry's Klout score as of this writing is 70, while Schwartzman's is 60. Berry does have a couple of thousand more Twitter followers than Schwartzman, but she said Klout ignores follower metrics as meaningless. Berry is very active online, but not nearly as active as Schwartzman. Her blog has been updated eight times this year while Schwartzman has posted 36 episodes of his popular On the Record…Online podcast and more than 30 entries on hisSpinfluencer blog. Berry contributes occasionally to Huffington Post and Mashable, but Schwartzman is also active outside his own channels, contributing to Social Media Today and For Immediate Release. Schwartzman has 44 recommendations on LinkedIn, while Berry has three.
As far as I can tell, there are two principal reasons why Berry outscores Schwartzman on Klout. One is that she knows the system. She has at least a vestigial account on every social network that Klout cares about, whereas Schwartzman limits his activities to fewer outlets. Berry also tweets regularly on behalf of her employer, giving her Twitter account a Klout halo effect that attracts retweets and @replies.
My intention isn't to pick on Megan Berry. She's obviously a bright young woman who's very savvy about social media. However, there's nothing I can find that qualifies her as significantly more influential than the veteran Schwartzman, not to mention Marc Andreessen.
In her interview with Schwartzman, Berry described Klout as "[Google] PageRank for people." In my opinion, it's got a long way to go. Klout has some utility as a way to compare the online presence of active social media users, but measuring influence is much more complicated than counting retweets and Foursquare tips. Klout is betting that it can use its metrics to entice (coerce?) people to join its social network, which it can then monetize through advertising. The link between membership and Klout score is a disturbing weakness. Proceed with caution.
My New Social and Search Seminar is October 11
If you're in the New England area, or passing through on October 11, come to my new all-day immersion seminar: "Search & Social Double Whammy." I partnered with the search optimization experts at McDougall Interactive Marketing to deliver a full-day program that teaches you how to integrate SEO, social media, public relations and your technological back-end. The topics we'll cover include:
Internet Marketing Strategy
Search Engine Optimization
Social Media Strategy for Facebook & Twitter
Calculating Social Media ROI
Live Site Reviews (submit your site for inclusion)
12 Amazing Tools for Search & Social
The full-day seminar happens on October 11, 2011 from 8am to 5pm at the Woburn Courtyard by Marriott in Woburn, MA. The early-bird price of $199 is available through this Friday. After that, it goes to $299.
Tip of the Week: LinkedIn Today
One of the great appeals of social networks is that they deliver news curated by your friends, colleagues and people with whom you share common interests. This information is likely to be more interesting to you than news items selected by a third party you don't know.
There are a lot of services that organize the links your friends provide into a form that looks like a conventional newspaper (Paper.li is a particularly popular one), but I haven't found any that measure up to LinkedIn's new Today.
Today combines activity by your LinkedIn contacts on both LinkedIn and Twitter to choose the stories that your friends are talking about and present them in a constantly updated custom news page. These topics are more likely to be professionally relevant to you, since your LinkedIn connections are usually business contacts. Headlines are organized by the topic areas you choose and you can have a daily e-mail summary sent to your inbox.
Just for Fun: Overheard in New York
How often have you passed someone on the street and caught a snippet of conversation out of context that was so funny or bizarre that you wanted to share it with someone else? There's no better place for this experience than New York City and not surprisingly, there is a website devoted to capturing these stray asides that make eavesdropping such a fun sport.
Tall female law school know-it-all: "You'll do fine on his exam as long as you memorize the notes he gives in class –I mean, like, word for word– and then just reverberate it all!"
Overheard in New York has actually been around since 2003, but I only just discovered it recently. Anyone can contribute, so quality varies widely. Many quotes are also profane or risqué, so be forewarned. It's worth scanning, though, for gems like this:
Subway sandwich maker: "What size? 6″ or foot-long?"
Older suit: "How big is 6″, lemme see?"
Subway sandwich maker, deadpan: "It's 6 inches long, sir." (holds up bread)
Have you checked out LinkedIn lately? If you thought the world's largest professional network was little more than a place to post your resume, you owe yourself another visit. LinkedIn is set to eclipse the 100 million member mark sometime this sprin
g, and it is quickly becoming the social network of choice for B2B professionals.
LinkedIn gets none of the buzz of Facebook, and no one's going to make a movie about it. Its format is austere, it has few third-party applications and it doesn't support chat, photo libraries or videos. What it does have is lots of members who talk about serious professional issues, and some of its groups are becoming massive in scale. For business pros in industries like communications, manufacturing, retailing, financial services and even construction, LinkedIn groups are becoming vertical social networks in their own right.
This is the ideal B2B environment. There's very little waste because members are there to seek professional opportunities, ask and answer questions and network with their peers. Spamming isn't a problem, particularly in the moderated groups, and there's none of the frat boy histrionics that you find on Facebook. It's not surprising that in research conducted by B2B magazine last spring, marketers picked LinkedIn as their social network of choice by a substantial margin over Facebook.
LinkedIn has evolved far beyond its roots as a professional networking service. It hosts active groups for finance managers, telecom professionals, people in the construction industry, real estate pros, HR managers, pharmaceutical workers and film professionals. And those are just the ones with more than 40,000 members. If you're in the hospitality industry, there are nearly 1,000 members in The Hospitality Forum. A group for medical doctors has more than 2,600 members. Stephanie Sammons posted some great tips on Social Media Examiner early this year about how to make the most of LinkedIn groups.
And those groups are busy. Someone asked the Sales Best Practices group a couple of months ago "What is YOUR Best Sales Advice — 20 words or less." It has 532 responses. A recent discussion in the Cloud Computing, VMware, Virtualization and Enterprise 2.0 Group about whether IT organizations will start discarding their assets has more than 460 responses. Some LinkedIn members answer 300 or more questions every week.
It's not about the numbers, though. In fact, many LinkedIn groups are kept intentionally small by administrators who want to maintain member quality. Just try to get into CIO Forum. Unless you're an IT manager, you probably can't. Facebook is about mass, but LinkedIn is about focus, which is one reason it rocks for B2B.
Here are a six ways B2B marketers can leverage LinkedIn for prospecting and promotion:
Ask and Answer. Many of the questions posed within groups and in LinkedIn's busy Answers section concern requests for expertise. You can subscribe to questions in your domain using an RSS reader, which ensures that you will never miss one that matters to you. If the technical gurus in your organization are intimidated by the prospect of blogging, urge them instead to answer five questions per week. As they grow their profile in the community, people will start seeking them out for business. That's the reason Vico Software expects its sales reps to become active in construction-related groups in each of their territories. The company expects their reps will have a better chance of getting a lead on new construction opportunities there than by waiting for RFPs to come in.
Choose Open Groups. LinkedIn recently gave group owners the option of making their content public so that all activity from that point on would be visible to search engines. This is a good way to make your groups more visible. Also, if you plan to post regularly to groups in your field or industry, consider choosing open groups so that you get the additional Google love.
Promote in Groups. Cross-post new entries from the company blog or new presentations on SlideShare to appropriate groups of which you're a member. Summarize your content and ask a question. Use a unique URL so you can track activity. You'll often be surprised at the volume of response.

Use Company Profiles for Prospecting. LinkedIn has a unique approach to company profiles. They're organized by the people who work there. Salespeople who are having trouble finding the right contacts in an organization can use these profiles as a virtual back door. LinkedIn shows you who works at the company and whether you have direct or indirect ways of contacting them. You might be able to do the same thing on Facebook, but it's a lot more difficult.
Find People. One of LinkedIn's great strengths is the choices it gives you for selecting members. You can filter by title, geography, group membership, company size and even years of experience. Some members reveal remarkably detailed public profiles of themselves. You can use this information to prepare for a meeting, find skills or identify prospects within a region. When I need to recruit speakers for a panel in Atlanta, for example, the first place I go is my LinkedIn contact list because I can so quickly identify prospects in the area.

Use LinkedIn Signal. One of LinkedIn's little-known gems is Signal, a real-time search engine that's listed as "Updates" on the search menu. Use it to monitor what people are saying about any topic. You can also filter by connection, date, company and industry. A search for "Chicago Marketing Jobs" returns 20 opportunities posted in the last 72 hours. You can also get updates on people and groups that interest you.
LinkedIn has recently revealed some visually cool and potentially very useful stuff coming out of its labs. Swarm (below) is a different take on tag clouds that builds on recent company and title searches, jobs posted, blog entries and shared articles. InMaps lets you visualize your connection network. It's still early-stage but shows promise.
What's your favorite LinkedIn feature? Do you have a success story to share? Post it here.

Recent Scribblings and Podcasts
Tip of the Week: Delicious Linkrolls
You might look at a page like this one or this one and think, "Wow, that must have been a lot of work!" But as my wife says, "Really not so much." The hundreds of articles and links on those pages are actually generated automatically by the social bookmarking site Delicious using a feature called "linkrolls."
Linkrolls are collections of bookmarks that publish automatically to any compatible website using a small piece of Javascript code. Once you set up the code, everything you bookmark to the Delicious site with the designated tag will automatically appear on any page containing the code. You can publish headlines and full descriptions and publish them either alphabetically or in reverse chronological order.
Linkrolls have been around for a long time, but I'm surprised how few people have heard of them. They're a great way to keep a running list of webpages that are important to you and to easily share them with others on your own site. Now that Yahoo has declared its intention to sell or shut down Delicious, some people are saying that the age of bookmarks is over, but I still find them enormously useful in keeping track of important information, as well as publishing it on occasion.
Just for Fun: Instructables.com
Want to know how to make a Yoda cake like the one below? Or how to iron seven shirts in 15 minutes? Or perhaps how to embed a bluetooth headset in a glove so you can literally talk to your hand? Then pay a visit to Instructables.com, where people have shared thousands of step-by-step instructions on how to build more offbeat, bizarre and occasionally even useful projects than you ever imagined.
Instructables.com started as a project at the MIT Media Lab, where researchers used it to share their projects and help others. It's since evolved into a massive crowd-sourced venture for tinkerers. Some of the instructions are of questionable value (how build snowshoes from a computer case?), but a lot of them are downright useful (how to bake a perfect pecan pie). Use it to satisfy your inner tinkerer.
=
My fourth book, Social Marketing to the Business Customer, came out this week. While the purpose of this e-mail is ultimately to convince you to buy it, I hope to also impart some insight I gained from immersing myself in business-to-business social marketing for six months.
Co-author Eric Schwartzman and I wrote the book because we felt that B2B marketers were getting inadequate advice about how to apply social media constructs to their work. We've attended scores of conferences over the last few years and heard lots of wonderful stories about how to use everything from blogs to video games to sell blue jeans, potato chips and fine wine. Invariably, someone stands up and asks, "What does this mean to me as a B2B marketer?"
The response is usually something like, "Well, you can do this, too." I used to take that answer at face value, but the more I thought about the unique characteristics of B2B buying decisions, the more it struck me as dodge. The fact is that much of what works in consumer markets would fail in B2B interactions. There are plenty of opportunities to apply social media tactics, but the context is different.
As Eric and I began to dig into this topic, we put some thought into how B2B and B2C markets differ. We came up with six major areas of divergence, and we were surprised to realize how really different these two flavors of marketing are. Here are the six points we arrived at. I'm sure this list is not comprehensive, so leave a comment with your impressions.
1. Value-driven decision-making. Probably the most important distinction between business and consumer marketing is that nearly every buying decision a business makes is driven by the need to solve a problem, pursue an opportunity or make or company more efficient. There is no room for sex appeal, status, feeling good, tastes great or less filling. A lot of great consumer marketing campaigns sell at the gut level, but B2B buyers base their decisions upon facts and calculated value. If you don't deliver that, you don't get considered.
2. Group consensus. Most businesses are inherently conservative, and decision-makers seek validation from many sources, including analysts and their peers. Part of this is simple risk avoidance, but an equally important factor is that decisions made by a group are more likely to be supported by all of the members. The bigger the purchase, the more people are usually involved. Research by MarketingSherpa and TechWeb found that 41% of technology buying decisions involved 15 or more people in the process. These people typically come from many different areas of the organization, and each has different information needs.
3. "Bet the business" decisions. When Federal Express chooses a vendor of hybrid engines for 1,500 trucks or Ford installs a fleet of welding machines on its assembly lines, the decision has the potential to affect the company's bottom line and its stock price. Even seemingly small decisions, like the choice of an e-mail marketing vendor, can have far-reaching implications if the supplier can't deliver. Consumers almost never face issues of this magnitude.
4. Long-term relationships. Business executives buy companies as much as they do products. Most prefer to work with a small number of favored vendors who get a large share of their budget in exchange for high-quality service and "one throat to choke" accountability. Consumers make few buying decisions that involve persistent relationships.
5. Knowledgeable buyers. B2B buyers don't hesitate to bring experts into the decision-making process. These people may have years of in-depth technical experience, certifications and degrees. They want to talk to the people who build the products they are considering, ask detailed questions and gain confidence that the company is a worthy long-term partner. In contrast, consumers may study up for a bit before buying a car or refrigerator, but they rarely bring people with Ph.D.'s into the process.
6. Intense need for information. A B2B decision usually requires information from a lot of sources about a lot of topics. The CFO, head of manufacturing and CIO all have different questions, and all need to be satisfied. The business buyer's appetite for information also doesn't end with the sale (see item 4). Users of call routing or process management systems, for example, may spend days or weeks each year in continuing education classes or at conferences to keep up with new developments. There is virtually no parallel for this in consumer markets.
For these and other reasons it's shortsighted to tell a B2B marketer to apply the tactics used to sell blue jeans to the task of selling aircraft engines or sales force automation software. The same tools can be applied – and we devote 250 pages to explaining how – but the tools that B2B marketers differ in some pretty basic ways from those liked by their B2C counterparts. We found some wonderful case studies, lots of innovative people and even some very clever campaigns.
So here's the promotional message: Buy it! Read it! Post your review on Amazon or tell us what you think on our Facebook page. If you're a B2B marketer, this book is for you. Let us know if we hit the mark.
How to Rescue a Floundering Social Campaign
Back at the beginning of the year I predicted that in 2011 we would hear a lot of social media failure stories. That's because people have taken the dive into using the tools without really knowing why. I've recently been contacted by some companies that are struggling with social campaigns that appear to have all the right elements, but are failing to generate much response. Here's a quick rundown of five actions you can take to turn around that situation.
Tip of the Week: Quora
Chances are you've recently heard about a new service called Quora, which was founded by some former Facebook executives and introduced last summer. It's now the hottest phenomenon to hit the Internet since Twitter, and with good reason. Quora has the potential to become a significant new social network. I recommend you check it out.
Quora is built upon a question-and-answer model, not unlike Yahoo Answers or LinkedIn Answers, but it also includes a bunch of other social innovations like following, favoriting, profiles and invitations. There are elements of Wikipedia in there, as well as real-time collaboration features like those found in Google Wave (which was recently handed over to the open source community, BTW). There's also excellent back-end integration with Facebook and Twitter. In short, Quora is a mashup of Web 2.0 technologies, but they've been combined in some very clever ways. Try using it the next time you have a question that isn't easily answered by a search engine. You may find that humans have already done the work.
Just for Fun: Hilarious Print Ads
A lot of people are declaring print publishing to be dead, but you still can't beat a printed advertisement for telling a story in a single image. The folks at online design and development magazine SpyreStudios have assembled a collection of 30 of the most hilarious print ads ever created, like the one for Dynakids Vitamins below. Innovation like this requires subtlety, humor and the willingness to risk being just a tad offensive. All of these examples are winners in my book.