Final segment in a series on common business blogging mistakes.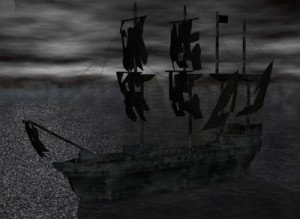 In Blogging Blunders Part 1 and Blogging Blunders Part 2, we looked at problems like failure to interact or to publish distinctive content. Let's wrap up with the most frequent and frustrating blogging problem that I encounter: Failure to persist.
Perhaps I'm unusual, but the first thing I look for when visiting a blog is the date of the most recent entry. This tells me a lot. Knowing whether the essay I'm about to read is one week or three years old can make a huge difference in its relevance to me. But it also tells me a lot about whether the author is committed to the blog.
Too many business blogs suffer from lack of attention. The same pattern appears again and again: There's a burst of early activity followed by a gradual decline in the frequency of updates and eventual abandonment. But nothing ever dies on the Internet, so these blogs drift along like ghost ships. They're monuments to good intentions gone awry.
I don't think many people start blogging with the intention of failing at it. Most are tripped up by one of four scenarios. See if you can avoid them.
Nothing More to Say – This happens when the blogger chooses a topic that lacks staying power. The subject is hot for a while, but then public interest wanes or the news value recedes. Any blog about a newsy or trendy issue is at risk of this fate. To avoid it, choose big issues that have staying power. For example, instead of writing about Blu-ray, write about the bigger issue of next-generation video formats.
Too Busy – So are we all, so think about that going in. It takes about an hour a week to contribute two brief new insights to a blog. You need to put some thought into developing and supporting a theme for a few hundreds words. If you don't think you have that kind of time, don't start. Twitter is an ideal alternative for people who are too busy to blog. The 140-character limit is actually a welcome restriction that forces them to keep their comments brief.
Nobody Came – This is a self-fulfilling prophecy. New bloggers put all kinds of effort into their work for six months and find that traffic still numbers in the few dozens per day. There are several reasons for this. One is that the topic they choose is highly competitive and their approach undifferentiated. If that happens to you, then look at ways to approach your topic from a distinctive angle or with a unique voice. Another common problem is that bloggers fail to promote themselves. This can be addressed via some basic outbound e-mail and sharing tactics (contact me if you want ideas). A third is that they simply don't give the project enough time. It's rare for a blog to catch fire during its first six to nine months. You need to build visibility with people who have traffic to send your way. If you're persistent, then you should see rewards by your first anniversary date. But don't be disappointed if it takes that long. Word of mouth isn't always fast.
Turnover – This is a huge issue with business blogs. The internal sponsor leaves the company or gets reassigned and there's no succession plan in place. This is why I encourage clients to view blogs as a business-wide initiative. Support has to come from the top and a backup plan must be in place to continue the conversation if the product champion leaves. A branded business blog is no place for cowboys. You need a team commitment to sustain the momentum.
Those are my candidates for the most common factors that derail business blogs. What are yours? Post your comments here and let's discuss.
Social Media Bookshelf
My friend and fellow communications pro Chuck Hester of iContact (which delivers this newsletter) has teamed up with social media coach Janet Fouts to launch Social Media Bookshelf, a site dedicated to spotlighting the best books on the topic. While still in its early stages, the bookshelf will be a good place to keep pace with the latest work from the thought leaders in this area. You can also read about what they're working on in the guest blogging section. I contributed a kickoff entry on the relevance of long-form books in our continually distracted, short-form world.
On the Air
I was recently part of two audio interviews about the rising importance of social networks in small and mid-sized business marketing plans. Mike Schultz at Rain Today asked some great questions about why businesses should even bother with social media. I was also on Mark Amtower's D.C.-based Federal News Radio show, where we discussed how to map a social media strategy and choose from the overwhelming assortment of available tools.
Tip of the Week: Moyea Video Converter
I usually spotlight free tools in this section, but I'll make an exception for Moyea FLV to Video Converter Pro 2. At $30, this little beauty is a bargain, and I use it all the time.
If you ever want to include videos in your presentations (and who doesn't these days?), then you know what a hassle it can be to download video in the Web-standard Flash format and convert it into something PowerPoint can recognize. Since Microsoft doesn't appear to be interested in resolving this dilemma, the easiest technique is to convert the FLV video into Microsoft's WMV format. There are lots of tools that do this, but I've found that Moyea delivers consistent results at a reasonable price. The company also throws in a pretty nice Flash video downloader at no extra charge.
Just for Fun: Trivia Motherlode
Did you know:
On average, an iceberg weighs 20 million tons?
The "Over the Rainbow" scene from The Wizard of Oz was originally cut from the film because it was "slow?"
A mole can dig over 250 feet of tunnel in a single night?
Most people have lost half their taste buds by the time they reach age 60?
The magic word "Abracadabra" was originally intended for the purpose of curing hay fever?
These and many more trivia items are listed at Bitworks.co.nz, a site that, despite its unpretentious design, is home to an impressive collection of useless and semi-useful facts. Unlike most trivia sites, the authors appear to make a reasonable effort to verify claims and correct mistakes. Share it with the trivia buff in your life.
https://gillin.com/wp-content/uploads/2020/11/logo-300x86.png
0
0
dfsdf499_ffwfloP
https://gillin.com/wp-content/uploads/2020/11/logo-300x86.png
dfsdf499_ffwfloP
2009-09-12 04:34:09
2009-09-12 04:34:09
Blogging Blunders, Part 3